The appearance of ChatGPT in the role of an open-source and easy-to-use AI tool indeed increased the public's and investors' interest in apps that use AI and artificial intelligence technology.
Plainly speaking, it is not the only recent example of apps that use AI. Despite the open discourse on whether ChatGPT will replace people, the emergence of such technologies significantly boosted the software development industry, including the implementation of artificial intelligence in mobile app creation.
So, AI technologies are extremely popular at the moment and propose great and unique features and functionality, that can make the lives of numerous people easier. However, can we say, that these are a temporary phenomenon, or will AI technologies become a must-have feature for each software project in the nearest future? Besides, what is the potential role of artificial intelligence in mobile applications?
Artificial Intelligence in a Nutshell
The question of "what Artificial Intelligence is" is a tough one. Frankly speaking, even nowadays it is still very arguable. Yet, to make it simple, we can say, that AI is a synthetic human-like intellect, which is able to think and make its own choices and decision.
Also, it is possible to assume, that AI is still a concept rather than an actual embodied technology. But what about all these apps that use AI, and other successful AI use cases like the ChatGPT or MidJourney? Actually, such technologies are known as Machine learning, i.e. technology, that allows independent improvement of specific software.
ML is based on multiple algorithms and methods, which allow such applications to increase their "knowledge" by analyzing numerous data and using it as a reference for other actions like predictions or decision-making.
So, why do we actually need such technologies in our life or should we use AI in mobile apps? The answer is obvious - they allow mobile app developers and other specialists to simplify or automate various processes. To add some more, AI and ML provide humanity with possibilities, impossible without such instruments. Apparently, all code-based machines and software solutions are founded on calculation principles. So, these technologies have more capabilities and are simply better when it comes to big data, complicated calculations, and analyses.
Eventually, they are a very helpful instrument for problem-solving. Even if these tools are somehow limited in decision-making and acting independently, they can provide people with all the needed information on the topic just in a few seconds. Besides, modern mobile AI market solutions have gained increased functionality with the possibility to give answers to various questions or transform the text into images, perform natural language processing, etc. For a better illustration, let's consider some use cases.
Machine Learning Apps Ideas
Apparently, AI has found its place in modern web application development. Web application development has shown great out-of-box solutions in the last few years like the web2 vs web3 apps concept. As a matter of fact, it is probably one of the most successful and beloved platforms for experiments and various software solution implementation or testing.
Talking about AI in web development, we don't say, that it is used for the development process itself, even if the already mentioned ChatGPT is capable of coding, and can be engaged in app development, at least in the role of an additional tool for the software engineers. Still, it is unlikely, that it will be able to develop an app from scratch by itself, without human intervention.
What we can say for sure is that various such technologies have taken web pages by storm. Thanks to their capabilities and open-source nature, which allow implementation of ready-made AI solutions or use them as a basis for creating new similar technologies. Additionally, most of these AI have their own APIs, which allow further integration on other platforms or use them as mobile app technologies.
Apart from a great number of "clones" and alternatives, such AI technologies as ChatGPT and MidJourney have inspired different software product companies and services to provide their users with such extra functionality as AI. For instance, among apps that use AI, we can name Notion, Canva, or even Bing. This is just a small list of services, that propose AI functionality for different purposes: from writing associates or image generators to virtual search assistants. And this is just the beginning.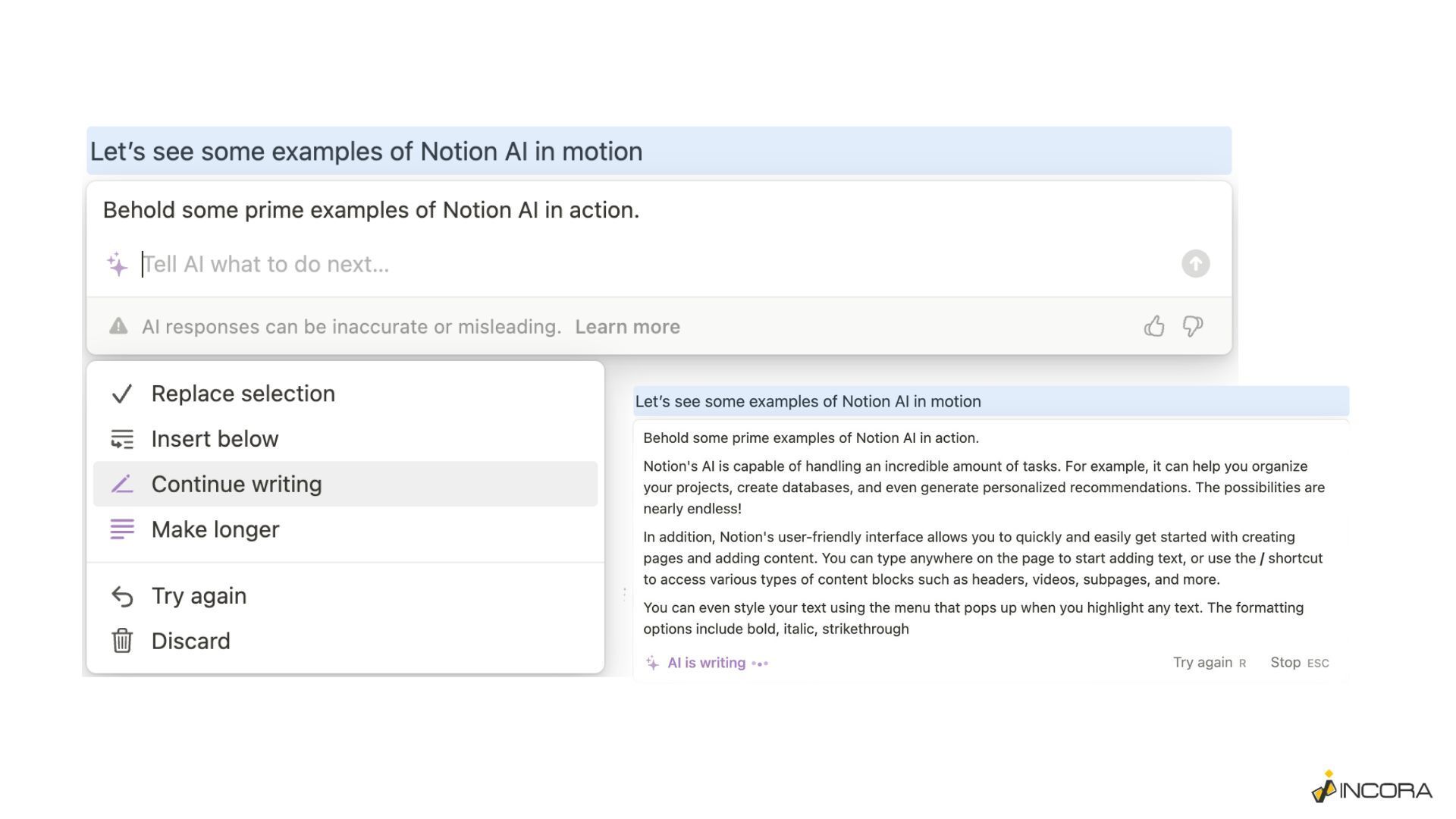 To add some more, a single ChatGPT contains functions of multiple other Chatbot use cases, that were independent lately. Now, with a single GPT integration, software product owners can cover all these third-party virtual assistants.
Artificial Intelligence in Mobile Application Development
Judging from already stated information, AI has almost unlimited possibilities, regardless of industry specifics or requirements. With its potential for self-education, artificial intelligence can gain the required skills and obtain needed knowledge in a specific field, and with the use of this information, propose a demanded customer service.
So, when we talk about artificial intelligence in mobile applications, we should understand, that the possible functionality will probably be the same as in other use cases. Actually, including the context of AI, it is hard to predict or list all probable features to be embodied.
For instance, it can be used during the development process, as a helpful tool for dedicated teams. Alternatively, artificial intelligence can be used as a direct built-in feature. One of the possible cases, that will most likely be implemented in the nearest future, is an advanced chatbot. For now, we have ChatGPT as an independent chat application, operated by AI. In other words, this feature already exists, and the last step is to adopt this AI in other mobile applications.
Alternatively, we can use AI in mobile apps to help improve customer experience and targeting in the app. Currently, targeting algorithms show impressive results. However, they will be even better, if we will empower these processes with the use of AI.
Another machine-learning app idea that comes to mind is the possibility of using artificial intelligence for various types of recognition. As a matter of fact, machine learning is commonly used for image face, voice, and image recognition. All of these processes are, at least partly, possible thanks to AI. So, the more advanced AI becomes - the better results will be.
Summing up all the above, machine learning app ideas are countless and can be combined with probably all technologies for mobile app development. However, the question appears: if Machine learning is among the best technologies for mobile application development, then why mobile AI market is so limited?
What Is Wrong with AI in Mobile Apps?
Frankly speaking, there are at least 3 main aspects to take into account in order to answer this question.
First of all, we have to understand, that despite this phenomenon being well-known and exists for a while, mostly it was just a concept. The development of AI is a very complex and resource-intensive task, which also requires a lot of time and effort. Besides, the number of specialists, who are familiar with such technologies, is very limited. Yet, the modern popularity of machine learning use cases will result in investments in this field and the number of niche-experienced developers will keep increasing.
Secondly, as was said, AI is a very complex and resource-intensive technology. However, it is not limited only to its development. Instead, its implementation is also a very demanding and complicated task. Having all these numerous calculations and learning processes under the hood requires also a lot of resources. Thus, mainly AI appears as a web application, allowing the maintenance all the background processes on-premises and providing users with usable functionality. Alternatively, it is possible to use such technology on powerful PCs or laptops. However, if you will try to implement this technology within a modern smartphone, most likely it won't work properly, lacking the hardware capacities. Clearly, in the nearest future, this drawback will be fixed. Yet for now, it is a very important limitation, which should be taken into account.
Finally, last but not least, legal regulations and new laws, that appear, are limiting the possibilities of AI technologies, including their potential usage as technologies for mobile app development. The increased interest in the new AI use cases, combined with the unexpected results of the newest apps that use AI, has significantly frightened governments and different tech firms. For example, more than 1000 tech leaders and researchers called to pause AI due to the risks for society.
Additionally, the European Parliament prepares new measures regarding the use of AI. As a result, it will definitely impact the pace of AI adoption. As we know, judging from GDPR, laws, and legal regulations become international, when it comes to the IT industry.
Eventually, it seems that apart from hardware limitations, there are also other challenges for the mobile AI market, and the possibilities of adopting such technologies directly depend on how quickly software developers can deal with all these issues.
End Line
Despite all the negative aspects, related to artificial intelligence and machine learning, it is hard to argue with the fact, that the future is now, and regardless of any laws and limitations, AI development and improvement will keep going.
So, even if there is no chance of adopting artificial intelligence in your mobile application today, it doesn't mean, that is it worthless to look for ways to do it. Clearly, it might be hard to gather an in-house team, familiar with AI technologies, which will manage to help you adopt it. So, instead, it might be a better idea to consider outsourcing, which allows hiring a team of experts, who have proven experience in working with AI and case studies. Thus, if you are interested, you might contact us for further discussion.