When it comes to the potential artificial intelligence solutions implementation, the situation seems completely opposite: modern effective solutions propose a new way to deal with issues, that existed by far before the emergence of these so-called AI.
After the emergence and enormous popularity of ChatGPT, which coincided in time with the appearance of other great and popular machine learning and artificial intelligence cases in a wide range of different fields, the widespread adoption of these technologies was only a matter of time.
Frankly, it is hard to deny the great administrative automation capabilities of various AI solutions. Originally, it seems impossible to assign artificial intelligence to a specific industry by its nature. AI and ML are truly utilitarian and powerful tools, which can be easily adapted to any criteria and trained to work under any circumstances.
So, what is the modern situation in the modern AI market, what industries are most suited for AI integration, and what is HR manual task automation with the use of AI and ML technologies?
Everything You Need to Know About Modern AI

Some critics may say, that modern AI is more artificial than intelligence. It is hard to argue, that such a statement is completely false. Yet, it is worth admitting, that it is not totally correct either. Truth be told, there is still a lot of work to do in order to make even the most well-known and advanced examples of AI compatible with human intelligence. They, indeed, can overcome us in specific niches, especially, when it comes to complex calculations, or specific fields and activities. Yet, this advantage has its limitation and cannot extend to absolutely all spheres at the same time in terms of a single AI.
Therefore, as we can see today, most AI solutions are divided into types or industries. There are in-game AI examples, various natural language processing chatbots, virtual assistants, text-to-speech and text-to-image adaptations, etc. For instance, among the most popular modern technologies, it is easy to name at least a few examples of various AI solutions like ChatGPT, MidJourney, Amazon Alexa, and so on.
Additionally, almost each of them has its own alternatives and similar AI-powered tools, which have equal functionality and features and can perform alike tasks.
Frankly, nowadays we can assume, that the AI revolution has happened, yet it looks not like you might have imagined. One of the biggest challenges of developing AI is its cost and the overall complexity of such a software development process. Previously, only tech giants like Amazon, Microsoft, Google, or Apple had enough resources and valuable time to spend on developing such complex and complicated software products.
Fortunately, those technologies, which emerged today, are mainly distributed in an open-source format and via APIs, making them potentially easy to adopt. As a result, AI integration and automation of various key features become a more common and well-spread phenomenon. As for now, most graph designing platforms or management systems like Canva or Notion have built-in AI assistants.
What is the Main AI Feature Today?
Despite the fact, that there is a wide range of possibilities to use such technologies as artificial intelligence, it is possible to state, that the main advantage of using AI in modern apps is robotic process automation.
To make it simple, just as any other type of software, artificial intelligence has various algorithms under the hood, which define its behavior. Additionally, thanks to these algorithms and protocols, AI has a clear understanding of how to deal with a range of tasks.
As a result, it is possible to use AI for management, as one of the HR automation tools, or to perform administrative automation in other forms.
Eventually, due to the utilitarian nature of AI, it is impossible to describe all the potential use cases for AI in plural spheres. However, it is relatively easy to describe its potential, if we narrow down the variety to a single specific industry or type of product like employee management and tracking systems.
Automating Human Resources with AI Technologies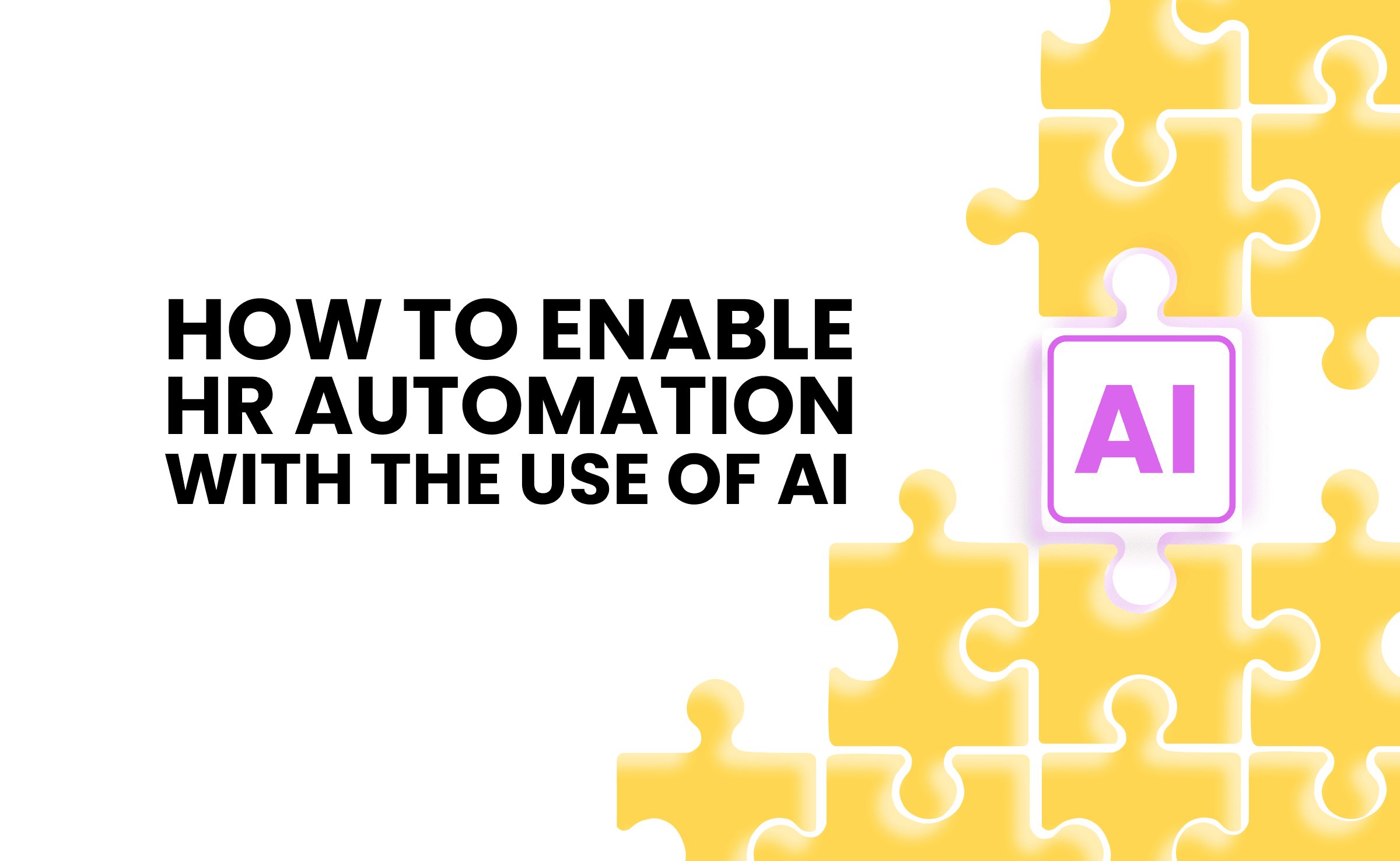 What is HR Automation?
Let's start with the beginning. HR automation is basically a process of automating various processes, related to human resources management and employee engagement.

In this specific niche, most routine tasks are highly administrative, making it a great field for AI integrations. As a matter of fact, most such repetitive tasks have elementary working principles, which can be easily automated. It includes filling out protocols and other documents, writing reports, gathering employee feedback, setting up meetings, etc.
Obviously, this does not mean, that AI can replace humans in the field of Human Resources. Still, it is true, that it can significantly improve and upscale their working conditions and greatly perform in a role of an assistant, just like the rest software solutions.
When we are talking about HR automation, we mainly mean the AI-powered automation of various repetitive and routine administrative actions, which allows HR specialists to pay more attention to the rest of the employees, better understand their needs, and faster respond to requests. It also includes the possibility to collect and analyze employee retention, their feedback, and other data, like performance evaluation metrics, overall burnout or mental health of each individual worker, employee satisfaction, etc.
For a better illustration, let's consider an example of how it is possible to integrate an AI to embody HR automation within a specific software solution.
TeamGain Staff Management System
TeamGain is one of the software projects, which we took part in developing.
It is a modern HR management system with some exclusive advanced features. Apart from regular HR systems best practices like tracking the employee status, vacation, and sick leave requests, as well as the rest of user management possibilities, it also provides various bonus possibilities.
For instance, it was designed not only to provide the HR department with essential management tools but also aims to boost the engagement of the employees. As a result, it helps to improve their working conditions, and employee productivity and upscales company culture. To achieve such results, it uses a gamification model with goals and achievements, as well as gifts and rewards.
To do so, we implemented a point system, which awards users for various activities. After accumulating a particular number of points, staff members can exchange them for a variety of gift cards. Additionally, among the system features, there are day-to-day reports, related to the mental and physical health of employees, their performance management, and the rest working-related processes.
Automating HR in Terms of TeamGain
So, how can we potentially improve and upscale this project with the use of AI management?
Fortunately, as we said before, there is no need to develop an AI from scratch. Instead, it is faster, cheaper, and more profitable to simply adopt a few ready-made options, distributed as open-source software.
For instance, the beforementioned ChatGPT can be a great starting point, due to the fact, that it is one of the most advanced chatbots at the moment. It is hard to underestimate the importance and usage possibilities of chatbots if you have at least basic experience in working with various assistant software.
In fact, even the most superb virtual assistants like Siri and Alexa, which have extended functionality like speech recognition, the ability to surf the web, look for information, interact with various apps, etc, have chatbots under the hood. To make it simple, they are basically chatbots with extended functionality.
Thus, we would consider ChatGPT as a great instrument for automating HR processes within the TeamGain product.
So, what can ChatGPT do for HR automation? Frankly, there are at least a few possible use cases:
Administrative automation, which includes various repetitive routine processes like writing and sending emails to the crew. As a matter of fact, email automation is regularly underestimated functionality, which helps not only to significantly speed up the process of informing the team about the recent event or progress on different projects but to make it more adaptive and individual.
Paperless work is also a potential key benefit of adopting AI for HR management. Clearly, it doesn't mean, that this department will get rid of all paperwork, some processes shouldn't or simply can't be abbreviated. However, some minor and not totally essential activities can be automated.
Eventually, when we are talking about AI management in HR, we can't forget about the possibility to provide various useful features for the team members like leave applications reviewing and responding.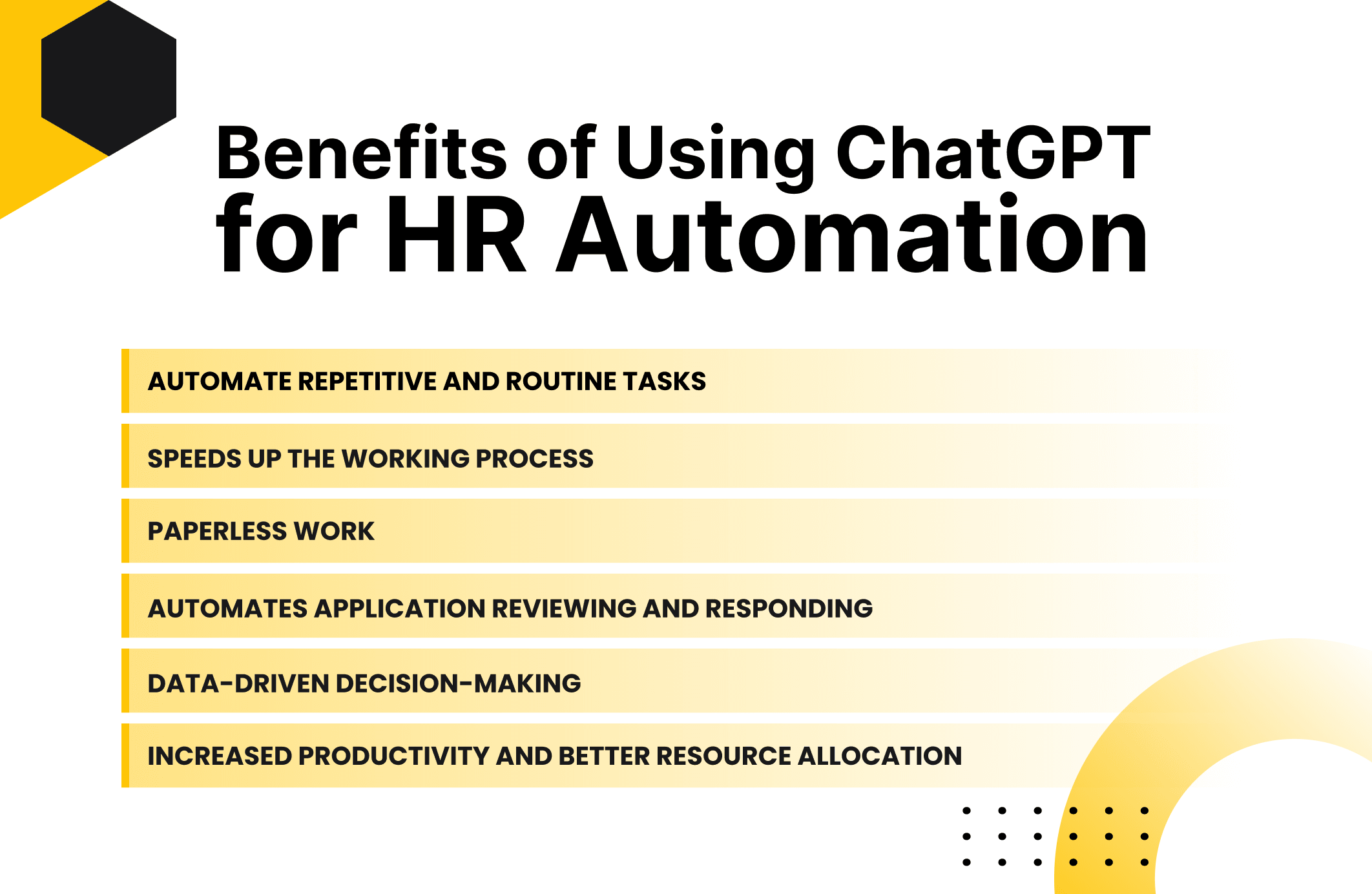 Yet, administrative task automation is by far not the only potential way to use ChatGPT or other AI and ML technologies for automating HR.
If we would talk in the context of TeamGain, it is possible to assume, that job performance reviewing, collecting feedback from employees, and data gathering with further analysis can also be automated. For example, all the statistics and reports can be quickly taken care of by AI, including also calculating performance, looking for possible response patterns, resource allocation, etc.
Undoubtedly, this can notably save and redirect resources within the HR department, and propose a more pleasant overall user experience. Additionally, it can be easily combined with the possibility to provide human resources specialists with a more detailed and specific analysis of an individual employee, allowing them to make more accurate conclusions on their performance, work satisfaction, etc.
Finally, it can be also involved in the recruitment process. For instance, it can check employee experience, and become a powerful instrument for the onboarding process, answering employee questions and making data-driven decisions for time-consuming tasks, helping HR specialists with talent acquisition, and analyzing potential candidates.
HR Management and Automation with Incora
When it comes to extending the functionality of Staff management systems and especially developing one, it is crucial to hire an experienced dedicated team with proven experience.
Incora has a number of niche-experienced developers, capable to create and improve multiple software solutions, including various types of management systems. To prove our point, we encourage you to examine the rest of our case studies before actually contacting us.