After its initial release in 2018, the Notion application has significantly impacted the self and project management fields, becoming an excellent example of task management tools.
Notion Labs made the right choice by developing an extremely convenient and user-friendly web application for everyday routine and project progress tracking. To make it more popular, they have decided to choose the freemium monetization strategy, meaning that the basic range of features is free of charge, yet some extra advanced functionality can be bought for a particular monthly payment, depending on the chosen "extras".

Before talking about the role of Notion-like apps in the modern task management field, whether it is worth developing your own Notion alternative, or choosing the original instead, and how to create a Notion-like app, we have to understand the Notion phenomenon and what key features it proposes.
Notion-Like Apps Key Features
First things first, let's consider the Notion alternative app MVP, an app, which consists of the most basic and essential features, that define the main usage purposes and overall interaction cases.

Frankly speaking, this minimum viable product will have to include the most free features of the Notion app. Therefore, let's consider the list of top Notion features for the Notion competitors to keep up with.
Clearly, such a list won't include features like Notion AI, community plugins, advanced database management options, code blocks, file attachments, time tracking, single sign limitation, and other optional advanced functionality. You can consider the creation of these extra collaboration tools in the future, after having the basis developed.

Tasks Board
One of the most well-known Notion-like app features is the ability to create different task boards with custom fields.
To make it simple, this application is based on "tables" - various independent UI blocks of content, organized in predefined templates.
In other words, each new in-app page is similar to a fully customizable constructor, allowing the users to combine a wide range of different types of content on a single web page. For instance, it can be a text editor block like Google Docs or Microsoft Word, combined with a To-do list, incorporated into a calendar table, and accompanied by various user pictures.
Yet, when it comes to the task board itself, it is mainly an Excel-like column with a high level of easy customization. For illustration, users can easily create a Kanban-type task board with extra markers like prioritization, status, and assigning a particular person to a particular task if needed.

One of the main advantages of this app, compared to the rest of Notion's competitors is the fact, that while most agile project management software applications are designed to be used by teams only, Notion provides the ability to use it both for team and personal purposes like performance tracking or task assignment.
Built-In Text Editor
Text editor tool seems to be not a deal breaker, yet to tell the truth - it is commonly underestimated.
For example, such applications as Jira or Asana, which are commonly considered the main Notion alternatives for project management, are also proposing text editing. However, the difference is that these applications propose limited space for text samples, which makes it difficult to provide your team members with more detailed information on different tasks, not to mention the ability to leave full-fledged employee handbooks for a more efficient onboarding process for team extension developers or other newcomers, which is crucial in terms of project management.
So, in order to create these handbooks, many project managers are using other third-party plugins and other software solutions like Google Drive, where they store all the needed documentation and share it on demand.
At the same time, Notion allows the creation of full-scale documents, that also can include high-resolution pictures, schemes, etc. Clearly, nowadays this is not an astonishing advanced feature, that can surprise at least somebody. Still, unlike some of its competitors, Notion proposes such simple and obvious functionality as a built-in and free option if needed.
To-Do Lists
To-do lists are always a great feature, especially when combined with other task board examples.
As a matter of fact, this simple and powerful tool allows users to track the progress of each individual assignment, also giving the possibility to divide a single task into multiple steps and monitor them with almost no effort at all.
Third-Party API Integrations
Finally, one of the most powerful features of such type of software solutions is the ability to integrate other applications and reach the data, stored there.
Obviously, if you are considering the development of a collaborative workspace platform for project task management, or group activity tracking, you will need to enable the possibility to reach other apps.
Undoubtedly, each company uses some kind of third-party software app for project planning and management like Trello, Jira, Slack, or others. Thus, the best idea for your future Notion-like app is to enable as many APIs as possible.
It can include countless third parties, yet the best way for integrations is to start from the most well-known and popular and extend step-by-step.
For example, start with various cloud-based services like Google Workspace or Microsoft Office. Also, do not forget about the rest powerful project management tools, including your potential rivals.
This will give you more chances to reach new audiences by giving your future users convenient ways to transfer all needed data, stored in other software solutions for task list management.
As a matter of fact, this is one of the main Notion approaches, which enables its users to simply migrate from other applications by gradually sharing new data from other databases and gathering everything they need in a single application.
The List of Best Notion Alternatives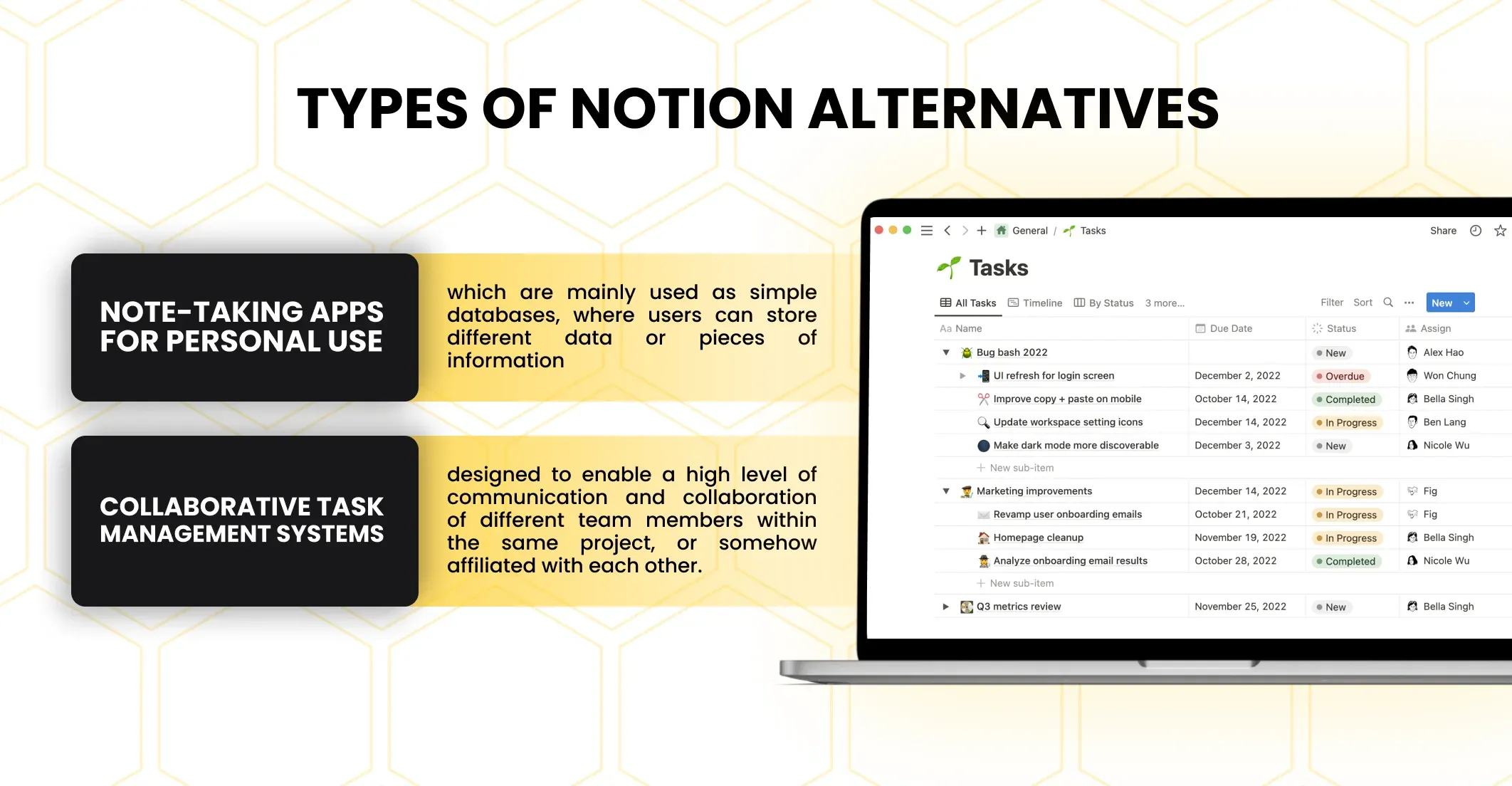 When we talk about the potential Notion competitors, we have to divide them into 2 different types:
Personal Noting Platforms or Note-taking apps, where users simply store their Notes or other data, using it like a knowledge base for personal use.
Collaborative Task Management System, which can be used to track personal or corporate tasks like daily assignments, an instrument for complex project management, or an application for knowledge sharing.
Certainly, in our case, we are interested in the second way of using the Notion app. Thus, let's ignore personal note-taking tools and similar types of apps for now.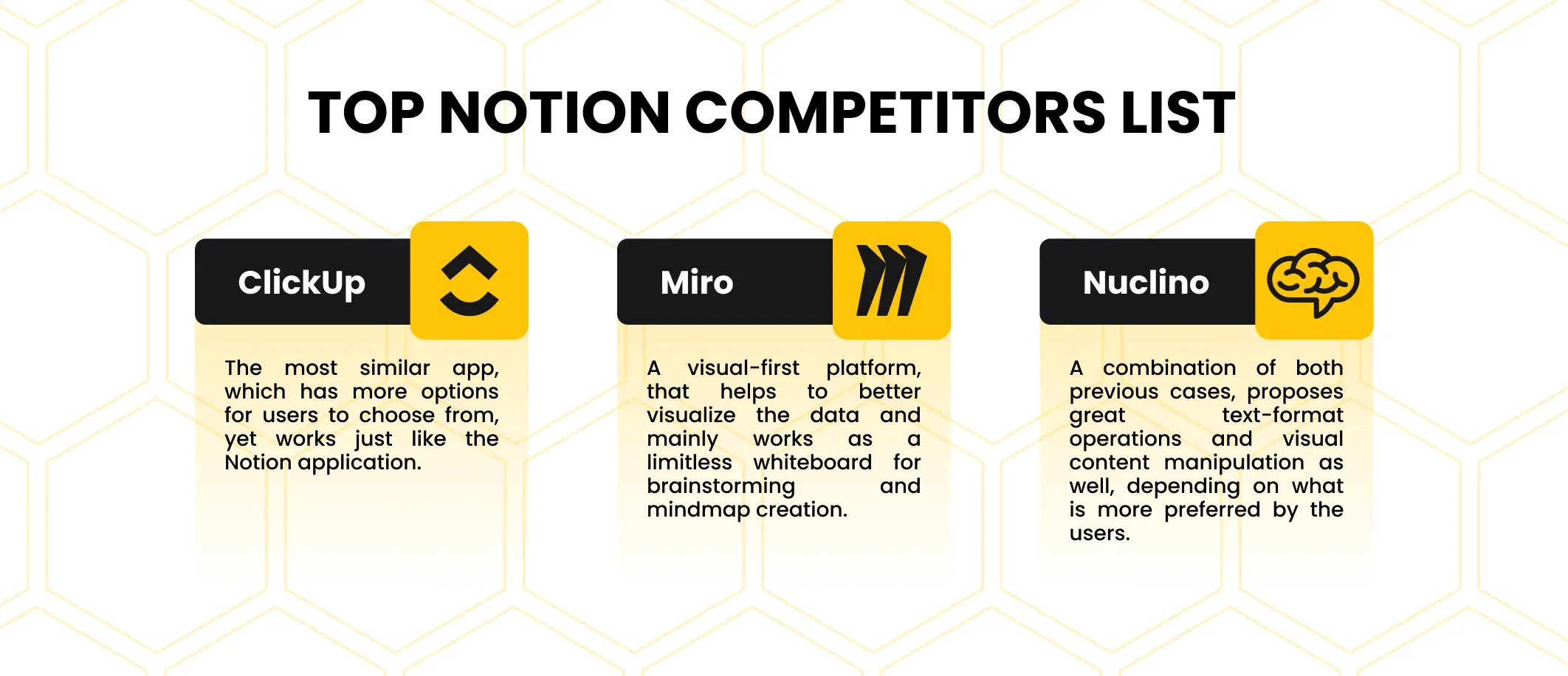 ClickUp
ClickUp is probably one of the most Notion-like applications.
To make it simple, these two apps propose almost the same collaboration features like task boards, docs sharing, and, what is most importantly - a high level of customization and collaboration.
ClickUp and Notion are both highly customizable and offer a number of ways to adjust the application in order to meet the user requirements and propose the best user experience possible.
Yet, to make it even more user-friendly, each of these software solutions has a countless number of APIs from all sorts of third parties, which might be related to your work like Slack, Jira, Trello, Google Drive, and many others.
This allows the integration and makes use of all needed data from different applications in a single place, which makes it an ultimate solution for such tasks as project management.
"One app to replace them all" - the ClickUp slogan says. The ClickUp vs. Notion comparison shows, that this slogan has a lot in common with reality. For illustration, while Notion supports 15 different APIs, ClickUp can reach more than 35 various third-party integrations.
Summing up all the above, it is hard to argue, that ClickUp is definitely among the best existing Notion alternatives, which is even better in some specific fields.
Miro
Miro is another example of a distinct Notion competitor.
Nevertheless, while most other collaboration platforms aim to become a single platform that plays the role of an all-in-one application for communication, progress tracking, to-do list sharing, etc., Miro is more specific.
Mainly, it is a limitless whiteboard for task managers, designed to gather information about various processes and collaborate in a brainstorming manner. One of the most unique features of this app is that it exists. To rephrase it, Miro mainly operates data not as plain text but as illustrated in a visual form.
It does not mean, that it is impossible to use plain text format (it is also available), still the main idea of Miro was to give more instruments for data visualization, i.e. it is one of the major features of this team collaboration software.
As a result, users can better distinguish various ideas or tasks and navigate between them.
Nuclino
Nuclino, on the other hand, aims to combine both plain text and data visualization with real-time changes within unlimited boards.
So, it proposes great text editing options and graphs. For example, one of the most well-known UI design patterns is the mindmap feature. To make it simple, in Nuclino users can transform the text or various components into a graph, where users can see them all, including how they are relative to each other.
This gives great possibilities to track and analyze the overall system, better manage tasks, and prioritize them, having a short- and long-term relation with other activities completed, or to be done.
Project Management Software Development With Incora
To cut a long story short, we can sum up all the above and define a few key features, which are essential if you are willing to develop a Notion-like app, that will help to improve the task management system.
Despite the variety of optional functionalities, you will definitely need:
Text editor tools, which will make it possible to edit or interact with different data, saved in a plain text form.
Task boards and To-do Lists are essential for any project management system. They help to define and split tasks of any complexity into a detailed step-by-step strategy on how to embody any idea and correctly use all your resources such as time or employees.
Third-party integration support is a huge step to improve user experience and satisfaction by allowing to relocate and share data or even specific features from one application to another seamlessly and avoiding the need to relocate data manually.
Besides, regardless of your aim, whether you are going to develop a collaboration platform MVP, or are willing to create a full-fledged Notion alternative with more complex functional features, you will definitely need a dedicated team of niche-experienced developers, who are familiar with the technologies to work with and the industry, you are willing to conquer.
Lucky for you, here at Incora, we have a number of experienced software engineers, who have previous experience in developing such types of software and some other examples of management systems for different industries.
For more information, we propose you examine some of our recent case studies or simply contact us directly.