Outsourcing software development has already become a well-spread practice, beloved by technological Giants like Google or Facebook and various startup companies. Such a development approach allows not only saves some resources and delegates specific parts of any software project but gives access to a significant pool of talent worldwide.
As a result, business owners get a chance to hire a dedicated team of experienced developers with much lower paychecks. Yet, this is just the tip of the iceberg, i.e. the most well-known fact, related to the outsourcing software development phenomenon. Truth be told, there are numerous other reasons to outsource IT processes. Besides, each type of IT outsourcing, as well as the country to outsource to has its own specifics.
For instance, outsourcing software development in Ukraine is a popular trend, which keeps its popularity thanks to countless factors, which positively impact various development processes and increase the number of reasons to outsource IT in Ukraine.
Ukraine has the biggest and fastest-growing number of IT experts in Europe. According to IT Ukraine Association, for the past few years, the number of IT experts in Lviv has climbed by a third.
For the time being, there are over 200,000 niche-experienced developers in Ukraine. Even though there are many product companies, most of them provide software development services in the form of outsourcing.
Still, the foregoing is not the final list of reasons to Outsource in Ukraine. For a more detailed explanation, let's consider the rest of the reasons in more detail.
Specifics of Outsourcing Software Development in Ukraine
The full-scale Russian-Ukrainian war has shown, that despite all the challenges, Ukrainian software developers have all the skills to deal with them. One such example is the compilation of apps that popped up in this war.
Besides, some Ukrainian software products become so well-known, that other countries started cooperation with the Ukrainian government in order to create analogs in the rest of the world. For instance, Estonia and Poland started the development of the Ukrainian governmental mobile application Diia.
However, this is not the only example of Ukrainian software development specialists' expertise.
So, in order to better understand the specifics of outsourcing software development in Ukraine, as well as the reasons to Outsource in Ukraine, let's consider some other more general aspects, worth considering.
Reasons to Outsource in Ukraine
Constantly Developing Software Development Market
Kyiv and Lviv are considered to be the main centers of outsourcing software development in Ukraine. Kyiv, as the capital city, provides jobs for almost 50% of Ukrainian IT professionals. Lviv is the second-largest destination. According to recent research by the Lviv IT Cluster, the annual approximate growth rate of the IT industry here is 20%, and the total number of software development specialists in Ukraine is around 228 000 individuals.
Currently, Lviv is home to more than 500 IT companies, that provide jobs for more than 30 000 engineers. Incora is one of them, and we are constantly growing.
Frankly speaking, software development is considered to be one of the most popular industries among Ukrainian citizens, which results in the constant growth of outsourced software development companies, startups, and the number of people, somehow related to this industry, including not only software engineers, but business analytics, QA software testing experts, hardware designers, and many other.
Wide Range of Outsourcing Companies
Taking into account the above statements, it becomes clear, that regardless of which IT service you are looking for, mobile and web development, IT consulting, Big Data, or analytics, Ukraine definitely has what you're looking for among its more than 4000 software development companies. As impressive as this number is, the quality isn't compromised – Ukrainian outsourced IT companies cemented their places in almost all possible global Tops as you can easily check on Clutch, GoodFirms, or any other review platforms.
It is worth noting, that almost all Ukrainian IT specialists have an intermediate and higher level of English, so you get only a well-done job, but also direct and transparent communication, which makes it easier to keep a manageable team on Outsourcing.
Skilled and Flexible Software Developers
As the demand for tech talent increases, more and more people enter tech faculties, IT stated that there are more than 20 000 tech graduates each year and there is a distinct tendency that this number will grow in the coming years.
Additionally, numerous IT companies provide different courses and trainee positions. During the internship, young specialists get a chance to put their theoretical knowledge into practice. Usually, after 3 months of intense training, the best students are offered a job as junior professionals. Moreover, a high number of skilled software engineers results in multiple services, which is definitely one extra reason to Outsource in Ukraine.
For instance, apart from outsourcing software development in Ukraine, our software development companies also propose additional services. For illustration, there is no actual outsourcing vs outstaffing opposition: most companies are proposing both services, depending on the customer needs and requirements.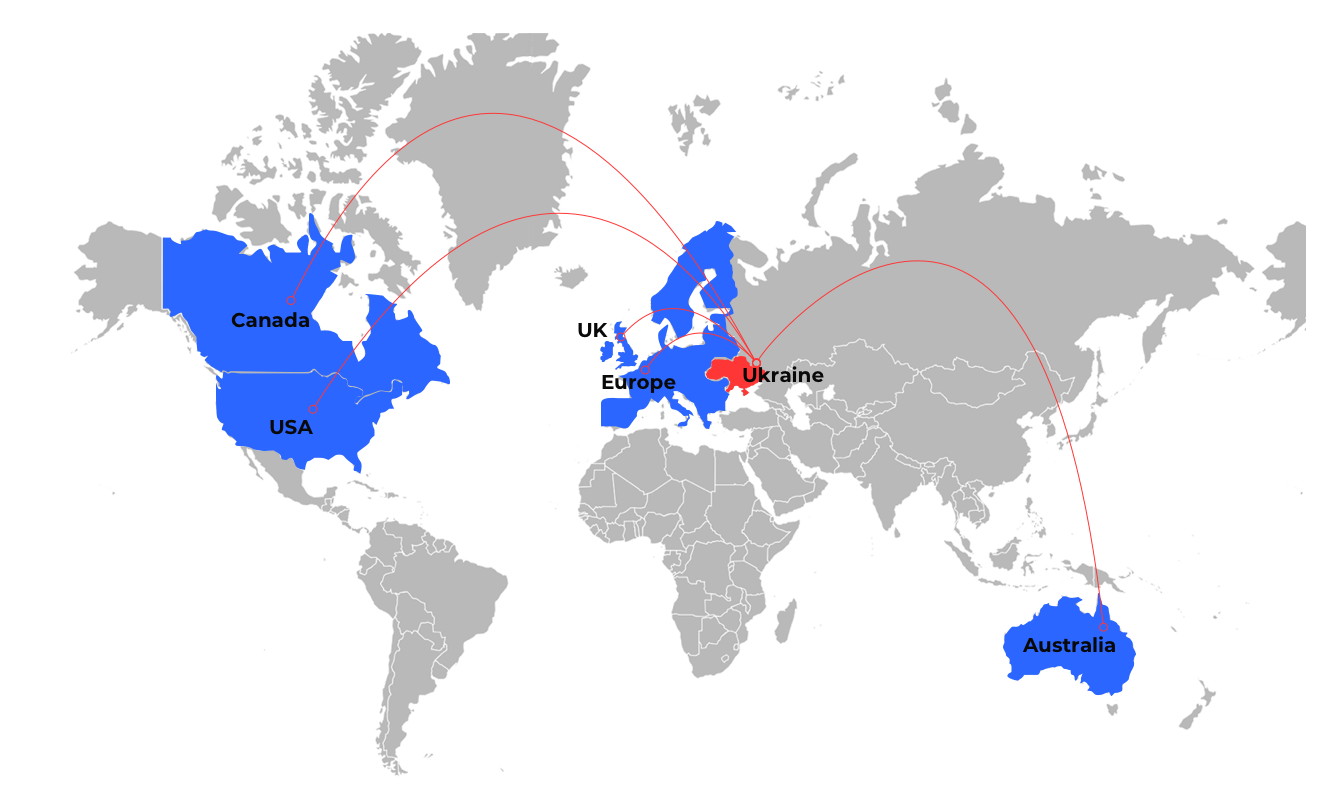 Ukrainian universities actively cooperate with the Ukrainian IT Cluster and continuously introduce new tech programs. As of writing, numerous Ukrainian cities have their IT Clusters. Also, a significant number of tech events are being organized, including IT Arena, iForum, JEEConf, GDG DevFest, Mobile Beach Conference, IT Weekend Ukraine, Agile EE Conference, and others. Considering that such events create a great platform for sharing knowledge and the latest innovations, Ukrainian IT companies do not stop at our internal conferences, but we expand on the global level, representing our tech talents on various skills-sharing sites, like Web Summit.
All the foregoing conferences and events are additional bonuses for outsourcing software development in Ukraine, that allow business owners from all around the globe to personally visit any of them and evaluate the average level of software development experience and services, proposed by Ukrainian outsourcing companies.
Recognition of Outsourcing to Ukraine
During the last few years, Ukraine gained significant recognition as a global outsourcing IT services provider. A number of Ukrainian companies cited in Global Outsourcing 100 by IAOP included on the list demonstrated outstanding excellence and were judged on five critical characteristics: size and growth, customer references, certifications, programs for innovation, and corporate social responsibility.
Clutch, a data-driven platform that contains unbiased reviews, placed many companies, known for outsourcing software development in Ukraine among top providers in various categories. The clutch lets business owners compare software outsourcing companies and their solutions in a specific market, in order to see each company's efficiency. Besides, A.T. Kearney, a global management consulting firm, placed Ukraine among the top 50 countries by the volume of outsourcing activities.
Reasons to Outsource in Ukraine: Cost and Quality Ratio
It's not a secret that one of the main reasons to Outsource IT, as well as one of the major fears, is the cost and quality ratio.
Ukrainian IT outsourcing companies offer great and compatible solutions for reasonable prices, which cannot be compared to the hourly rate of Western European or US developers, making it more similar to software development in Eastern Europe.
As the majority of Ukrainian companies got used to remote communication and cooperation, the scope is advanced that way, so the lack of any process which can be caused by online project management is not feasible. Despite a lower rate, than in other countries, Ukrainian tech is innovative. This is easily proved by the outlook of all Ukrainian innovations that became world-known projects.
Full-Fledged Outsourced Package
The Ukrainian IT market is constantly expanding. As software development outsourcing remains very popular, a lot of companies choose experienced, well-priced, and committed freelancers from Ukraine, especially when it comes to IT services.
The Ukrainian IT market has already shown great results and a tendency to grow not only in terms of peaceful and patient conditions but also during the Russian-Ukrainian war. Taking into account all the preceding reasons to Outsource in Ukraine like cost and quality ratio, skilled professionals, and a great pool of talent, as well as the overall financial and economic situation worldwide, we can conclude that outsourcing software development in Ukraine allows you to avoid extra spending, still gaining a high-quality product with the whole package under the hood: in addition to outsourced software development, our dedicated teams propose a number of additional services like team extension, product maintenance after its publication, experience in working with different industries and great tech expertise.
Wrapping Up
Summing up all the above, we should admit, that when it comes to reasons to outsource IT processes, the country, you are considering for outsourcing, is just a general concept, which includes various statistics and indicators, which are mainly common for different development vendors.
Eventually, you are looking for hiring a dedicated team for software development, not a country. Therefore, it is important to take into account different location and region specifics, yet is it just the first step of outsourcing software development. You want to be sure that you're choosing the right company, not only with a skilled team that shares your values and is open to a true partnership. It requests research and thorough planning.
Lucky for you, you're already here. To prove our point, we propose you check our case studies for a better understanding of the Incora context, and only when you are sure, that we are the ones, whom you were looking for all that time - contact us to discuss all the details of your project ideas.