Ukraine has the biggest and fastest-growing number of IT experts in Europe. According to IT Ukraine Association, for the past 4 years, the number of IT experts in Lviv has climbed by a third.
For the time being, there are over 200,000 tech specialists in Ukraine. Even though there are many product companies, most of them provide software development services in the form of outsourcing.
1. Constantly Developing and Expanding Market
Kyiv and Lviv are considered to be the main centers of IT development. Kyiv, as the capital city, provides jobs for almost 50 % of Ukrainian IT professionals. Lviv is the second-largest destination. According to Lviv IT cluster, the annual approximate growth rate of the IT industry here is 20%.
Currently, Lviv is home to more than 500 IT companies, that provide jobs for more than 30 000 engineers. Incora is one of them, and we are constantly growing.
2. Wide Range of Companies
No matter which IT service you need, mobile and web development, UI/UX design, QA and testing, IT consulting, big data, and analytics, Ukraine definitely has what you're looking for among its more than 4000 software development companies. As impressive as this number is, the quality isn't compromised – Ukrainian IT companies cemented their places in almost all possible global Top 10s as you can easily check on Clutch, GoodFirms, or any other review platforms.
It is worth noting, that almost all Ukrainian IT specialists have an intermediate and higher level of English, so you get only a well-done job, but also direct and transparent communication.
3. Skilled and Well Educated Workers
As the demand for tech talent increases, more and more people enter tech faculties, IT schools, or various traineeship programs. IT Ukraine Association stated that there are more than 20 000 tech graduates each year and there is a distinct tendency that this number will grow in the coming years.
To support graduates, numerous IT companies provide different courses and trainee positions. During the internship, young specialists get a chance to put their theoretical knowledge into practice. Usually, after 3 months of intense training, the best students get a job offer for a junior professional. Incora also actively supports young engineers who are motivated to enter the industry. We provide challenging tasks and constant mentoring to boost skills and enable professional growth.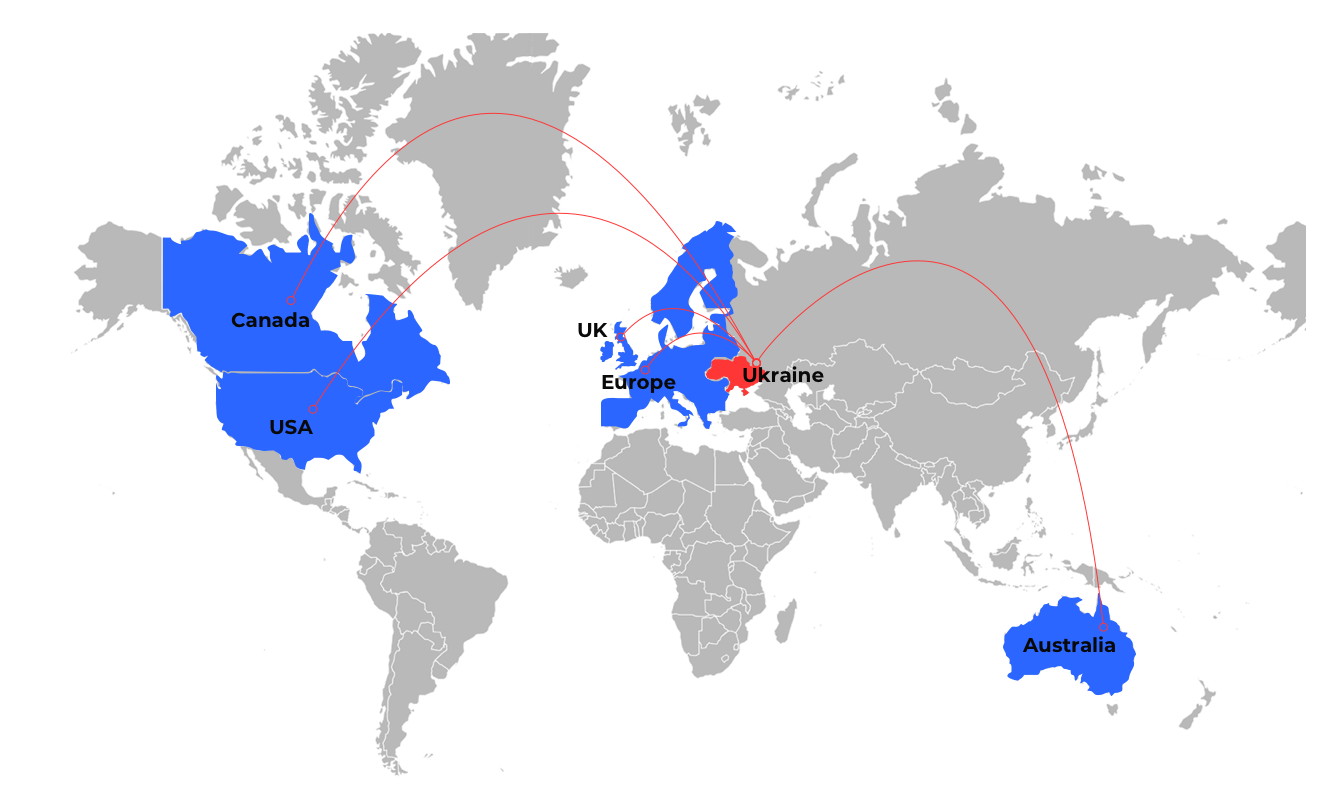 Ukrainian universities actively cooperate with the Ukrainian IT Cluster and continuously introduce new tech programs. As of writing, 17 Ukrainian cities have their IT Clusters. Also, a great number of tech events are being organized, including IT Arena, iForum, JEEConf, GDG DevFest, Mobile Beach Conference, IT Weekend Ukraine, Agile EE Conference, and others. Considering that such events create a great platform for sharing knowledge and the latest innovations, Ukrainian IT companies do not stop on our internal conferences, but we expand on the global level, representing our tech talents on various skillsharing sites, like Web Summit.
4. Recognition of Ukraine as an IT outsourcing provider
During the last few years, Ukraine gained significant recognition as a global outsourcing provider of IT services. A number of Ukrainian companies were cited in Global Outsourcing 100 by IAOP included on the list demonstrated outstanding excellence and were judged on five critical characteristics: size and growth, customer references, certifications, programs for innovation, and corporate social responsibility.
Clutch, a data-driven platform that contains unbiased reviews, placed many Ukrainian development companies among top providers in various categories. The clutch enables you to compare businesses and solutions in a specific market and see each company's profile. Besides, A.T. Kearney, a global management consulting firm, placed Ukraine among the top 50 countries by the volume of outsourcing activities.
5. Low Development Cost with High Quality
It's not a secret that Ukrainian IT outsourcing companies offer great and compatible solutions for the reasonable prices, which cannot be compared to the hourly rate of European or the US developers. As the majority of Ukrainian companies got used to remote cooperation, the scope is advanced that way, so the lack of any process which can be caused by the online project management is not feasible.
Despite lower rate, than in other countries, Ukrainian tech is innovative. This is easily proved, just by the outlook of all world-known projects, where Ukrainian developers were directly engaged in creation.
6. The tendency for future growth
The Ukrainian IT market is constantly expanding. As outsourcing remains very popular, a lot of companies choose experienced, well-priced, and committed freelancers from Ukraine, especially when it comes to IT services. According to numerous research sources, the number of tech students and market demand is steadily increasing worldwide.
Wrapping Up
It's not all about the country that you choose to outsource to, you need to be sure that you're choosing the right company, not only with a skilled team, but which shares your values and is open to an actual partnership. It requests research and thorough planning.
Lucky for you, you're already here. Drop us a line, and we'll find the best time for a free consulting call and discuss your project, wishes, and requirements.