At Incora, we understand that it is impossible to shape digital future alone, so our team decided to visit Web Summit this year to share experience and learn about the innovative solutions from around the globe.
Web Summit is considered the largest tech conference in Europe, which gathers a community of business leaders, developers, scientists, and tech enthusiasts. Our team visited beautiful Lisbon in Portugal and had a chance to network with over 70,000 tech people and listen to outstanding speakers like Brad Smith (President at Microsoft), Katherine Maher (CEO at Wikipedia), Gillian Tans (Chairwoman at Booking.com), Daniel Grieder (CEO at Tommy Hilfiger Global & PVH Europe), Brad Bao (Co-founder & CEO at Lime), Markus Villig (CEO at Bolt), Chris Barton (Co-founder at Shazam) and many more.
Our company strives to provide the best services for our customers, so we regularly attend major tech events to be updated about the latest trends.
The conference covered a huge number of topics ranging from the humanity of tech, sustainability, climate change, work-life balance, leadership, marketing, content, and so on.
Web Summit greatly supports women in tech and provides different opportunities for female entrepreneurs. Four of our colleagues represented Incora on the event, including CTO Tetiana Stoiko, BDM Iryna Savruk, software developers Mariana Kozyra and Nataliia Plotytsia.
Our team had a chance to dive into the entrepreneurial atmosphere, get inspiration and find new partners for a better tomorrow. The conference brought us priceless experience, so we decided to share how you can make the most of it as well. Our team gathered the most valuable tips you can use while preparing for the next Web Summit or any other huge event.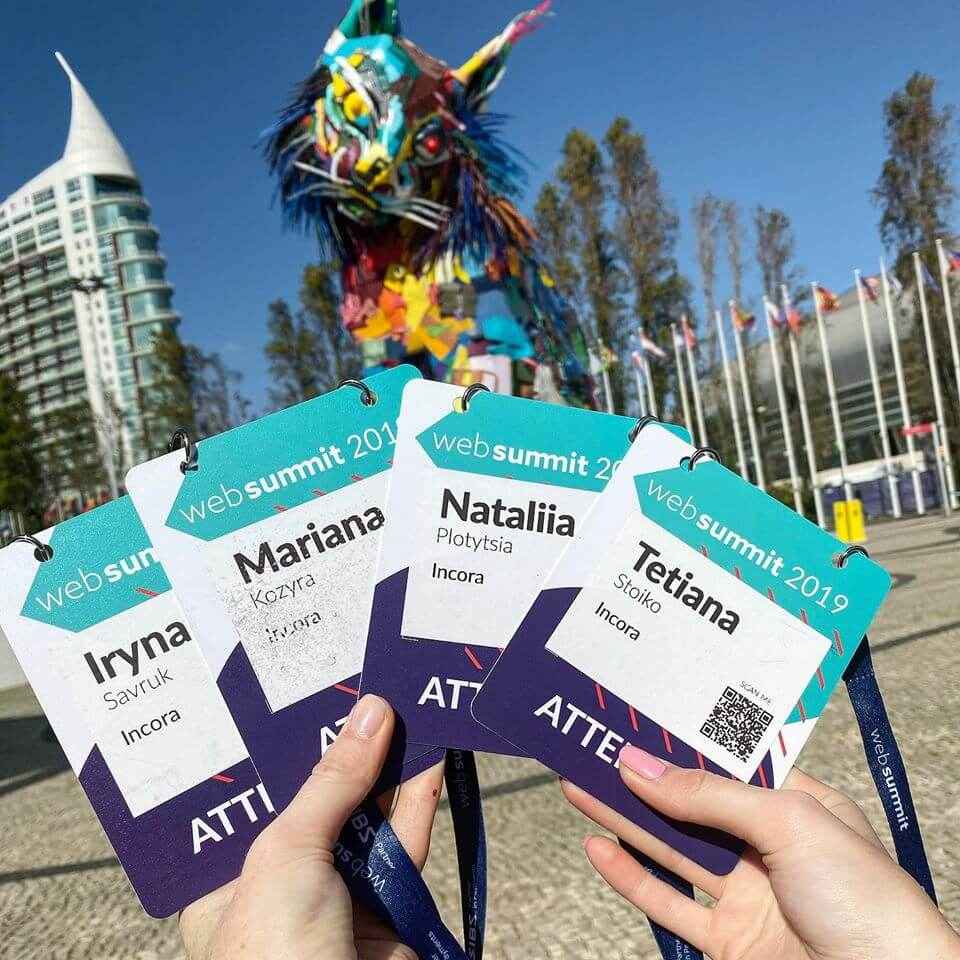 Networking power
Incora believes that innovation is driven by people and their ideas, that is why we come to Lisbon to meet them. Networking can not be overestimated, it is essential for building strong and prolific business relationship. Web Summit brings together forward-thinkers, leaders of technology companies, and fascinating startups. It is the best place to make meaningful connections, find clients, partners.
Remember, networking will take much time and energy, which means getting to bed late and missing some of the talks.
Focus on specific people
Before the conference, you should identify your goals. What do you plan to get from the event? Are you a startup searching for investors, a software provider looking for new partners or clients, a freelance professional interested in new opportunities. All attendees have different badges including Alpha, Beta, Speaker, Partner, Investor. Each badge has a different color, so you can spot the person you need from a distance.
Also, be careful about your badge and bracelet, because you will not be allowed to enter without them and will need to pay fine in case something is lost.
Choose the rental apartment wisely
Most of the events on Web Summit take place at the Arena, near subway stop "Oriente". The Night Summit, where the most active networking is happening, happens in the downtown of Lisbon. Probably, the best place to rent an apartment will be near the red line of the subway, which connects the city center, arena, and the airport.
Transport
Public transport in Lisbon is quite good and uses the Viva Viagem card, which costs €0.60 and can be reloaded. Tickets are available in any ticket machines and cost 1.5 Euro for 1 ride. The transport system is very clear and you can also notice Web Summit stickers everywhere to help you find the way to the conference.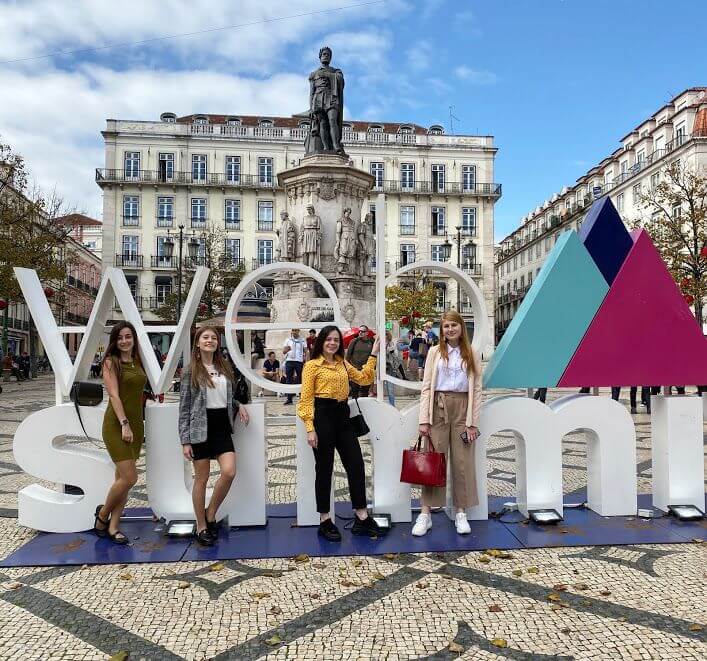 Business Cards are not outdated
You can be surprised how often people will ask for a business card. Of course, there are LinkedIn and Web Summit app to scan attendees, but many people still prefer this old-school way. Moreover, sometimes the battery can go flat or Wi-Fi connection is poor, which will not cause any problems if you have a card.
Powerbank
You will use your phone a lot – to write instant messages, scan people, take photos, write down some notes, search for the proper pavilion where an interesting speech is happening. Take a power bank with you not to interrupt your networking to plug in.
Snacks and Drinks
There are multiple places with disposable cups where you can drink water or coffee for free. Also, you can take a reusable water bottle, but we didn't see any use of carrying it around. A water cooler appeared to be a great spot for meeting new people and having an interesting chat.
The conference including side events takes up all day, which means you will definitely get hungry. Take some small snacks with you to keep the energy level high. There is a huge variety of fast food available on the Web Summit territory, but the food is a bit overpriced and it takes some time for standing in the line.
Also, there is a huge mall between the Arena and subway, where you can buy some snacks or have lunch.
Comfortable outfit
The city of Lisbon is built on hills and consists of numerous cobbled streets, which become very slippery during the rain. This is probably the worst place to wear high heels or a tight skirt. Your clothes should remain maximum comfortable and professional, no chick outfits are expected. In addition, the conference venue is really huge which requires a lot of walking. Comfortable footwear is absolutely necessary.
November is a rainy month in Lisbon, that's why we recommend getting waterproof clothes or an umbrella with you which can be left in the designated area till the conference is finished.
Manage your time
The territory of Web Summit is huge and crowded, so allocate plenty of time to get from session to session. It is a good idea to choose events located close to each other. If the speaker is very popular, you will probably need to come earlier to get seated.
Follow up
You will meet hundreds of people during the conference, who can share new opportunities and plans for future cooperation. Do your best to jot down the information about new acquaintances and reach out to them after the event. Write them unique messages about the things you discussed in person. Each conversation has the potential to become a prolific partnership.