The question of whether to hire developers for your company or to outsource seems to be eternal. Because there is no universal answer, you just choose what option suits you better. Let's try to understand what are pros and cons of outsourcing and working with an in-house team and features of each option. Hopefully, it will help you figure out which option is the one you need.
In-House Development
This model means working with developers in the most traditional way. You create the position, go through the entire recruitment process, and choose the best candidates for your team and your product. You pay attention to hard and soft skills equally; figure out if these people will be not only high-calibre specialists, but excellent team mates and achievers. You don't care only about the product anymore; you are leading a team from this very moment.
This approach is most common for middle-sized and large companies. For example, Amazon, PayPal, and other ones from various top-lists prefer having their specialists in their teams for one-hundred percent control.
Pros Of In-House Development
**You build a team with the same values and corporate culture. **You will never find a book or any story of business success that will not include a recognition of people. People who shared their goals and values from the very beginning. People who came up with a great idea and turned it into a product. People who believed in their brainchild and in each other.
Working with your in-house team, you become a genuine leader, a motivator and coach. You work not only for the project, but for company growth, development, and success. You take a huge responsibility for your actions, words and even the mood you are in when you come in to your office. People notice everything.
Direct communication.
This may be the major or even the only inconvenience you meet when choosing to outsource. I'll jump ahead a bit here and assure you there are oodles of solutions, we'll get to them a little later.
Working in different time zones may be a challenge, especially when you work with a startup and are not quite experienced in managing processes. Team members can be physically in different countries or even continents, work in the mornings or at night, anything. When you need to make some instant clarification or implement changes, there are great chances that you will not reach the right person immediately.
In short, you cannot just come to the office and talk to people directly.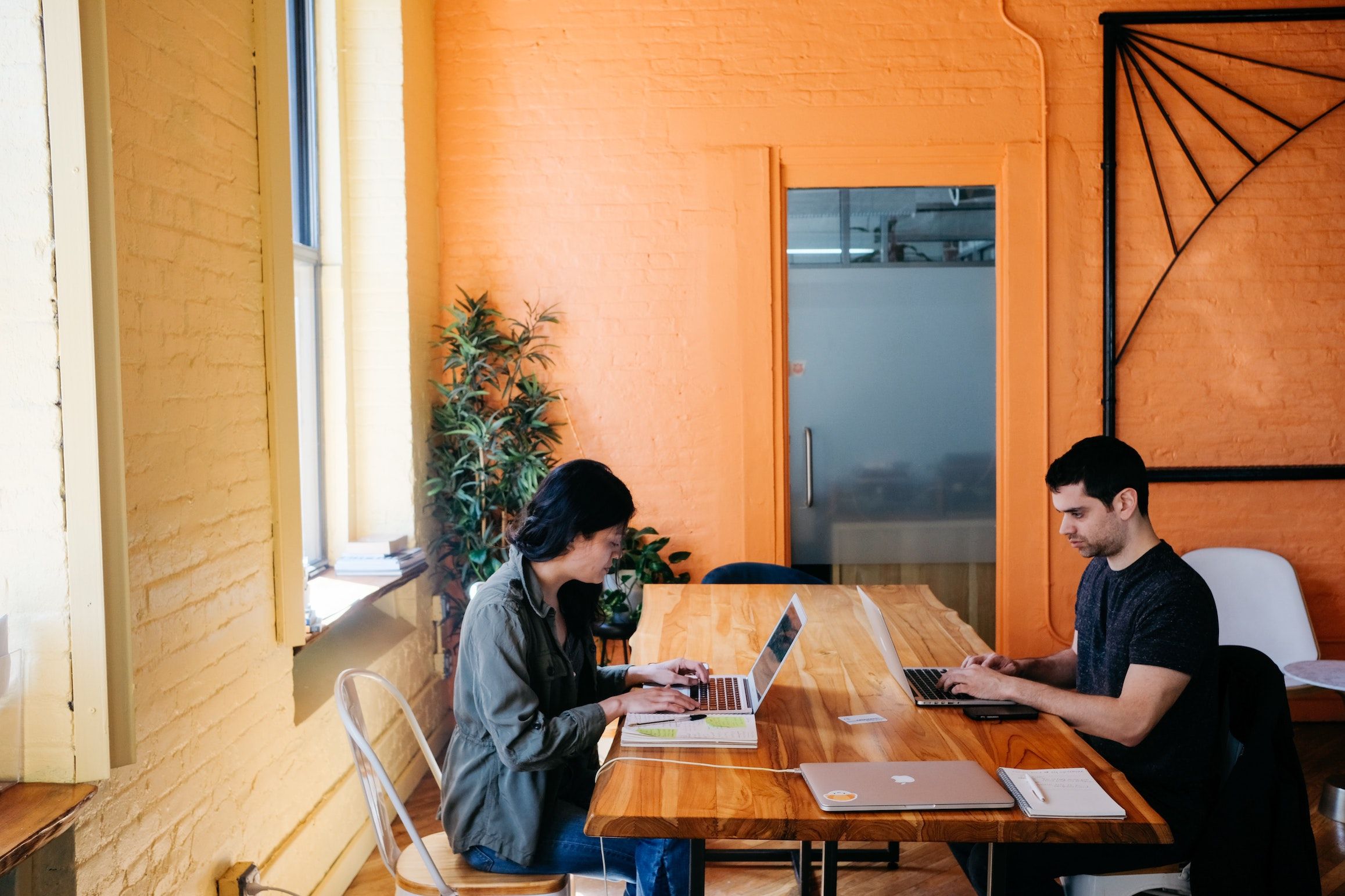 It will be fair to say that with all the messengers and tracking apps we use these days, this problem may sound more like a joke. Especially, taking into account that, in 2020, the lockdown partially or completely removed obstacles like this and adapted us to effective and fruitful distance work. We've been living like that for more than a year and things seem to be alright.
Rapid response and support.
This is of particular importance during the project launching. You get feedback and need to fix bugs rapidly and efficiently. It is way easier to do with an in-house team. Surveys showed that having a few people in your team and outsourcing some tasks can improve and speed up work.
Cons Of In-House Development
Cost.
It's all about money in 99 cases of 100. When settling your development team, you prepare yourself for the direct and related costs this decision will cause. Trusting Payscale statistics, the average salary of a developer in the US stands at 71, 508 dollars. This is a net salary and does not include sick leaves and vacations, insurance, social security, additional services like language courses, gym, training and seminars, corporate events, parties, etc.
Working with a team on a project basis, you only pay for their work and that's it. If you are a startup, it means a lot.
Staff turnover.
Everyone wants the best professionals for their team, but even a good salary and an impressive list of additional bonuses can not warrant that a particular candidate will pick your company. Your reputation and word of mouth are crucial. By signing the order, be sure you're able to meet all your promises. Only then you may expect the specialist to meet all the requirements. Other companies are always there to try and poach your skilled and experienced specialists, do your best to hold them.
Responsibility for team development.
The IT industry is highly dynamic. Trends, requirements, coding languages, and technologies are constantly changing and updating, becoming more or less demanded and relevant. As a manager, you are in charge of maintaining that the set of knowledge, skills, and abilities of your employees always remain topical and their level is high. The quality of your final product is directly linked to it. To do this, you must constantly invest in training, lessons, and courses.
When To Use In-House Development
Although some serious shortcomings, sometimes working with an in-house team is justified.
**If you don't have any budget restrictions. **Sounds perfect, doesn't it? It easily erases all the weaknesses mentioned above. If you can afford to work will finally pay off in the future.
**If you want to keep an eye on every little detail. **The vital thing for those who prefer to have all things carefully monitored, to react immediately, and so on. If you recognize yourself here, go this way.
Having a great project manager, you can achieve the same effect of cooperating with the outsourcing team.
Outsourced Development
About outsourcing and its benefits, we have told here and it will take from 3 to 5 minutes to read it;) Long story short, outsource model is based on delegating some tasks or entire projects to freelance specialists or teams that specialize in this.
You have various payment options (per hour, per task, for the whole project, etc). Cooperation is based on terms and conditions described in the contract, signed by two parties.
That model has been growing in popularity and recognition for the last few years. The lower cost and ability to choose the team exactly for your project are quite solid arguments.
Even giants like Google and Slack work with outsourcing teams. By 2024, outsourced projects' revenue is expected to be approximately $98 billion.
Ukraine, Poland, Romania, and other outsourcing centers can save lots of money for countries where hiring a local programmer is a costly enterprise.
Pros Of Outsourcing
Better financial management.
If hiring a skilled specialist for your team is costly, but giving up is not your option – outsource! The same level of expertise can cost differently in different countries.
A huge pool of talents.
When deciding to work on an outsourcing model, you have a broad choice of talents at your disposal. You are free to choose among lots of platforms, hire the team, or form one exactly for your project. You have a great chance to find the best of the best and gather them. You are also absolutely secure, as you can easily replace an unreliable specialist with a more suitable if needed.
Ability to choose technology and working conditions.
Usually, we clearly understand how our project is supposed to work and look, according to our knowledge, experience, resources, and flight of fantasy.
When consulting and working with different specialists, you take advantage of their experience, points of view, visions. You get greater chances to improve or even totally change your project, product, and working process.
What To Focus On And What To Choose For Your Company
No one-fit answer still. Frequently companies try one and another option for some time and then decide. Sometimes, these two models perfectly work in parallel: the company expands its team with freelancers for completing some special tasks.
This model is better known as a partnership and is hugely popular nowadays. Companies have few core specialists and hire freelancers on a project-by-project basis.
In simple terms, you don't choose one option, you mix them.
When choosing a partner, rely on reviews on reputable platforms like Clutch and The Manifest.
Clutch deserves complete trust. Although companies fill their profiles by themselves, the platform handles the accuracy of feedback, starting interviews, and acting as an unbiased mediator between the client and the firm.
Having found the company, rely on case studies on their websites, check out the portfolio, read feedback, etc. For comfortable long-term cooperation, it is important to understand the values ​​of the partner company and the methods they use, so that the cooperation was comfortable for everyone.
Often there is simply no need for hiring a team, and it is much more expedient to outsource projects. As it was said, it is especially fair for startups when you focus on getting the first results as soon as possible.
Bottom Line
In-house and outsourcing are not like the bright and the dark sides. Both models have their advantages and shortcomings. Something works perfectly for one company but is absolutely inappropriate for another. Something is relevant now, but will not remain actual in the future.
We are here not to confuse you, but to provide you with free consulting, estimates, and some ideas for your project. Fill in a short contact form and we'll arrange the call. Stay safe!