We live in a time when finding the answer to any question or satisfaction of our wishes begins with unlocking our smartphones. People are glued to them. Ordering food and groceries, taking a taxi, tracking public transport, buying tickets, booking a table in a favorite pizza place, or online doctor appointment, studying – almost everything can be managed with your gadget. This is not surprising – people tend to look for easier ways, and demand creates its supply. Therefore, the number of web application ideas will only increase, especially in the current pandemic circumstances where we all need to change our habits in some way.
As an on-demand app development company, we conducted our research. It shows what is going to be most in-demand in the nearest future and here are the best startup ideas for 2022.
Top Web Application Ideas This Year
The list can go on ad infinitum, so we focused on the 5 most in-demand web services. If you have other startup ideas – great! Share them with us in the comments below.
Now let's look at each in detail.
1. Food Delivery Apps & Platforms for Ordering Groceries Online
Gone are the times when we had to go to brick-and-mortar stores for buying goods. It is much more convenient to place an order online, pay with your credit card and receive a package right to your door the next day. Here are three main pros of ordering groceries online:
it's way easier than traditional shopping;
it saves time;
it gives a chance to avoid impulse purchases and to save costs.
Food delivery apps weren't lacking for attention pre-COVID but now is their golden time. New data from CivicScience shows that modern consumers are more likely to order pizza or Chinese food from a local restaurant while watching a film on Netflix than they are to cook.
It's also important to understand that in the event of a second wave of COVID, the only hope for many restaurants will be to incorporate food delivery apps into their operations to stay afloat.
Let's take a look at the features of the food delivery applications. One of the main parts of its creation is the development of several interfaces with various functionality: client, courier, restaurant, and admin are the most common roles. When starting app development you might dwell more specifically on each of them, and do further evaluation of every stage and process each group can go through. Try re-creating the step-by-step ordering procedure, so you could fulfill the needs of all incorporated roles.
To enter the market and launch startup ideas related to food delivery apps or ordering groceries online, it's more efficient to consider starting with MVP. This way, you'll check the advantages of your platform and decide what to add to distinguish your business in this overwhelmed market.
Our experience:
2. Healthcare Apps
We live in very challenging times for a healthcare system. Difficulties appear for those who live in the countryside, have a tight schedule, or face other obstacles. We can't also forget that hospitals in some regions are nearly overwhelmed because of COVID and other seasonal increases in disease. Medical workers are extremely busy. So, some people decide to ​​have recourse to the Internet and Google, when it comes to treatment. Unfortunately, the majority forget, that when a person needs medical treatment, there's the only right way – to consult a doctor.
In these cases, on-demand health services are a real catch. They provide the possibility to make an online doctor appointment, order medications at a pharmacy, collect data about previous visits, and even conduct online consultations with doctors and other health professionals. To extend the option for clients, you might add the additional possibility to have video calls with health workers apart from text chat, by integrating CPaaS into the medical app.
Healthcare apps might embrace different functionalities, related to the medical field. Besides scheduling online doctor appointments, it could be informative platforms, that display valuable information about the medicine the doctor prescribed, or apps, that increase awareness of various medical terms and diseases.
Surely, the future brings us new technologies like Artificial Intelligence, which will be implemented in multiple fields, but in the medical sphere especially. If AI became one of the things that could be easily integrated into the software, it would benefit your app. For example, it could replace doctors for the first stages of diagnosis in the healthcare apps. AI can be in charge of initial prescription, by analyzing medical test results. But when it will inspect more difficult cases, it could redirect a person to the healthcare professional.
As you can see, there is a space for innovative approaches in generating startup ideas, and the healthcare industry will grow in parallel with the increase of IT potential.
Our experience:
3. Online Tutoring Platforms
The online education industry is now developing at a dizzying rate. With technological progress and lots of new professions, learning now is the prerogative not only of schoolchildren and students but also of adults who are switching to a different job or improving their skills.
Online tutoring platforms allow users to watch video lessons, read and print text materials, take tests, obtain certificates, send messages via chat, and conduct online training with teachers.
There are many pros and cons of online tutoring platforms but we all have a splendid chance to see them in use right now when many schools and colleges all around the globe can't work normally.
Talking about the key features of online tutoring platforms, we can highlight the importance of a few parts of such marketplaces: accessibility, convenience, and value of courses. To make your platform for online education competitive in all of these criteria, you should ensure to examine every online tutor during registration, add a user-friendly dashboard for monitoring courses, as well as integrate CPaaS. API Integration of CPaaS would open a wide range of possibilities for online education, so the teachers and students would effortlessly have lessons and do not suffer from the deficiency of real-time communication.
To monetize the software for online education you can use both the Freemium payment model and Trial Period. Either way, you should allow users to have an access to the courses for free, even though it would be not a full or a short-term admittance.
Our experience:
4. Beauty Apps
These apps are designed to save time, money, and nerves. The concept is very simple: you can find them conveniently located salon, check the costs and rating, and make an appointment online. The owner, for their part, can manage customers, edit the profile, add and delete services.
But the main point is that, during the pandemic, many salons started providing in-home beauty services, such as haircuts, manicures, and makeup services, joining self-employed people who always worked like this. The demand for in-home beauty services continues to grow.
So beauty apps have become a platform for finding the beauty master, making an appointment, receiving in-home beauty services, and giving feedback. And for beauty specialists, it's a great place to find customers.
Besides beauty apps, that represent in-home beauty services of some salons, or beauty artists, there are also other options. For example, the software with integrated Augmented Reality to try make-up products on, before buying them, are in demand as well. Such beauty apps might be a good addition to the online stores in the make-up industry.
5. E-commerce platforms for Selling Products Online
We have already mentioned the convenience of buying things online, but it's twice as convenient when you can find everything you need in one place. Needless to say, that the benefits of selling products online on marketplaces are huge – the need to deal with main marketing issues is almost non-existent. Despite this, web application ideas such as the creation of E-commerce platforms require a detail-oriented approach to app development and can be considered as a long-run project.
To create a greater experience for the sellers, that might cooperate with E-commerce platforms, it's better to design a user-friendly panel with insights about product trends, details about the clients' feedback on their promotions, and which products shoppers choose the most. By providing such statistics and general data, you can build trust in your marketplace.
E-commerce platforms can also build a community, exchanging ideas and experiences, and looking for inspiration. The Finders Keepers is a great example of a marketplace that enables selling products online, and we are proud to call it one of our projects.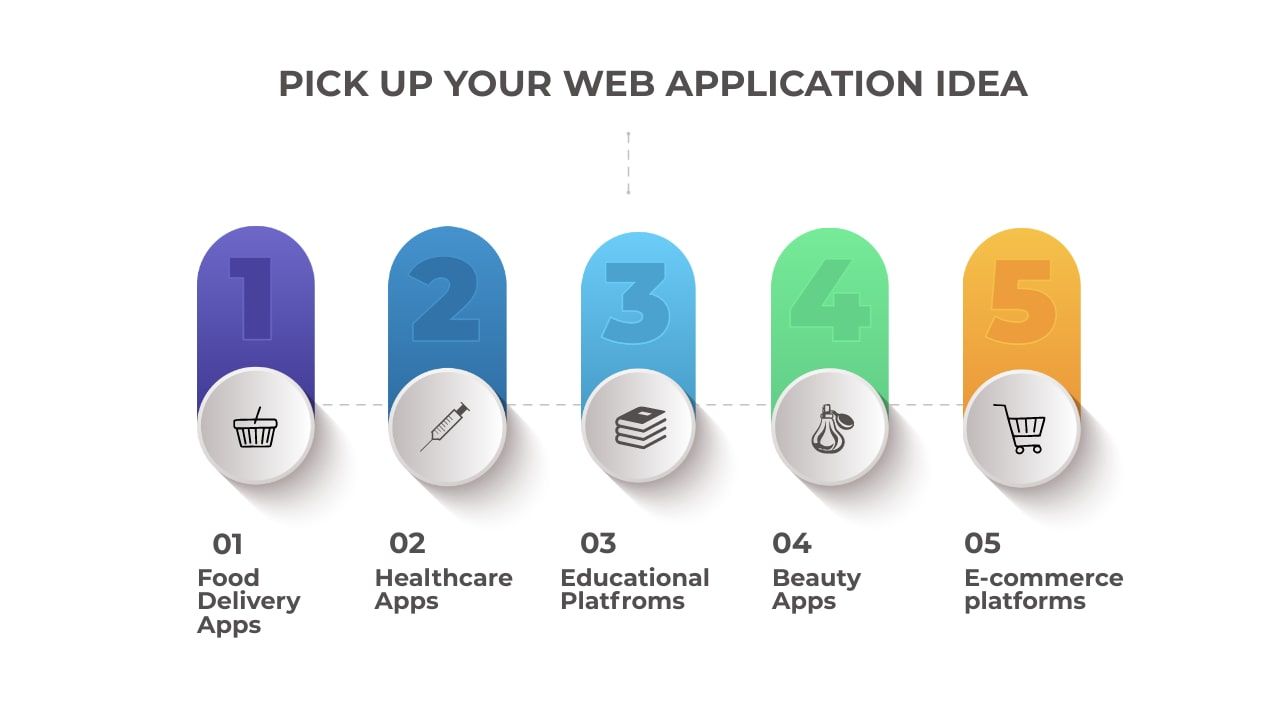 To sum up
Things are changing minute-to-minute. The entire world is becoming digital, people rely on smartphones to solve more and more of their queries. It's a golden opportunity for entrepreneurs to take action on developing web application ideas for their businesses.
If you already have some startup ideas, drop us a line and we will implement them to the highest quality. If you are without ideas but with a clear understanding of why your business needs an app just fill this form and we will come to the best solution together.