Education is the field that COVID-19 lockdown has modified almost the most. Now we live in an era of shopping online, working online, studying… doing everything online. These circumstances influenced the formation of various applications, that fulfill most elements of routine usage. Online education with on-demanding online tutoring platforms is not an exception, since it appears to be a part of life not only for pupils or students but also for everyone who seeks to evolve intellectually. According to Grand View Research, the market size of online tutoring platforms tend to increase approximately by three times from 2020 to 2027 and is going to be worth 15.99 billion USD. The rise of this market direction comes along with the value increase of online certificates and the completion of e-courses.
Since marketplaces that strive to be like Udemy and Coursera overrun the webspace – it is important to ensure, that your online tutoring platform will have all the necessary features, and even more. Proceeding from our experience in providing online learning solutions we formed a shortlist of the main things to consider when creating online tutoring platforms. They will make the educational process comfortable for both a student and a tutor.
Cost & Payment
Of course, the content and opportunities that the platform offers are the most important, but face it, people will not pay for an unreasonably expensive course. Lots of them need these platforms for getting skills and searching for a job. Quite often – their first job.
Reputable online tutoring platforms offer multiple payment methods: hourly or per minute, for each lesson or the complete course, for a week/month/year, by subscription, etc. Implement the most suitable option or test them all and make a choice later.
One more alternative is to have a trial period for a few days or a week to try whether it is what they were looking for and how convenient the classes are. At this stage, you can add a variety of push notifications, to increase students' involvement in the platform.
Having tried and compared several platforms using a trial period, it is easy to choose the best one. Students usually stay at services with payment methods, where courses are recorded and uploaded (per-course payment). The best thing about this model is that you can buy and download lessons now and pass them on later.
There are also payment methods such as per-minute fee, which might be the best option for lessons involving an online tutor. Edutailors – the platform we have created – is using this model.
User-Friendly Interface
Having few hundred courses on your website means nothing if people cannot figure out how to use them. The platform must be functional and its use – intuitive. If there is even a tiny chance that a student or a teacher will face any difficulties – provide them with a guide or welcome tour. Offer it immediately after registration. Since most users will fearlessly skip it, let them find it later in the settings. Online chat, phone support, and FAQ are your friends too.
Ensure that the teacher's interface enables editing and adding courses, the creation of quiz-tests as well as the possibility to review and assess open answers. Both online tutor and a learner should have an interactive dashboard that represents rating, progress panel, and everything else they need to monitor.
Compatibility With Mobile Devices
If you can reach lessons with a smartphone, they are twice as likely to be passed. That's pretty natural: you can do it while standing in line, waiting for a bus, having dinner, etc.
The situation with online tutoring platforms is slightly different. But still, smartphone access reduces the number of canceled or postponed lessons due to the lack of time or unpredicted circumstances. Even if you are late and cannot be at home on time, you can find a cafe or any quiet place and listen to a lecture or have a lesson. The only things to worry about may be a dying battery or weak wifi connection, but these are easy to solve with a power bank and mobile internet.
Trial Period
We have already mentioned the mission and value of one of the common payment methods as a trial period. As you remember, there are options: to offer one trial lesson or a full course. Or one day. Or a week. Or one plan for free. The model with some amount of free minutes with subsequent payment becomes more and more popular. 15-20 minutes is usually enough to break the ice between an online tutor and a student, understand the whole picture, and make a choice.
By defining what is the crucial criteria for students and what could keep them on the platform for online education, you'll have a higher chance that they would sign up for a trial period.
As you can see, there is a space for creativity. Each option is suitable. The only wrong decision is not including a trial period at all.
Read Also: On-Demand Tutoring Marketplaces: How Do These Platforms Work
Number of Courses
You will never find the perfect platform, but you can find the best one. So what makes it the best? A variety of courses and opportunities!
Your goal is to implement a maximum number of courses, lessons, directions, and options for all types of users. Provide a student with a chance to pass them one by one. Working on the online tutoring platform, create the possibility of passing few courses in parallel, or enable personal video conference with an online tutor. Offer a discount. Design online certificates. Add more and more lessons all the time, expand your expertise. Be creative once again.
The multilingual capability would be also a plus. If you want to create something similar to Udemy and Coursera, ensure that there are courses offered in different languages.
Relying on the example of such giants on the market, like Udemy and Coursera – the platform should have a decent number of courses within one system, filtered by categories, courses' providers, rating, and duration. To compare, Udemy has more than 150 000 courses, and Coursera offers a bit more than 3 000. Despite that, both platforms have roughly the same amount of users (~ 50 million). And here appears one more thing to take in: the quality of courses matters more than the quantity.
Video Conference
As one of the most important parts of the online education process, CPaaS (Communication Platform as a Service) worth to be integrated. It is the way to add real-time communication and expand the features of your platform. By implementing CPaaS, the tutoring marketplace would be able to support audio and video broadcasting, voice calls, screen sharing, and other multiple messaging solutions.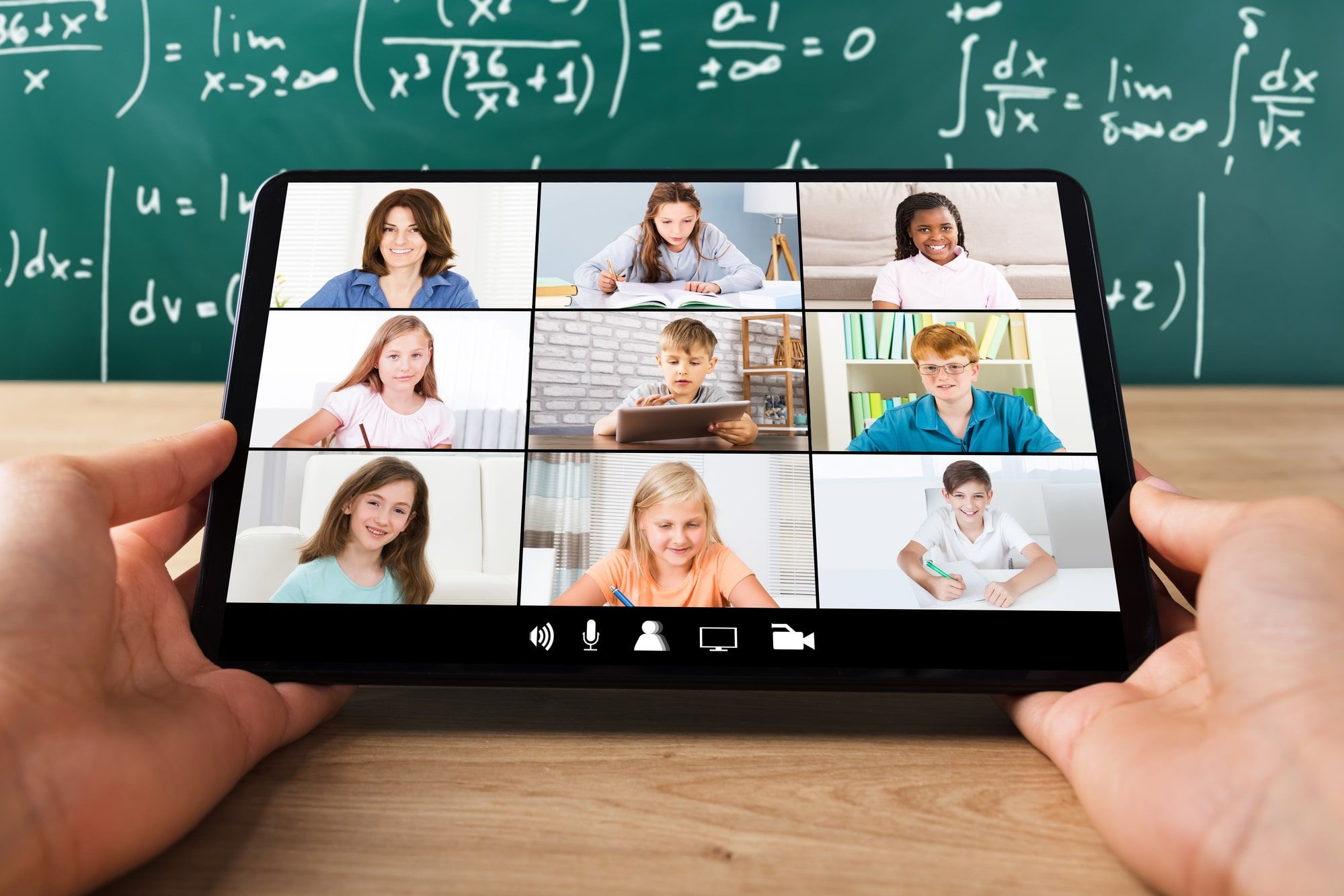 Moreover, CPaaS and Video Conference helps to decrease cheating – one of the primary disadvantages of online education, which differentiates it from classroom learning. It won't be such a major issue during the learning process.
Push Notifications
Whereas there are a variety of reminders and updates the users should know, push notifications are also considered an important part of the communication process. Just small notification messages could influence users' satisfaction since they help to not miss lessons, to find out time changes, or to keep track of the learning progress. Make sure the push notifications and alerts are not annoying and the users are able to turn them off.
Of course, you need to design both email reminders for the web version and push notifications for the mobile app, as well as verify if they are relevant to the user's preferences.
Tutors' Qualification
A mixed picture emerges. On the one hand, low qualification standards increase the risks of clients being unsatisfied. On the other, it can be a chance for gifted, smart students to start their teaching careers. It means you need to test every single online tutor.
Testing teachers' level of knowledge and soft skills should be done by examination during registration, uploading the diploma that reflects the necessary knowledge of online tutor, conducting a short introductory course, etc.
Pay extra attention to platforms for schoolers' online education. Think about parental control, reporting systems, and functional limitations.
Rating & Feedback
Most users will make their decisions based on tutors' ratings and feedback left by other students. It is vital to provide users with the opportunity to leave comments and form a rating, and, last but not least, to respond to feedback. There are great chances to get negative feedback after an amazing lesson. Only because you have not met someone's expectations. This way, online education would be even much more effective, than regular classroom lessons.
In Conclusion
Feel a little snowed under all this information? It's okay. The best piece of advice we can give you here – clearly define the purpose and the mission of the platform you aim to develop. Then create a picture of the potential user in your head and a document. And eventually, put yourself in their position and ask yourself a question: would I use it?
It may be hard to do by yourself, but having the idea means having half of the work done. We will be more than glad to provide you with a free consultation, answer your questions, make an estimation and bring it to life. Feel in the contact form and wait for a message.