The current trend of eLearning increases every day. It is hard to estimate its relevance. Modern tendencies require the improvement of existing technologies and the development of new approaches for the education sector as well. For example, current learning management systems are unquestionably great tools for creating and moderating courses and individual training plans, but there are new market demands to be satisfied. One of such demands is a possibility not only to track the activity of every user but to create an environment for each of them to keep up with the group and learn the material not only faster but to give a chance for everyone to master the needed skills or information. These goals are easy to achieve simply by implementing and improving adaptive learning approaches.
Check out the guide on how to develop an eLearning software.
What Is Adaptive Learning?
Adaptive Learning is the form of personalization of education and one more way of learning new material. Its goal is to provide all users with the most pleasant learning environment possible. Usually, it exists as tailored training, so every student or user has an individual approach during the studying process. It allows the creation of an environment, which helps to assimilate the material for everyone at his own pace. Therefore, the system gives easier tasks to people who find it difficult to study the material. Vice versa people who easily learn get harder tasks to consolidate and improve their skills.
As an example of how exactly Adaptive learning works, let's use the EduTailors project. It is an online learning platform for finding tutors and conducting online lessons. It enables the division of students into 2 groups: private tutoring and group classes. The first one is a great example of adaptive learning because all learners from each group have a teacher, who monitors the learning process in real time personally and adjusts it if needed. The main point is that Adaptive Learning is not confronting the usually in-class form: it works as an addition for group classes as well, so every student can ask the tutor for further help or explanation.
The Combination of Adaptive Learning and Artificial Intelligence
Before the growth of the IT sector, Adaptive Learning required a lot of resources and time, since it was embodied in the form of tutoring and coaching in the education sector. However, nowadays, due to the improvement of modern software, as well as the creation of educational platforms, the Adaptive Learning process becomes easier. Learning management system development allows using AI (Artificial Intelligence) or Machine Learning in the eLearning sphere to improve tailored training. Given all the above, we can say that Adaptive Learning technology is a step into the future. With the LMS implementation, it could be used both for individual learning curves and in the MOOCs (Mass Open Online Courses). It provokes student engagement by personalization of education even within any massive established course. Hence, generally speaking, AI in eLearning is growing its potential today.
Moreover, it is used to simplify the working process of platforms by completing different tasks and operating huge data information. Learning management systems development allows visual customization of the final product as well as integration of modern software. It saves time and human resources, giving them the chance to reorganize themselves for other tasks.
On one hand, the major problem of using AI in eLearning or other spheres is the creation and adjusting of artificial intelligence which require time and other resources. On the other, the correct implementation of AI into your product gives a great advantage for it on the market, especially in the education sector.
What are the alternatives?
First of all, let's talk about customization. It is one of the most common components that is used during LMS implementation if we speak about web or mobile versions. It is easy to change the majority of the visual components using UI/UX Design technics to create the most comfortable learning experience of using the site or an app. There are also several add-ons, such as user-oriented push alerts, that help learners stay engaged by reminding them of upcoming assignments. Also, there are different types of bonus programs for the clients which are created as a reward for certain actions, such as the successful ending of the course, sharing referral links, etc. But to be honest, all of these customization and engagement tools are not exactly opposite or confronting the Adaptive learning experience.
Actually, the combination of Adaptive Learning technology and such tools has an even greater effect. Such conjunction allows for creating a comfortable user's space for mastering a new skill set at learners' own pace and giving students all the needed customization tools for their own learning paths, plus full personalization of the education experience.
LMS Upgrade Using Adaptive Learning
As we have already outlooked the full concept of Adaptive Learning and even outlined it within the LMS scope, let's find out how to conduct LMS upgrade with the Adaptive Learning integration. But first, we need to define if the term LMS could exist not as a part of the adaptive learning LMS concept. This way it will be easier to understand how to combine those two.
What is LMS?
A learning management system is software to create, organize and track courses or private learning plans. It is used by tutors, institutions, and individual users who are willing to improve their studying progress. It simplifies the whole learning process by giving all the needed tools and collecting them in one place. The key distinction between LMS and, say, MOOCs is that the former is more of a tool for generating courses, while the latter is a finished product. In other words, LMS is used to create courses and manage them. Learning management system development is very important for the success of the modern eLearning sphere because it is one of the main instruments for creating high-quality educational products. As it was said before, the top priority of LMS implementation nowadays is creating and improving tailored training with personalization of education using existing AI in the education sector, which helps to improve learners' engagement.
LMS implementation: Adaptive Learning
For correct work, adaptive learning needs to have some background. Accordingly, Adaptive Learning Management Systems work better when combined with some additional options such as customization. So here are some tips for high-quality learning management system development.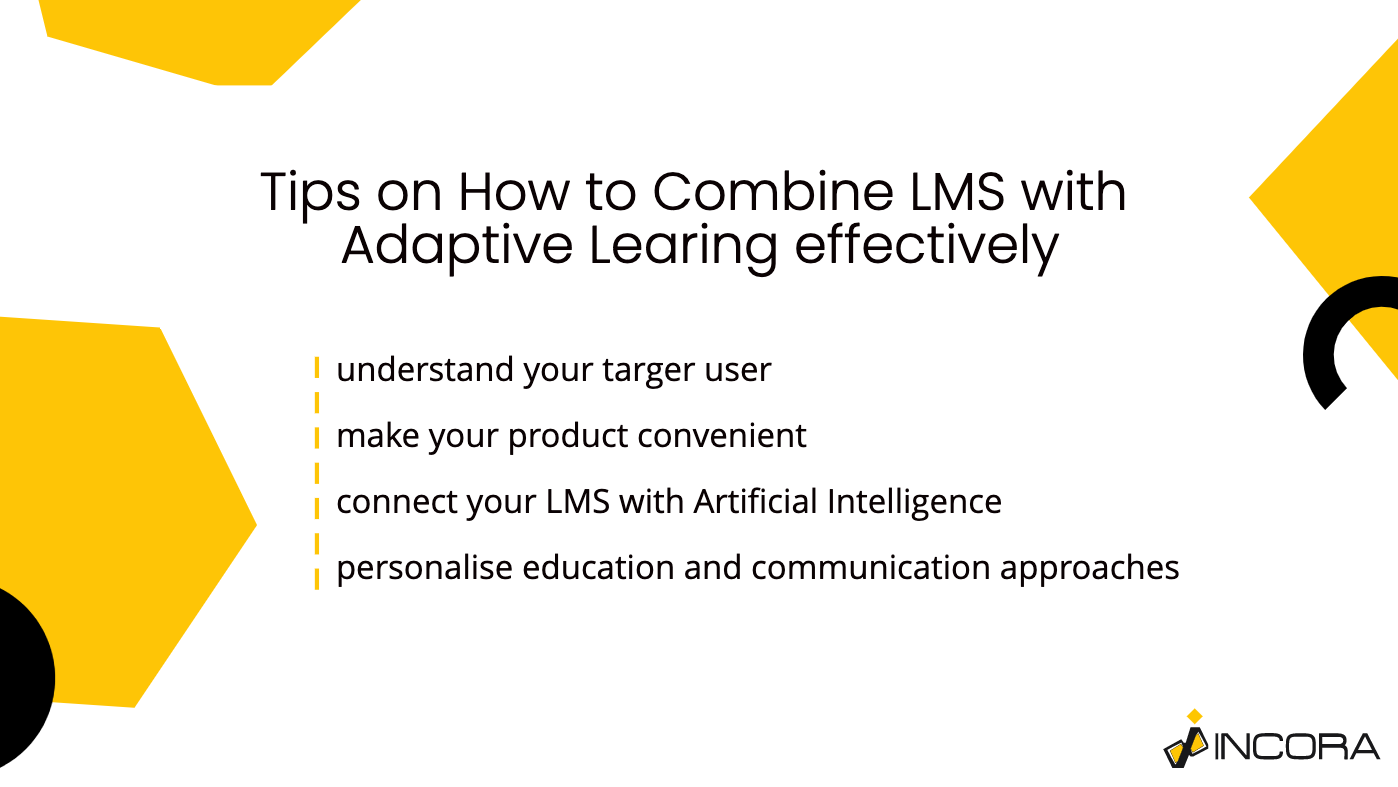 Understand your user: make sure you know your target audience and understand its requirements. Create feedback forms and surveys, encourage users to use these functions, and help you improve your product. Do not forget to detect bugs and errors and fix them.
Comfort: make sure your users are comfortable using your product. It's a fantastic concept to design unique Android/iOS mobile applications as well as web pages that are simple to use and change or edit. Create a great learning experience as you can. Make sure there are no bugs and everything works fine. Correctly working product improves learners' engagement.
AI in eLearning: use it. Gather information on what your users look for, what mistakes they make, and the most common problems they struggle with, then find out what they are good at. The more data you have – the better your AI works. Every piece of information today will help to provide needed adaptive content in the future and help to continue learning management system development. AI in eLearning saves a lot of time and resources dealing with data if it works correctly. It is one of the greatest modern tools to create an individual approach for each student from a group.
Personalization of education and communication: make sure every user has an individual approach and needed assistance from a qualified tutor if needed. Also, you may encourage learners to share their knowledge by giving them communication opportunities such as chats or in-app messages as well as specified groups. Such an approach is confirmed to be effective for learning outcomes. For example, SkillShare is a MOOC system, where every user can share his/hers skills with others, which is its main feature.
Summing-Up
Adaptive learning LMS is indeed a step into the future. There are dozens of different ways how to realize it in the educational sphere. As a matter of fact, tailored training has already proven its effectiveness in learners' engagement which impacts the understanding and mastering of learning materials and needed skills. Moreover, LMS upgrade is a top priority in eLearning, because it is one of the main tools for the creation of courses and educational programs used by different groups: from students to professional tutors and different educational institutions like schools or universities. There is no need to explain that the better instruments people have – the better product they can create. It means that if Adaptive learning will be implemented into the main tools for creating eLearning products, it will not only give the opportunity to create better-tailored training and empower learners' engagement but also make an impact on learning management system development, as well as expand the variability of quality teaching methods.
Personalization of education combined with correct UI/UX design technics simplifies mastering educational materials. Moreover, increasing the number of Adaptive learning LMS methods, like using AI in eLearning, makes your product more competitive in the education sphere. This gives you an advantage over possible rivals, who have been established in the market for a long time and are not able to quickly rebuild the architecture of their product in accordance with new requirements. And we would be glad to be a part of this process in order to help you stand out over others. Since Incora Team has already delivered successful projects in the EdTech sector, we are always ready to accept new challenges and apply even more innovative, for example, adaptive learning solutions. Do you want to know how? Let's have a call and find out!