Food ordering and delivery apps have been at the peak of their popularity last year. They've never had a lack of demand, but now, during the lockdown, delivery apps turned into survival tools for lots of people. According to statistics, 60% of American consumers order delivery or takeout once a week or more.
Statista predicts that by 2024 the estimated revenue from this business segment will comprise 96,864,4 million USD. We are talking here only about Platform-to-Customer Delivery Apps. If you hesitate whether it is reasonable to create demand-driven delivery apps – it surely is. Here we will shine a light on how they work and what their key features are.
Benefits Of Demand-Driven Delivery Apps
Two major criteria to consider while developing and running a modern Delivery App are how fast they work and how convenient they are. These are two principal reasons people prefer food ordering to cooking. Besides, there are some more benefits: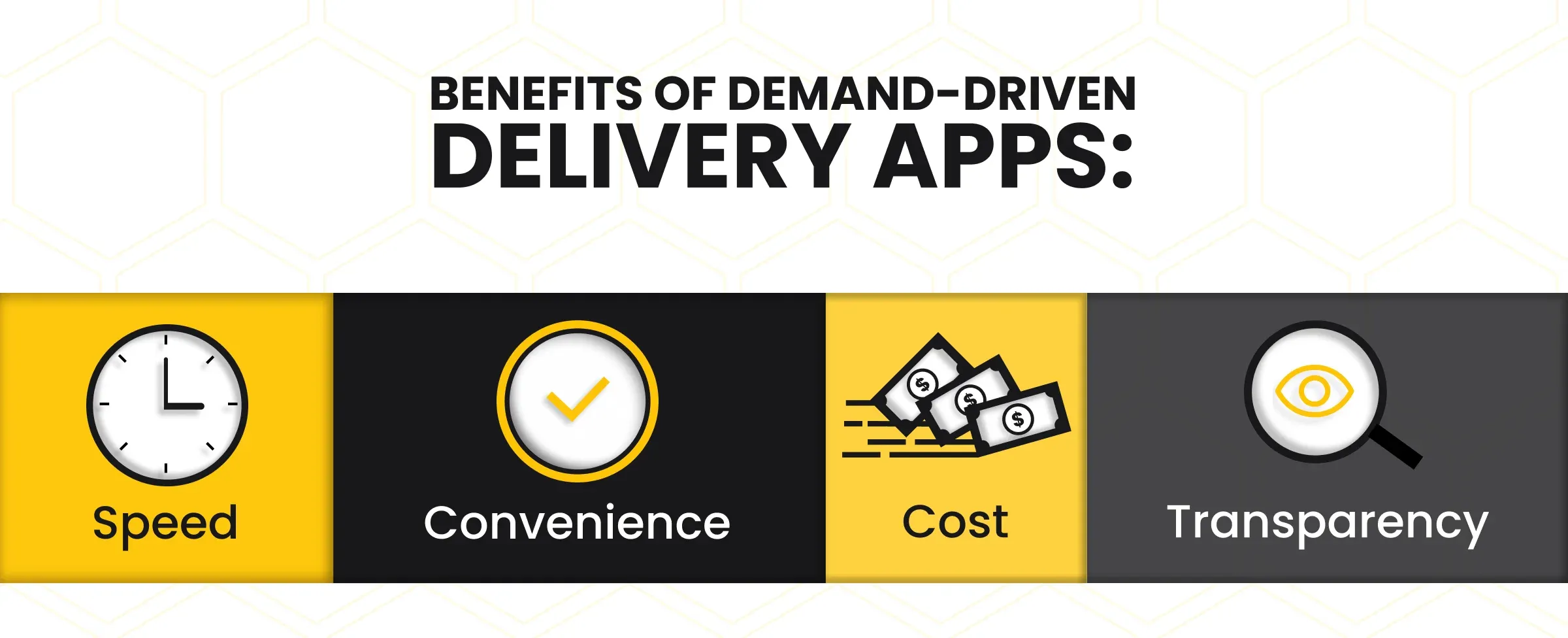 Speed. The strongest argument in favor of delivery services. The vast majority of users choose to pay a little more to get their orders delivered a little faster. You usually get your delivery from restaurants within an hour. Fast food and pizza places offer to do it for up to 30 minutes. If the delivery person comes late, you have splendid chances to get your order for almost or free. Delivering the goods from supermarkets and shops takes 1-2 days at most.
Convenience. The intuitive and user-friendly interface is everything. Starting with the menu and ending with placing an order, processing payment, and tracking the delivery. Because of this moment, a wide range of restaurants, especially small ones, opt for third-party apps. It eliminates the need for them to take care of the logistics, delivery itself, hiring people, and managing their work – the entire layer of micro-management.
Cost. The idea of an on-demand delivery model is in all transportation issues being provided only by third-party delivery services. It's a quick fix. 80% of surveyed businesses confirm it is a more beneficial option for them than to adjust the food delivery by themselves.
Transparency. Being able to check the feedback, you can determine whether a particular restaurant or store is clearly what you are looking for and how the specific delivery services work. The restaurant owner gets suggestions for improving service and making it maximally client-oriented.
One of the essential features to consider is the mobile-first user experience. The web version is desirable but secondary or may work only for particular interfaces (Admin). Mobile applications allow people to place orders anywhere, even on the go, and do it quickly and as conveniently as possible. You can set the order from a bus, while at friends`, or just don't have your laptop with you right now.
Key Features And Capabilities of Different App Types
Let's take a look at the business model of demand food delivery apps. Creativity is commendable for its development; it definitely plays in your favor. However, there are some core things to keep in mind.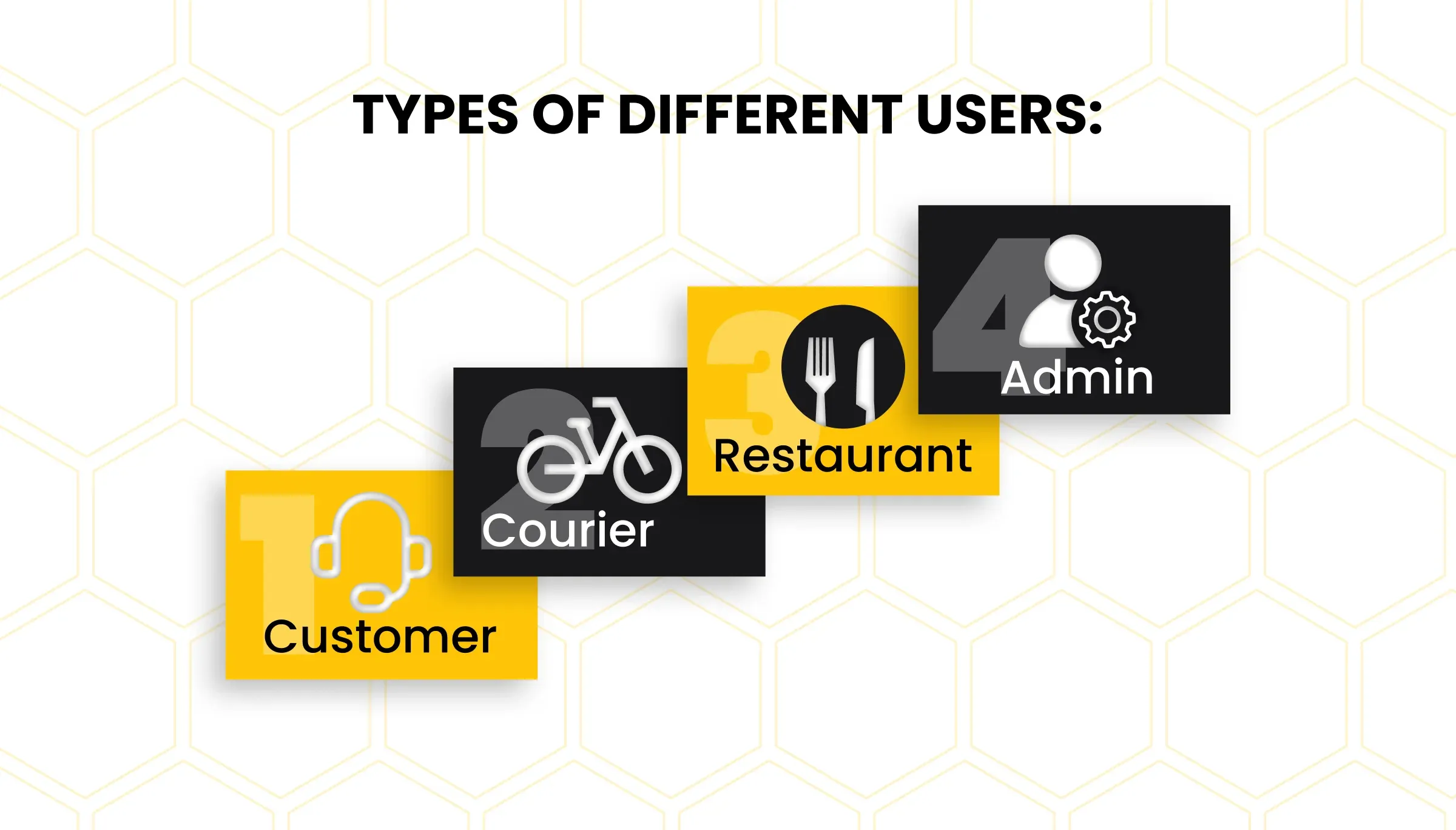 First, what types of users will be there, and what functionality is essential for each of them? Usually, you have:
Client
Courier
Restaurant
Admin
Having this, understand all their needs, preferences, and behavior. Furnish the functionality that suits most of them, ideally – all.
Let's dwell on each interface in more detail.
Client-Side App Key Features
Convenience is a key point here. The client needs to find a restaurant, look at the menu, choose the dishes, order, pay, and then say how delightful it was.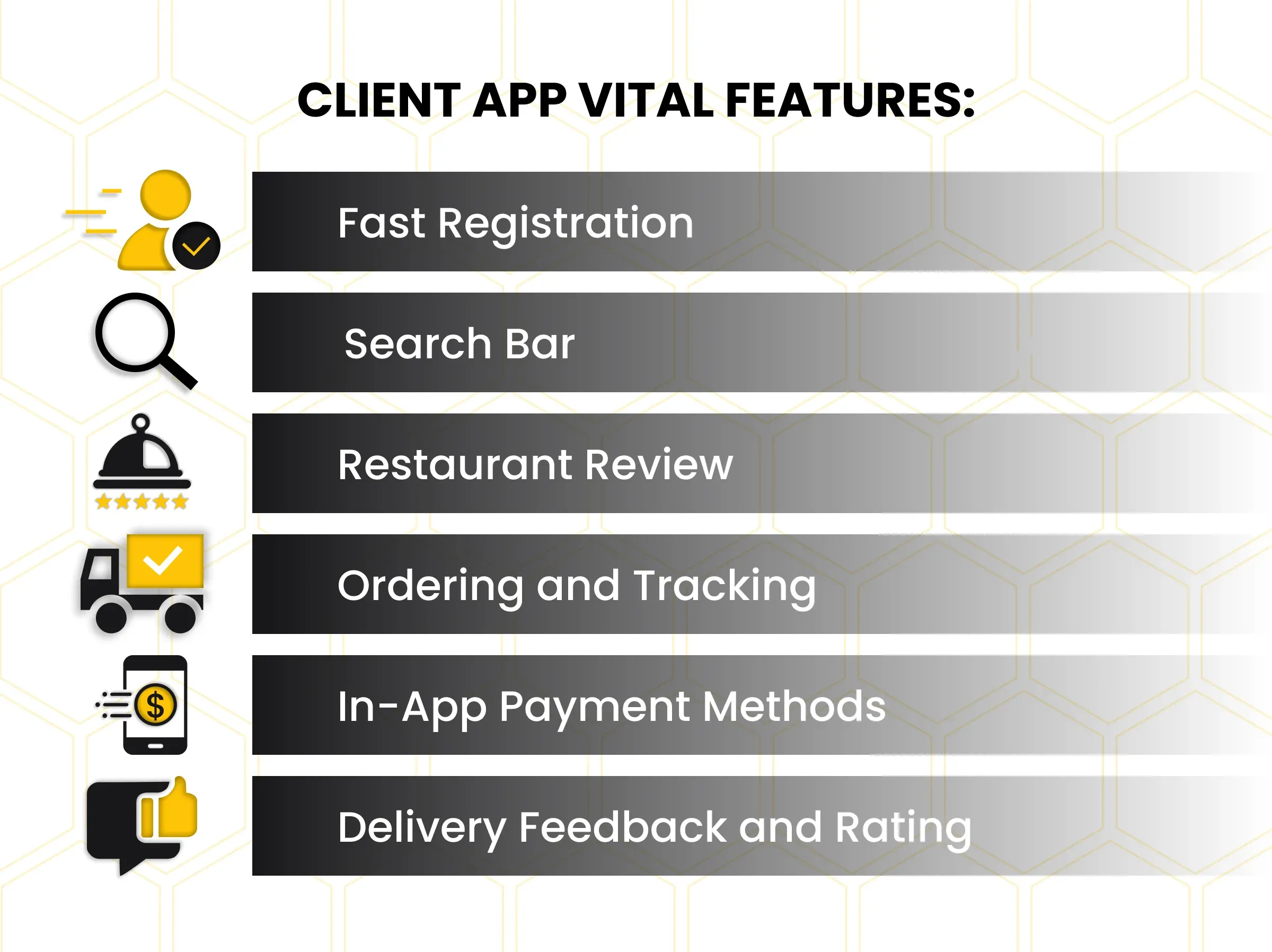 Registration
That is the very first thing a person does after downloading the mobile app. Provide your users with a chance to do it fast, given that many of them may want to place an order immediately after installation. Therefore, allow them to provide you with only the basic data and complete the profile later. Use push notifications to remind them about it the next day.
Be sure you gave your user a chance to create an account during or after completing an order list. It means they can see the menu, choose what they want, add items they'd like to order to a cart, and then – create an account without losing these items.
To ensure safety, implement SMS verification. Entering a confirmation code automatically verifies an account.
An option to register via social media profile doubles the odds of creating a client account.
Search
A functional search page helps clients to get exactly what they want. Use filters: sorting by location, price, cuisine, delivery time, and other criteria you deem relevant to connect with food ordering.
Here you have plenty of room for imagination, as you can focus on specific customers, on a particular food, or on the delivery zone. Or, following the example of GrubHub, you can include a maximum number of restaurants in the largest potential area, where you can ensure delivery.
Review of Restaurant
To decide, the client, for sure, wants to check reviews, pricing, specifics, and so on. Key data such as working hours, delivery terms, and take-out options must be here with no discussion.
If there are news, announcements, or special offers, this is where a restaurant places this information and notifies users about updates.
Ordering
The possibility of creating an order list from several places instead of making many separate orders from various restaurants significantly increases the level of customer loyalty. Additionally, we recommend you consider implementing group ordering features.
The same applies to scheduling food delivery services for a particular time in the future. For example, you are holding a party tonight. You can place an order while having breakfast, set the time, and come back from work with no hustle.
A non-contact delivery became a new vital option during the lockdown. It requires a non-cash payment and leads us to the next must-have feature.
Payment
Security is first in the payment gateway. Integrate reputable payment systems like PayPal, ApplePay, or Stripe into your app. They are simple and apply high safety standards.
Ensure the availability of various payment options, including promo codes and gift vouchers. Send bills via email or make them downloadable as PDF files.
Info About the Delivery Person
Having some contact information reduces the chances of mistakes and makes communication easier. No need for much data, provide only the name, phone number, and current location.
This page may also include a chat for instant communication between a courier and a client for situations like "I am hanging in, wait for 5 more minutes, please", "the doorbell is out of order" and so on, and so on.
Order History
Having the entire history of all orders increases the likelihood of re-ordering. While making a new order takes time, it can be easier to order something you have already enjoyed. It works perfectly in situations like "I would like something, but I do not know what".
Feedback
An hour or two, or the day after delivery, is a good time for sending a request for feedback. Make it non-time-consuming. Ideally, ask clients to appraise how much they liked/disliked the dish, packaging, and delivery separately. By doing this, you provide the restaurant and the delivery services with the data they need to improve their services.
These are the key points. Outside of them, set up notifications, add an option of a loyalty program, and the like.
Web Platform For The Restaurant Core Features
Functionality for restaurants is considerably different. It's way more convenient to use the web version since this interface is for collecting and analyzing data for further customer retention. The restaurant interface also allows client management by sorting out all the registration and favorite food ordering data about each customer.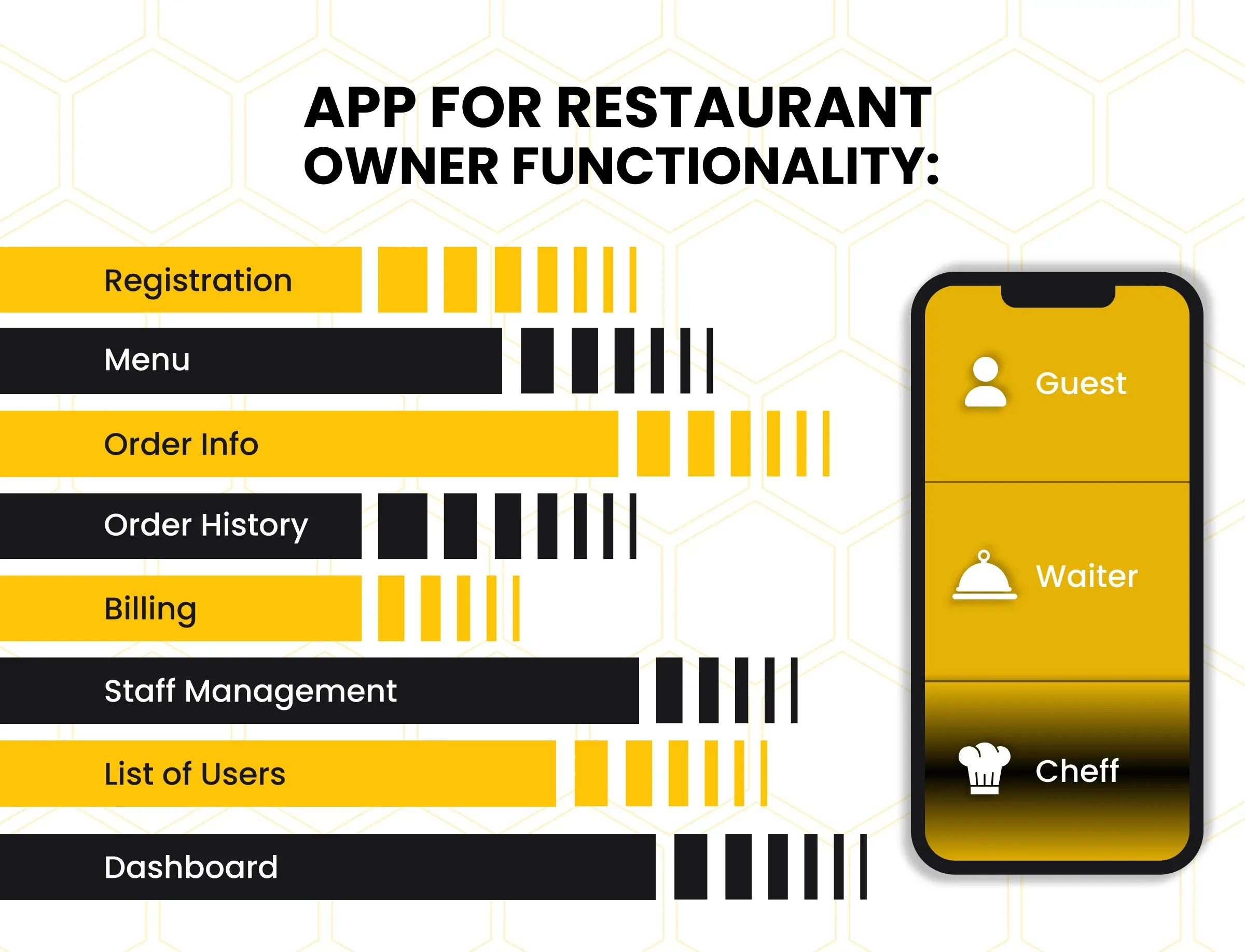 Registration
The first step does not differ. On the first registration page, the restaurant manager fills in the main info, including the restaurant name, its address, working hours, and a few additional (optional) words.
Once confirmed in the Admin panel, it can collect orders.
Menu
The most informative, important, and complicated part. The manager uploads the restaurant menu then checks it and updates it if needed.
While scrolling the menu, the client adds dishes to the list, marks the favorite ones, etc.
To enhance the check, you may offer compliments to chosen dishes, like sides, drinks, or sauces.
Purpose of the order
It's when responsibility comes from the restaurant to a courier. Here you place the order info and monitor if it goes to the right person. Once it's done and the status changed, your mission as a supplier is completed and you go to the next order.
Order History
Collecting an ordering history is vital for sales, marketing, and management. These data help to improve the menu and the service, on the whole, give you an understanding of your buyer's personas, bring ideas for promotion, etc.
Billing
You must implement billing functionality for invoicing clients, getting paid, and completing all financial operations.
Be sure you enable your users to load data for a particular period (from-to / last month / last year) and to export detailed and well-structured reports.
Staff Management
A reliable assistant in overseeing your stuff and avoiding mix-ups. By monitoring this information, you are always certain that couriers will complete orders in excellent quality, on time, and to the right person. In case of any conflict situation, a manager can check who handled a particular order.
List of Users
This is a priceless database of the user base, who made orders from your restaurant, their contacts, and some personal data (date of birth, preferences, etc.). Thanks to them, you can create special offers, launch loyalty programs, and do all these things to bring people back to you.
Make it possible to export these data as a spreadsheet for further SMS and e-mail marketing activities. Usually, MySQL or MongoDB are among the popular database solutions for this industry.
Dashboard
Dashboard works as a remote: leads you to all the above pages and helps to make immediate changes: activate/deactivate profile, edit general information, settings, notifications, access data, etc. This part allows you to take care of the whole scope of Restaurant management in one place.
App For The Courier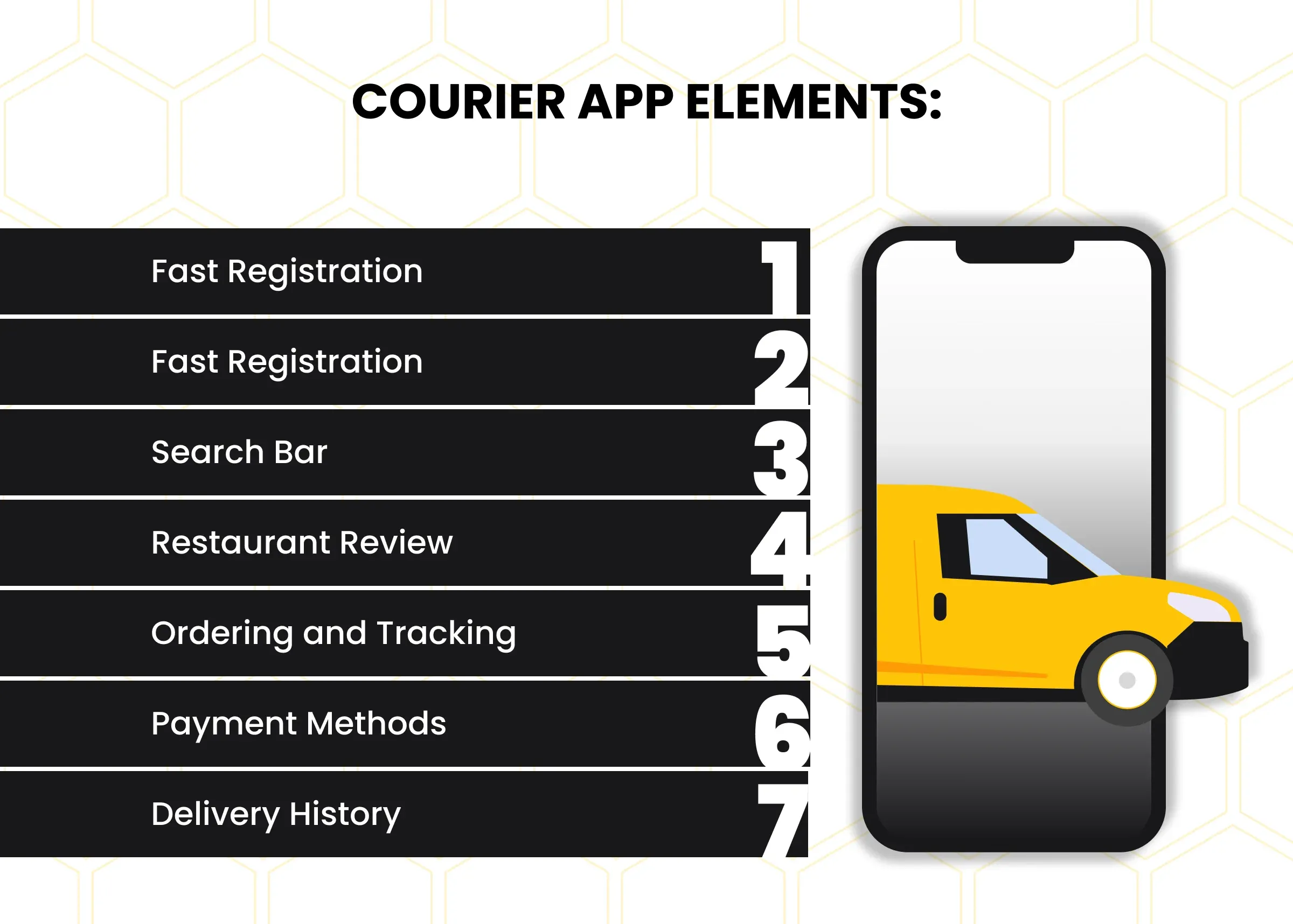 An app for the delivery guys. If for users' app, we define convenience as a priority, here you focus on functionality. Even an insignificant bug can turn a delivery process into a challenge for delivery boys and a disaster for a restaurant and a client, always take it into account.
Registration
The courier provides a little more data during the registration than a client. That's logical since the restaurant's reputation and income largely depend on this person. The courier works only after profile verification by Admin.
Handling Orders
The page contains all information about orders, the rights to accept or reject them, to see the interactive map, and needed info about a client.
Navigation and Tracking
It's an online map with a navigator, basically. As a courier, you don't need to set up your route manually, only to accept it. But if you know the better way, you are more than free to set it by hand. Constant updates on the situation on the roads (traffic jams and overlaps) are necessary for managing all orders in real-time.
Order Status Update
Once the order is ready, the client should know about it. When it is on the way, the client will be pleased to know about it. And if order execution is delayed, the customer needs to know about it too. The courier who is handling the order is also responsible for the timely and correct update of its delivery status.
Payment and Wallet
Divide direct earnings, bonuses, tips, etc. It is like a bank transactions record, where you can check, add, and edit your personal financial information, see details of all operations, monitor your income, and withdraw it, eventually.
Delivery History
This basic feature is needed primarily to track your work, understand your clients, and avoid any difficulties. Makes dealing with regular customers easier and more personalized, as you can easily figure out what they love and how often are making orders. It can, also, come in handy when responding to negative feedback and looking for ways to smooth things over.
Admin Interface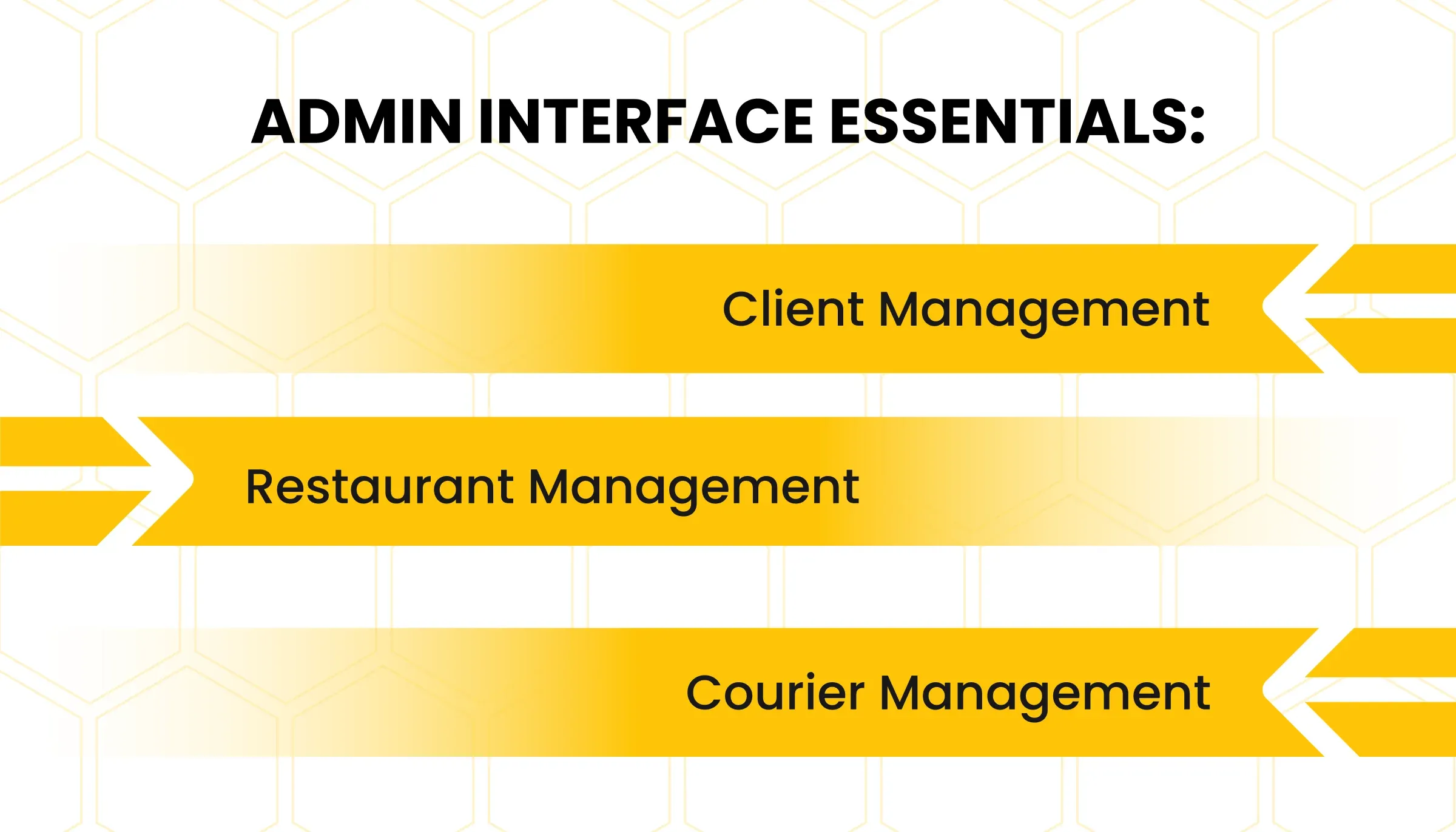 Just like any management system, it is a web app for general and specialized administration of all interfaces mentioned above. It has three separate vectors (Client, Courier, Restaurant) and the main dashboard.
As an admin, you have the freedom and a duty to:
Verify accounts
Manage and edit payments and all financial operations
Send SMS- and push notifications
Collect and analyze offer history, export these data
Create new offers, special offers, and loyalty programs
Do general analytics
Add, remove, and change features
Client Management
While working with the user interface, you verify all profiles, accept or decline any editions, activate and deactivate profiles (temporarily or permanently), provide support, deal with feedback, and take it into account. Basically, provides all the needed functions for client management.
For operating with no rush and battle, implement a handy search button, and upgrade it with filters and sorting options, be it by order amount, date, delivery address, type of ordered food, status, etc.
Restaurant Management
Admin duty here is to check all the information about a restaurant, accept or decline changes, activate, deactivate, and delete profiles, manage customer requests, etc. It's vitally important to do it fast, because, as we remember, a restaurant can't work with a non-verified account.
Naturally, the restaurant management interface calls for regular editions related to price changes, adding special offers, and activating and deactivating some pages or entire profiles.
Courier Management
While working with the courier interface, you verify personal information, activate, deactivate, and delete their accounts, manage payment operations, and take part in resolving conflict situations.
Often, Admin app functionality is a part of an app for restaurants.
How To Enter The Market?
Undoubtedly, when entering the food delivery market you can think of Uber Eats Delivery as an example, which expanded enormously over recent years. Uber Eats Delivery is on track to be emulated since it covers various forms of delivery services: from delivering the goods to fast food. According to Slice Intelligence average annual purchase per customer on Uber Eats Delivery is $220.37. This makes the company one of the top in the delivery market, so it's possible to consider Uber API Integration into your food ordering app.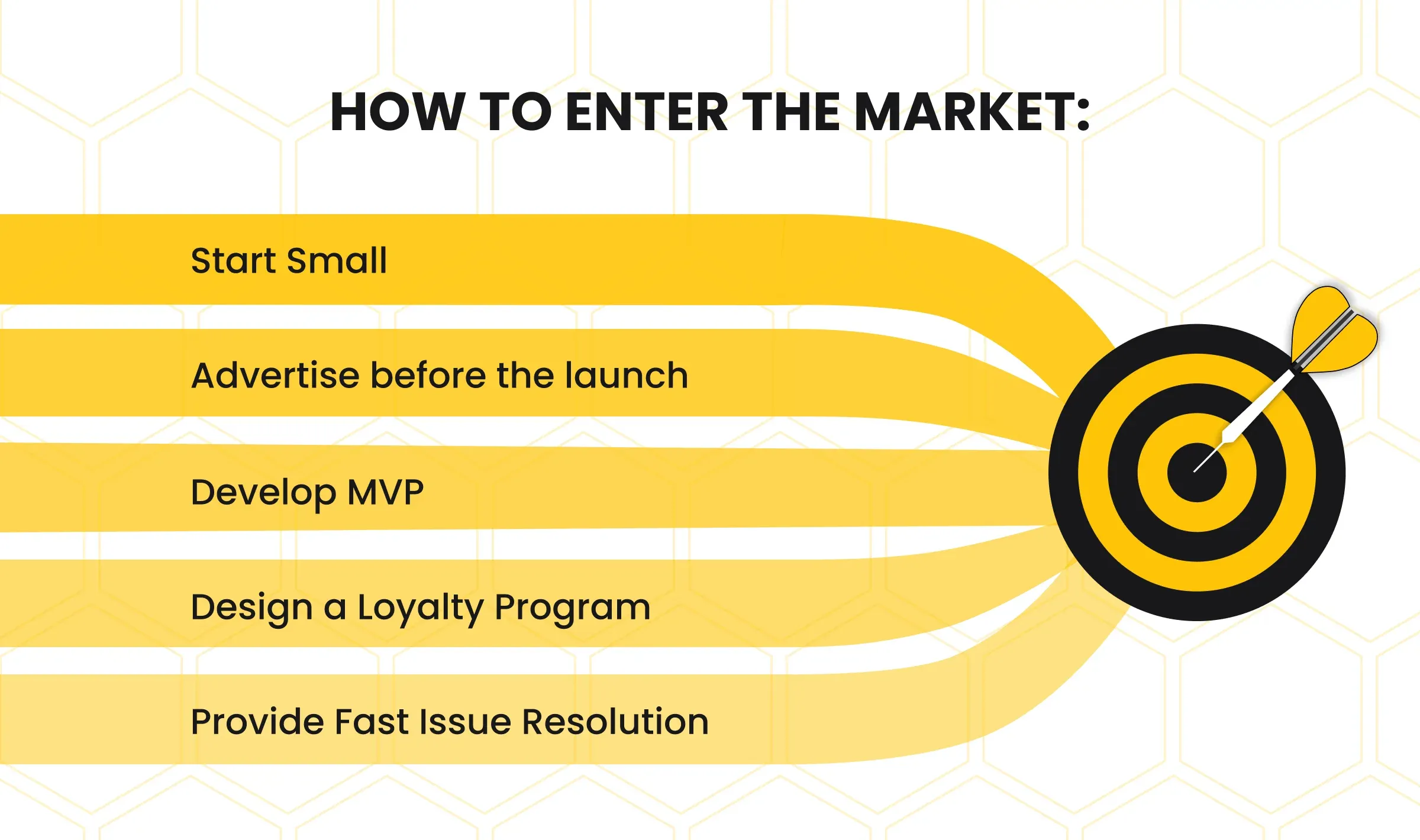 Apart from API integration of on-demand apps, there are two ways for a restaurant to undertake the strategy of applying Food Delivery:
Partnership with third companies. We also know them as third-party services. An option that helps save money on food delivery app development for your restaurant. You partner with delivery services that use their database, and couriers, and are fully responsible for all delivery processes.
Develop your app to give to your business and its needs. The best-known example of this model is Dominos delivery. People make pizza at restaurants and deliver it by themselves. Their blue scooters are easy to recognize and they serve as the best advertisement for Dominos delivery.
This approach works for absolutely all restaurants and stores and is especially relevant during COVID-19 restrictions, a quick exit from which does not appear on the horizon. It's fair to say that choosing this option means more complications and requires bigger one-time investments but works incredibly well for medium-sized and large food delivery business owners.
When entering this market, you need to consider several key points:
Start small. The first months are test months. You need to monitor constantly how every interface works, suggest changes and improvements, provide customer support, and work with complaints. It is significantly easier to do while working in a small area. Expand it gradually while debugging the processes and implementing additional or crucial features. It also allows you to collect the most accurate data.
Advertise before the launch. Thus, you will not only get active users from the very first day, but you can and should involve them in beta testing. It's also a way to attract investors who may be interested in your product.
Start with the MVP. We detailed the advantages of MVP in our previous post. Hopefully, it is useful in this context. In short, MVP allows you to test the product, get the first customer reviews, and make changes and improvements in the process of its active use.
Come up with a loyalty program. This is a vital part. When you have a base of clients, you do not want to lose them, and loyalty programs are the best way to convert your one-time visitors into regular ones.
Provide customers and couriers with rapid issue resolution. Most problems that users experience you can solve in minutes. If this is not possible, or takes a long time, in the same few minutes they can download other delivery apps and place another order.
Regardless of the chosen model, opening the option of food delivery helps to stand out and significantly rise above the competitors, expand the range of your potential customers, and increase their loyalty.
What To Start With?
The first step in developing an application is defining its functionality, and UX/UI design patterns, and creating a visual prototype that gives an understanding of how the final product will look and work.
Coming all this way, you have a chance to:
Determine the scope of work, the roadmap, and the sequence of actions
Set a team and establish contact for the most productive and comfortable work
Set a budget for the MVP and allocate resources wisely
Test the product, identify its weaknesses, and promptly eliminate them
Attract investors
Bottom Line
Delivery Apps are now enjoying their golden age. But it's imprudent to say that they crowd the market. There are enough examples for comparison and even more space for creativity to build something strong like Uber Eats Delivery.
We have experience in developing Delivery Apps not only for the restaurant field but also for planning a shopping list and delivering goods, parcel shipping, etc. To discuss your idea and estimate the project, fill out the contact form or drop a line to our sales department.