A brilliant idea came into your mind, and you decided to bring it to life. You already did an initiate the research, looking for similar options on the market, and decided on features your app should have, in order to have a comparative advantage. And now it's time for you to calculate how much does it cost to create an app. In our Incora Blog, we've already covered topics on developing the idea, different particular software development. So now, in this guide, we will raise the curtain about development cost.
Apparently, it's not possible to share the development cost that will be the end-sum fitted for every idea. Since the price depends on a bunch of factors, like tech stack or hourly rate, you should employ a team of specialists to estimate the app cost right for your future software. But even without going into the detailed accuracy of each feature, here we are going to focus on the general, approximate numbers, that will let you decide whether you are ready to invest such amounts or not. Hence, let's begin!
What Factors Influence The App Development Cost?
As we mentioned earlier, development cost does depend on different specific factors, from team members to app content:
Development Team. Surely, for MVP development team won't be so extended, but even the basic vacancies must be filled, included certainly frontend and backend developers, team lead, UX/UI designer, QA, and project manager. All the staff has their hourly rate, which is definitely the first thing that should be included in the estimation.

Tech stack. The complexity of the tasks given to the team influence the time they will spend on fulfillment. Some features are not available as a template and form the necessity to write their own algorithm, which will obviously need extra time.
Secondly, for the complex app architecture, you'll need more than one backend programming language. For that, you'll need to involve more developers with diverse technological experience. And of course, an extended team = more investment.
Thirdly, there are API integrations that might become an expensive barrier on your way to developing a dream idea. Cloud APIs, Payment APIs, CPaaS APIs, and other third-parties integrations whether they are necessary for the substantive, or you need them to offer unique features for the users – they all extend the time estimation and influence on the app cost.
Supported versions. Developing software to make it up to date, you need to make it supportable for each version of the Operating system. If you want people to use your app, and share it, you need to make sure that it is applicable to everyone. But adjusting an app to the various resolutions, system specifications will take time.

Involved services' charges. The development process itself requires the implementation of the services, such as DevOps, that will be provided for monthly charges. For your convenience, we've already calculated how much it's going to cost you to create a simple MVP, using one of the most well-known platforms, like AWS, Azure, and Google Cloud. But it's just a part of the services you might need for the development process itself.

Post-production. One more thing you should take into consideration – is the post-production expenses. Do not forget that after development, your job isn't over, and you should then focus on marketing, legal operations, updates, support team, and so on. The cost of such processes isn't included in the development estimate, but pay attention to this part, since without it, there is a huge chance the development was in vain.
As you can notice, even though the factors influencing the price might be different in the core, but indeed it is all about the development time multiplied by the hourly rate of each team member.
How Much Does It Cost to Create an App on a Global Scale?
Utmost typical misconceptions, like 'high price equals good quality can result in poor performance or excessive costs. Taking this into account, let's proceed to an honest study of the app's development expenses.
An average price offered by the development companies in different regions per hour differs like that:
Ukraine – $30 – $50 / hr
Eastern Europe – $60 – $99 / hr
Western Europe – $50 – $99 / hr
United States – $100 – $149 / hr
South America – $50 – $99 / hr
Southern Asia – $25 – $49 / hr
Undoubtedly, the price varies depending on the overall average salaries inside each of the regions, so you shouldn't mistake this diversity with the estimation of quality.
To be a little more precise, we gathered the hourly rate for each team member needed for development in each mentioned region.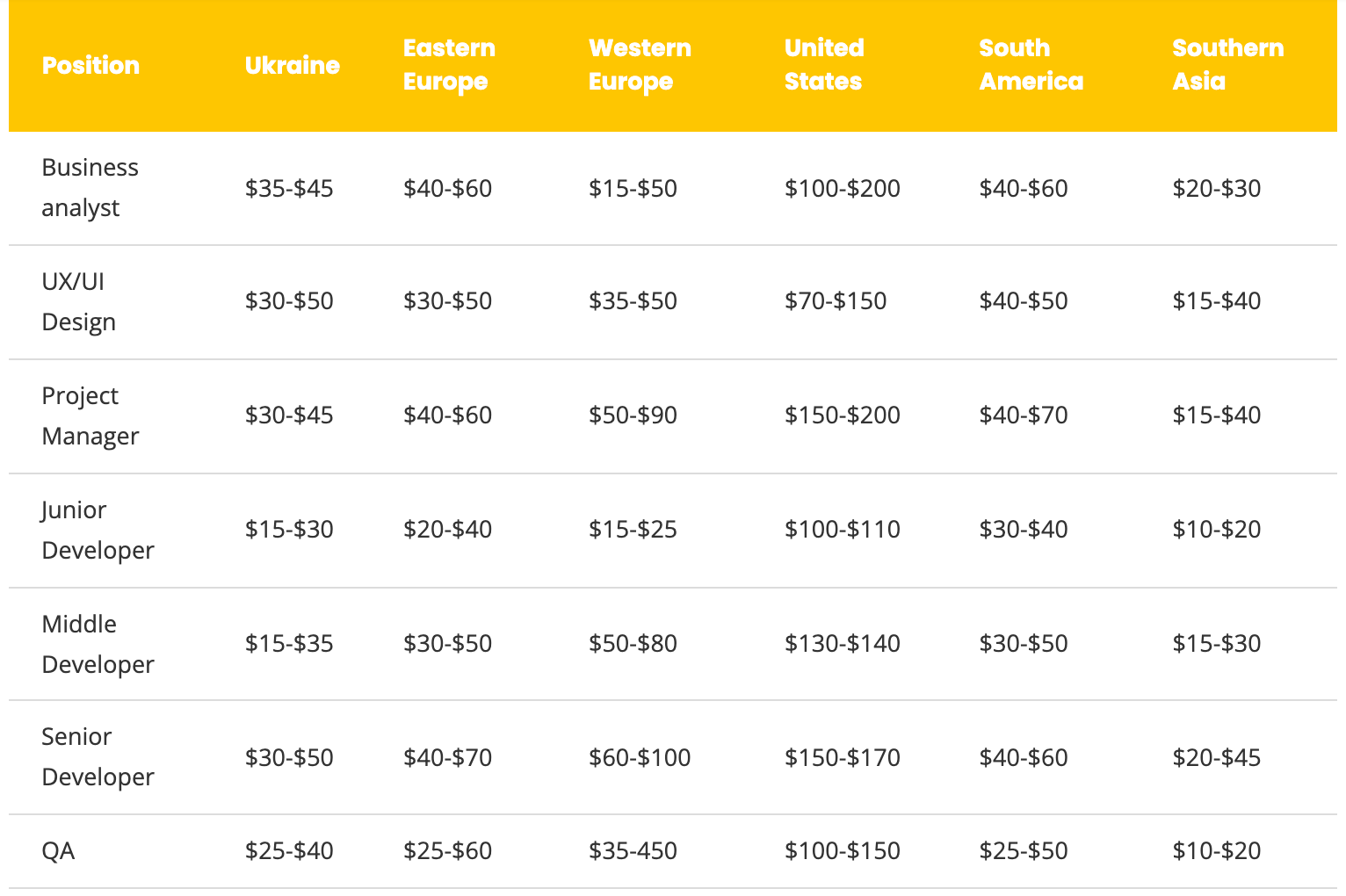 As we took a look at the first main part of the equation, but the second one, if you recall, is estimated time. Surely, each feature added will extend the development time, but for the rough look, even the overlook of basic functionalities will be enough.
For instance, let's take an eCommerce marketplace estimation with a basic set of features: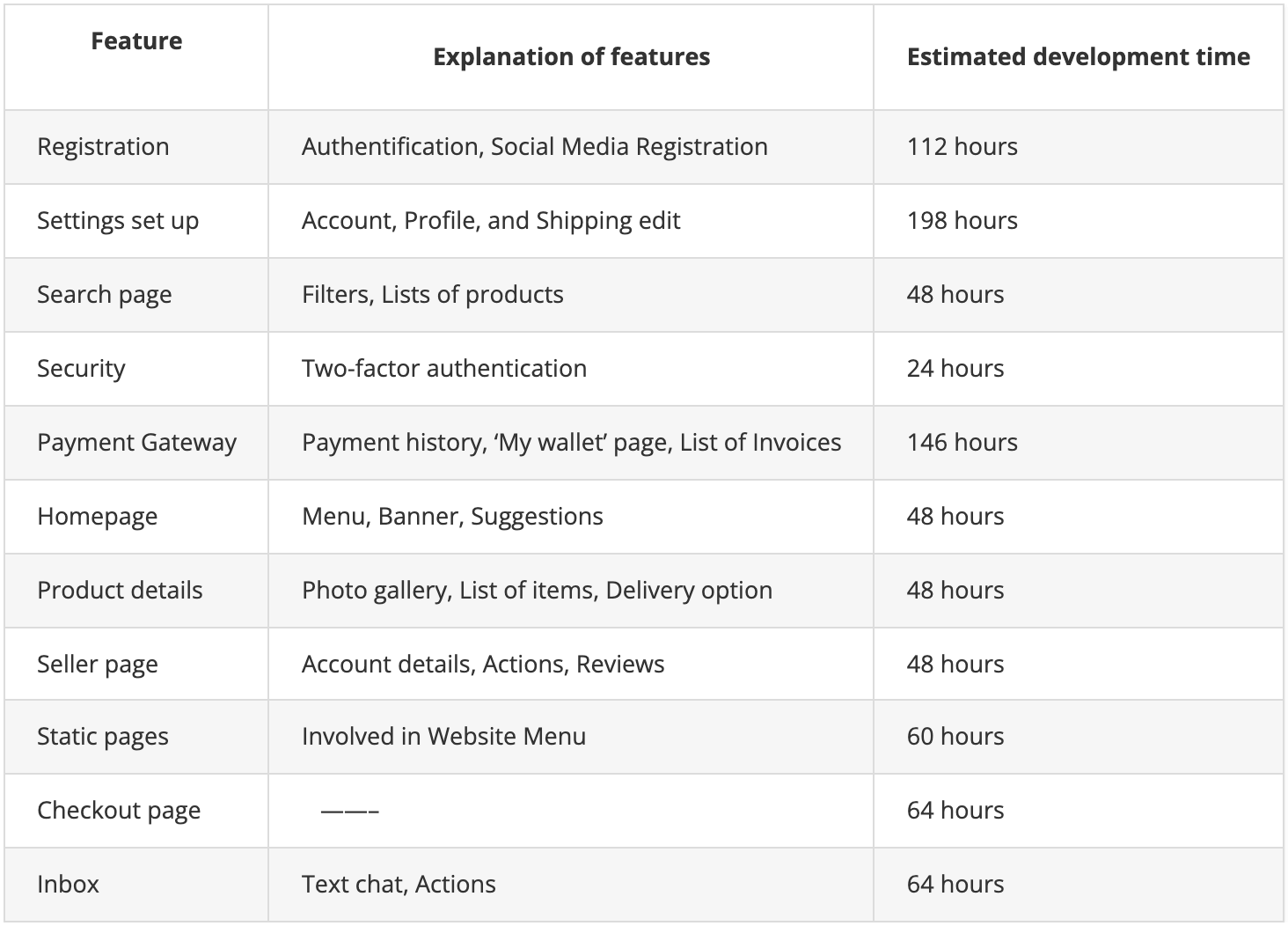 Using that estimation, you can calculate how long it will take to create a delivery app with its features, or an eLearning app with its set of functionalities, or any other software for different industries, since the table above includes the components needed for any app, like registration or security.
In total it would take 1212 hours for marketplace app development. To count the development cost amount, you just need to decide on how many team members for which hourly rate will you employ, and that's it. But do not hurry for that.
How Can You Cut App Development Costs?
There are always methods to reduce the overall cost of producing an app:
1. Hire an outsource team. As you can see, the hourly rate can be lower in some regions, so you can consider employing a team of experts abroad. Find the best rates that will fit your plans, but ensure to check if the company has developed similar projects in the industry you are interested in. Explore their portfolio, and start cooperation without any hesitation in your mind. You need to be sure by that time, that we share one goal. 2. Start with MVP. Implement only the features that are required and test the essential hypotheses. Gather the feedback, and then add the additional features, that will be actually needed by the target audience. This way, you won't waste money on market fit testing. Find out more about creating an MVP here.
What do you get by investing in app development?
When you discovered how much does it cost to create an app, and you estimate your expenses, you might wonder is it worth it? Whether you are going to develop an app just to enter a new market, or you decided to create software in order to facilitate some operation you found unoptimized in your industry, there are multiple advantages at stake.
Read also: How free apps make money in 2022
Custom mobile applications can be partially or totally customized to meet the demands of your organization. These applications are tailored to a specific target rather than delivering a solution that caters to a wide population with different needs. This is the primary reason why bespoke mobile app development is gaining popularity and proving to be an appealing alternative for businesses. Because business apps are custom-built with your company's needs in mind, they work as a comprehensive app that performs a variety of duties, eliminating the need for several applications.
To wrap up
The creation of a new app has its own set of traps and hidden potential risks, but they may be easily prevented if you predict as much as possible, including development time estimation, overall expenses, and market feedback. If now you are trying to sum all the mentioned prices and come up with the development cost of your future app, you can drop it.
Reach out, and let's discuss your idea further so our competent Incora team could estimate everything for you.