Obviously, each niche has its own requirements and basics, a number of essential features, which are must-have functionality, designed for a specific industry, and food delivery apps are not an exception.
Nevertheless, it doesn't mean, that when it comes to food delivery app development, restaurant owners should limit themselves only to creating a basic app. There is no way you can't somehow improve your restaurant app.
Therefore, let's talk about the basics of food delivery applications, what is the primary list of functional capabilities worth implementing, and, what is even more important - what can you add to your future meal delivery app in order to make it more user-friendly and capable to compete with the rivals on the market. In other words, what features does your food delivery app require for success?
Delivery Apps MVP Essentials
First things first, we have to establish some "ground rules", or, making it simple, have a small conversation about the most basic list of features for food delivery portal development, known as MVP.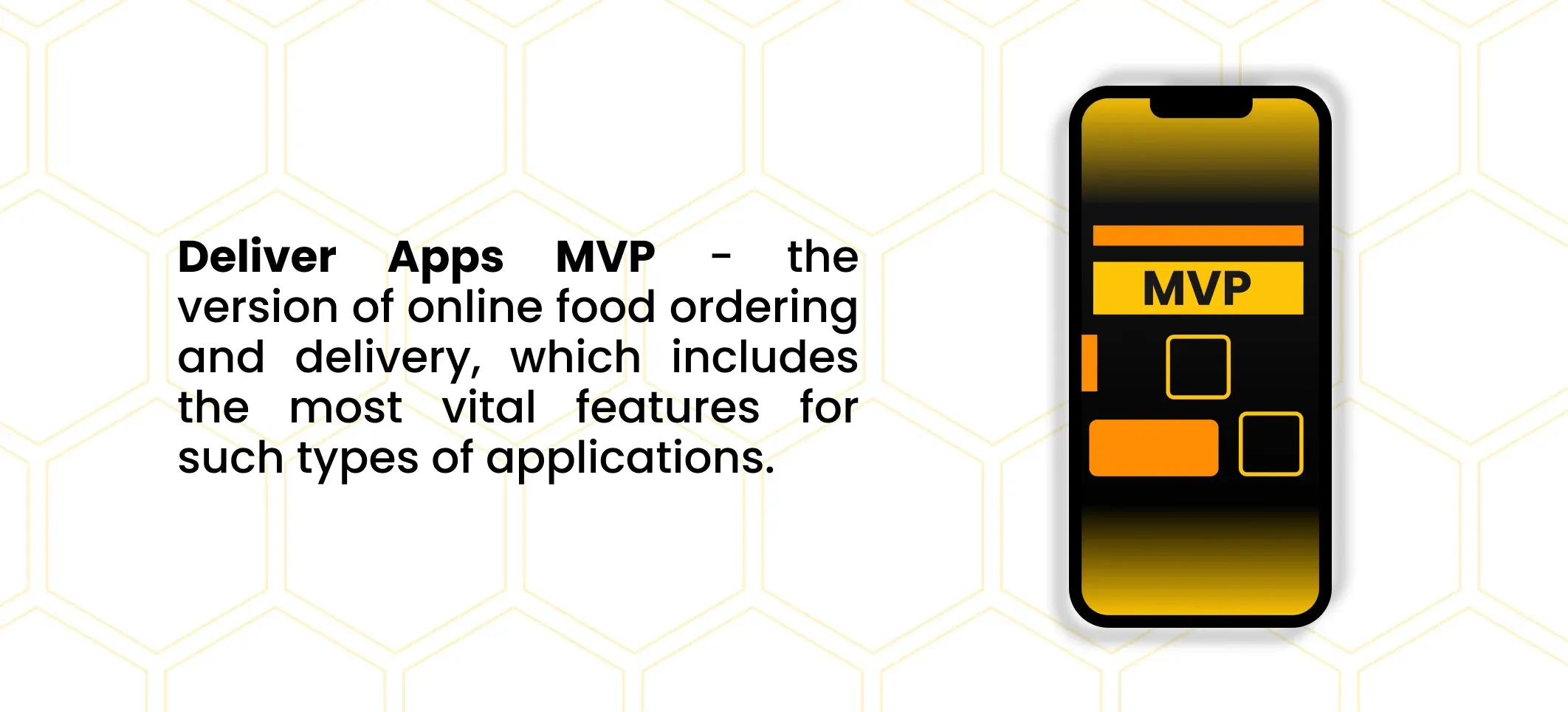 Delivery apps MVP
A minimum viable product is the concept of a software app, which includes only the key features, which are needed to start the app.
In other words, it is a minimum number of food delivery app features to make it work as supposed to.
The main advantage of such a way of mobile app development is the possibility to save time and resources to develop a much more efficient application in almost no time. It makes it much easier to estimate the development cost of a food delivery app.
Additionally, thanks to the limited number of features, developers are able to pay more attention to polishing the final product and optimizing your food business application.
Besides, another less-known, yet important advantage of MVP is the fact, that almost any industry-specific application has its most basic functional minimum. As a result, developers are always aware of what features they must develop in the first place.
Food Delivery App Key Features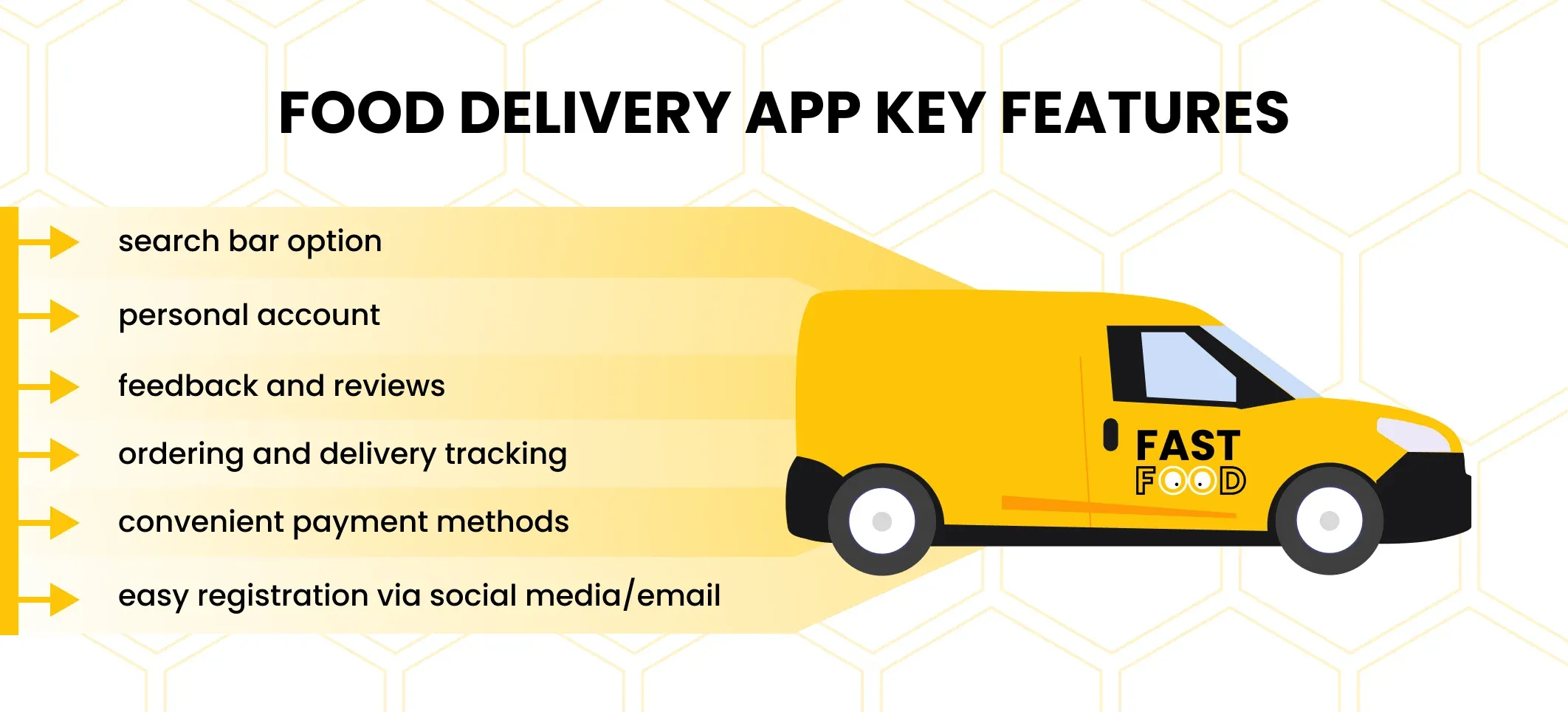 Clearly, Food Delivery services are not an exception and there are key features and types of such apps as well. For example, there are 3 different sorts of users and interfaces:
Application administrator (who maintains various in-app processes)
Restaurant Business Owner (who proposes meals) and delivery personnel
Regular Customer (who orders food)
Nevertheless, despite the variety of user types and numerous interface requirements, it is still possible to distinguish the main functional options to develop for potential results.
Make Registration Feature Simple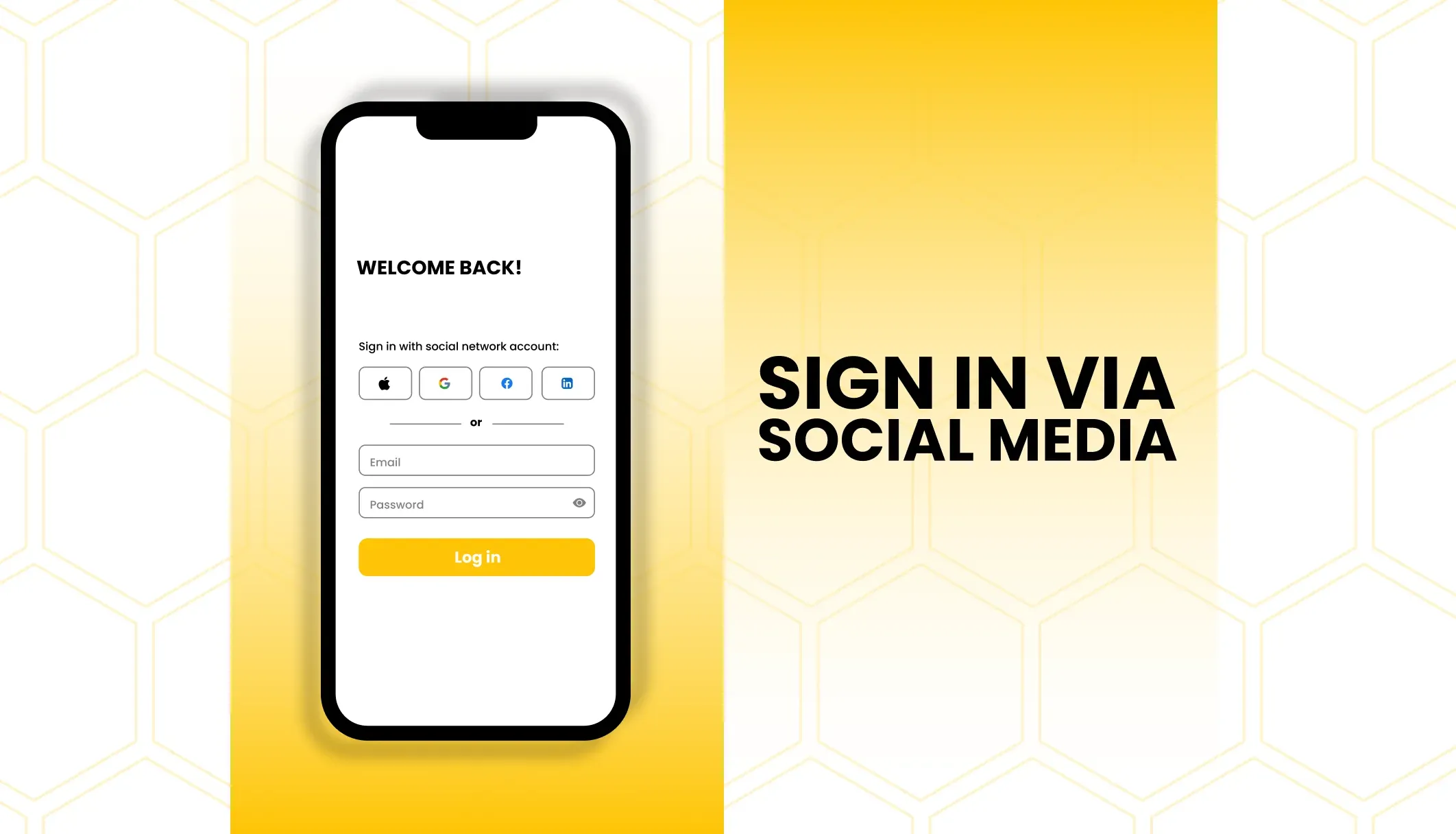 The first and most user-friendly option is to enable simple and fast registration. Nowadays, there is a wide range of potential ways to enable easy user authorization.
For instance, thanks to various APIs, you can easily integrate the possibility to authorize via social media accounts like Facebook or Instagram, or a more traditional authorization via email.
Simplified registration is already a must-have option, significantly boosting the user experience and engagement and making this process a one-click task.
Also, it is impossible to imagine a food delivery app without the personal account feature.
It ensures that customers find food, makes the order placement process possible, and payment processing, gives them a chance to monitor user's order history, find food delivered before, track delivery status, set up and save food preferences, enable brand loyalty program, etc.
Sometimes, it can even support in-app messaging.
Convenient Payment Methods
Clearly, there is no point in developing a delivery app, if the demand food delivery app won't support in-app payments or show detailed online payment information.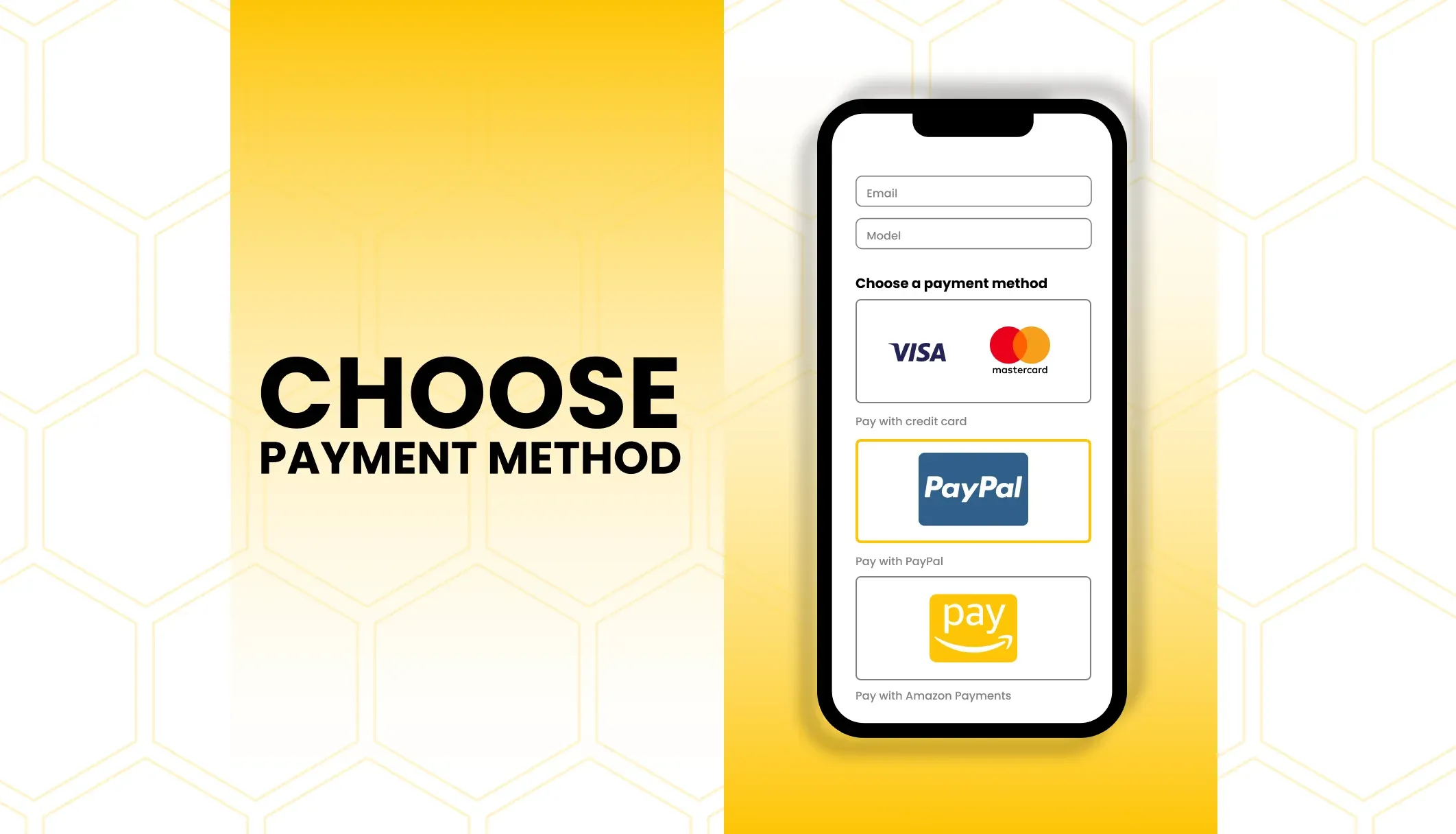 Fortunately, there are numerous ways to implement this possibility. One of the easiest and most convenient methods is to simply integrate a ready-made payment gateway with the use of API or SaaS.
As a result, you won't need to worry about the development and maintenance of such complex fintech software like iOS wallet or mobile wallet app services, which is not an easy task, when it comes to developing it from scratch.
Search Bar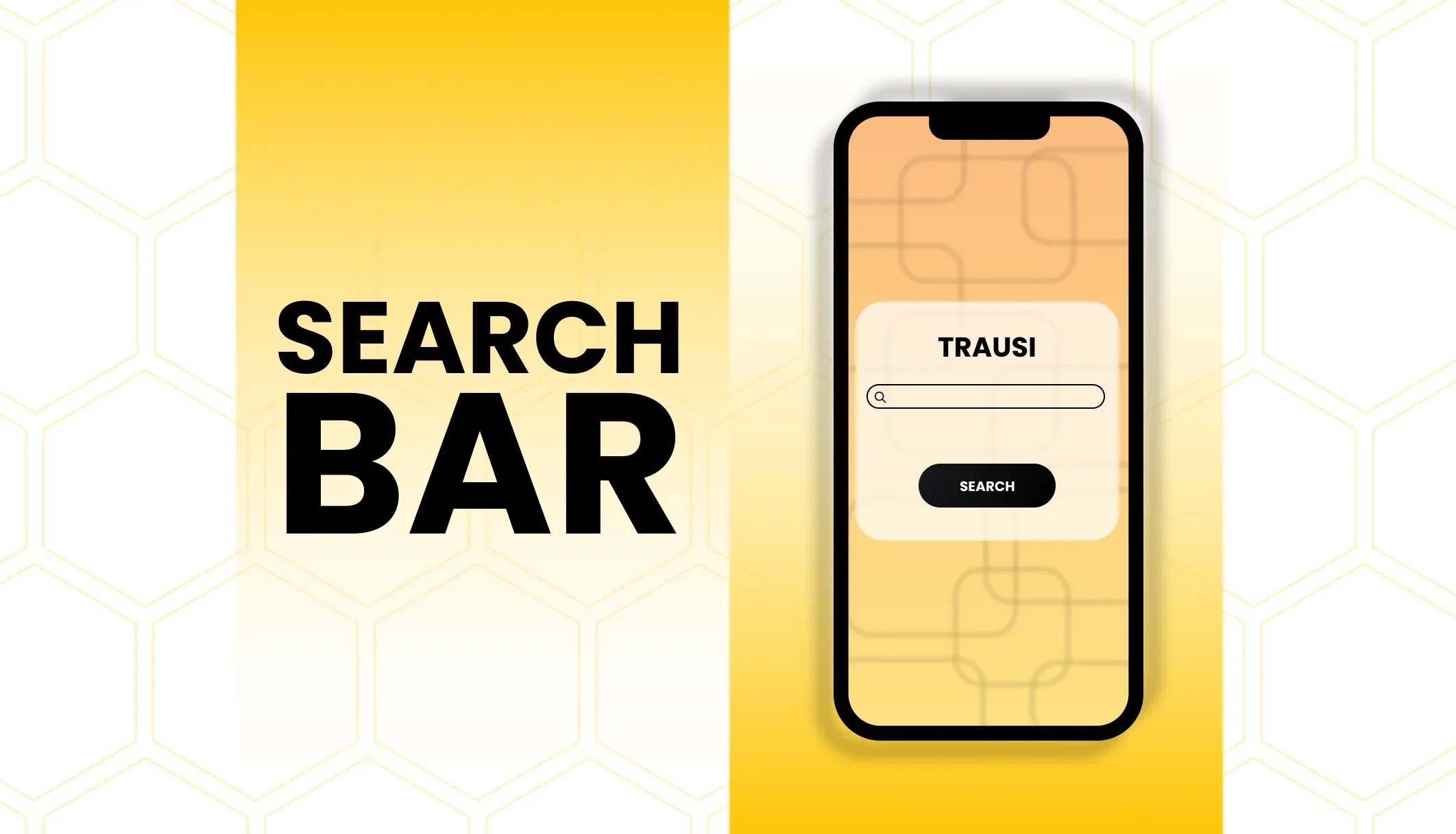 Also, it is hard to imagine this type of software service without the option to search through the app and the menu of various restaurants.
Therefore, it is essential to enable easy and user-friendly options to look for preferable meals or places to order from.
On the one hand, a search bar is a great solution, which will always work, yet it is better to ensure that there will be extra ways of surfing the app and a variety of options.
There are plenty of great examples of advertised options like discounts or happy hours in different restaurants. Eventually, such functionality won't require much resources and is relatively simple to develop.
However, if you would like to upscale the search options even more, you can consider a personalized content recommendations feature, which can be created with the use of AI solutions like ChatGPT or its alternatives.
Still, it is worth mentioning, that it will be a more difficult task and will require a certain level of skills and a dedicated team of developers, familiar with the advanced tech stack.

In other words, it is rather a must-have feature, worth consideration after the successful start of your food delivery MVP.
Feedback and Reviews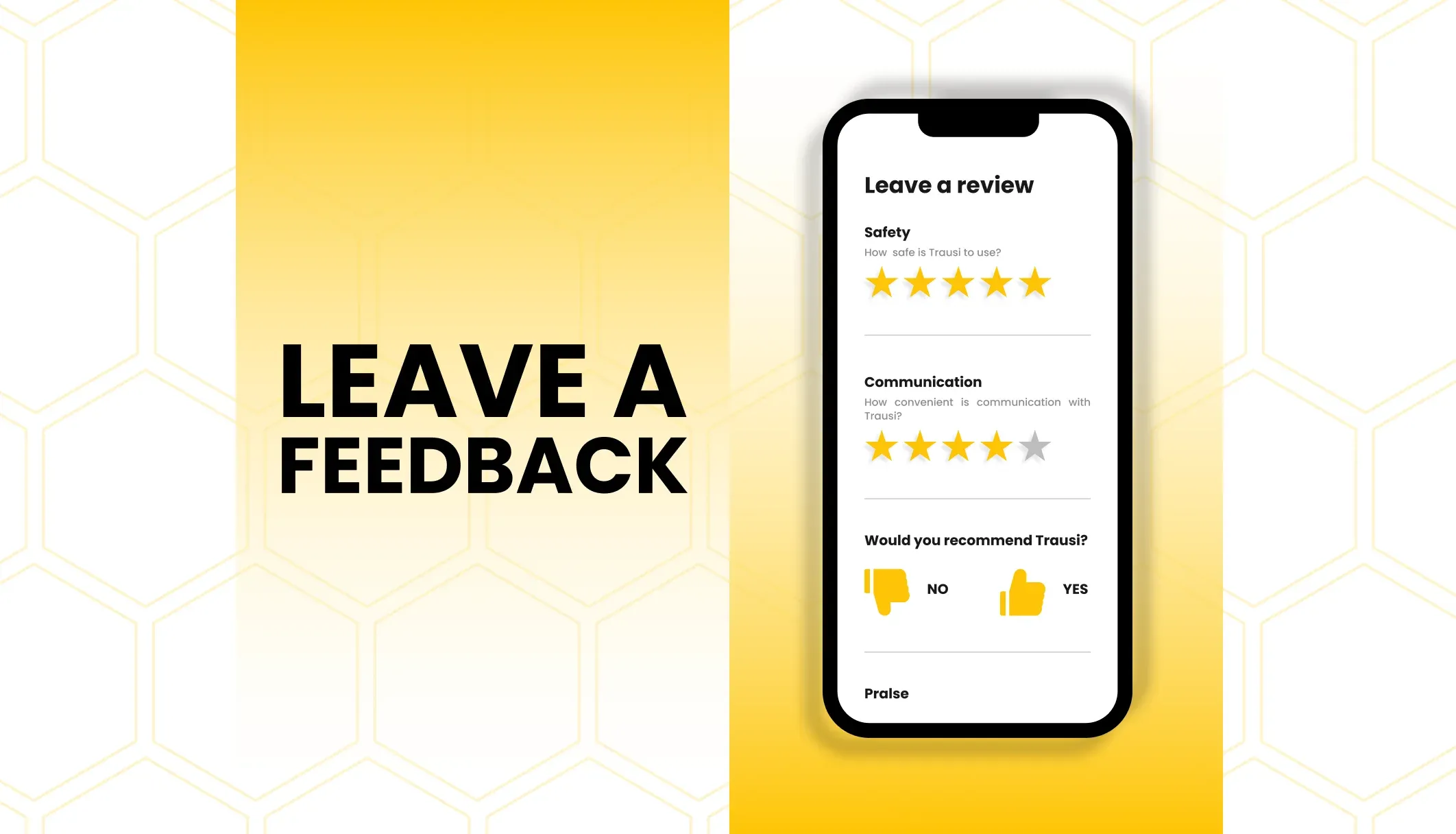 Another important aspect is the possibility of leaving feedback and reviews.
To cut a long story short, it plays a few different roles at the same time. First of all, feedback and reviews help app owners to improve customer services, getting to know the issues or bugs, which should be taken care of.
Additionally, it helps business owners to better understand their own strengths and weaknesses, which allows them to improve the proposed services.
And, finally, it significantly boosts user engagement. It gives them a chance to make a more balanced choice, based on the other user's feedback and stimulates further interaction with the platform.
Ordering and Tracking in Food Delivery Apps
Last but not least, a feature, that you can't ignore and it is impossible to imagine a delivery app without - online ordering, as well as navigation and GPS tracking via Google Maps.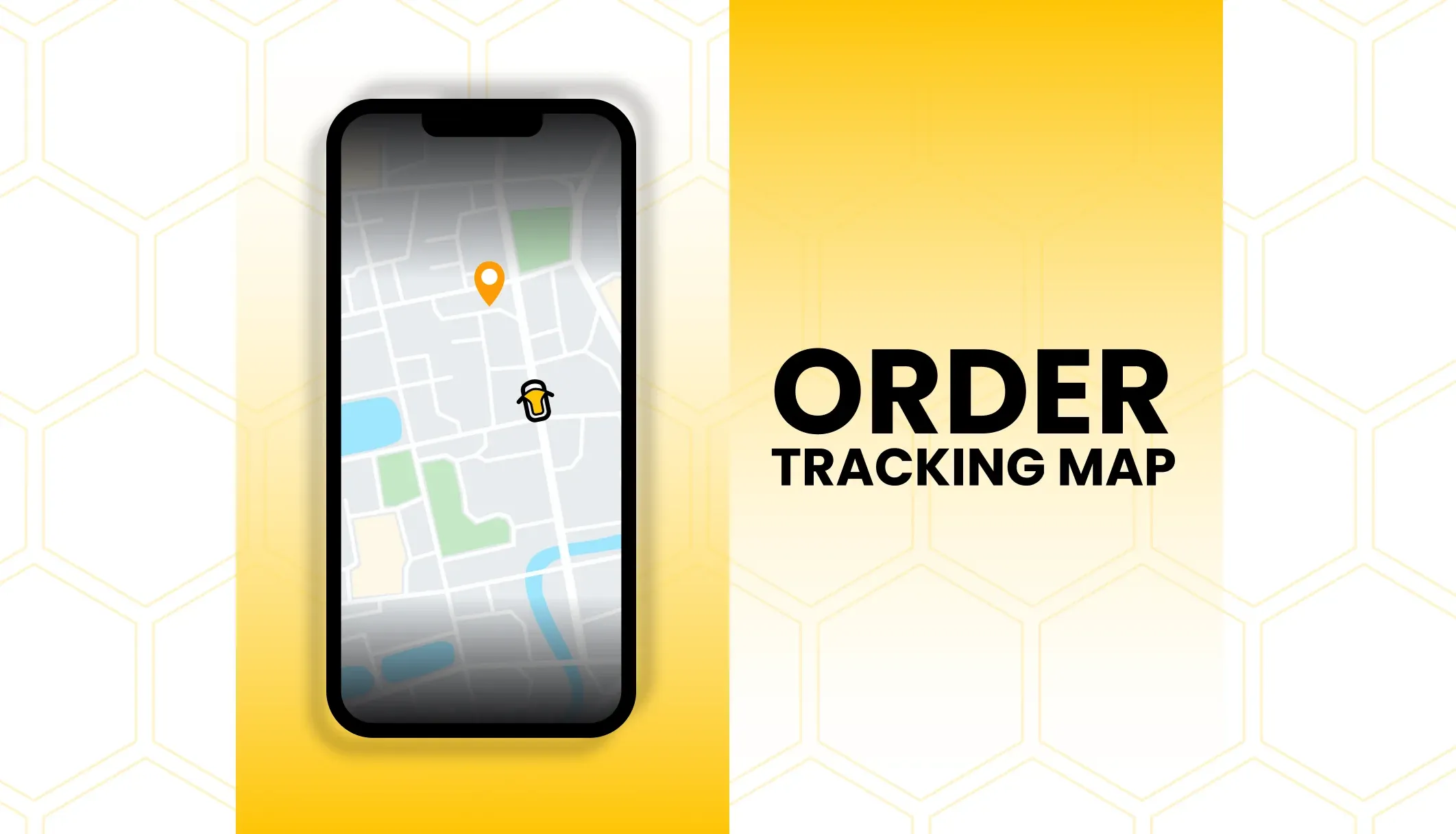 If the food-ordering mobile apps require no explanation, order tracking may seem like a 50/50 option. Nevertheless, it has already become a must-have key feature, which makes it highly important in order to compete and meet the users' expectations. It is hard to argue its role in modern delivery services.
Improving Food Delivery Business App
After getting familiar with the basics, we can switch to the best possible features, which can be used to expand the functionality of your food delivery app and keep pace with the market demands.
Group Ordering
One of the most astonishing features of food delivery applications, that recently gained popularity is the group ordering possibility.
A lot of users, who order food, commonly lack the possibility to place an order for a large group of people and split the bill between them.
Clearly, there are no limitations or restrictions on the placed orders in most food delivery apps, meaning that each user can order as much food as they would like.
However, on the other hand, it also includes a single payment for the whole order, which makes it more frustrating to calculate each participant's share. To make it easier for people to organize their expenses, numerous standalone software solutions like SplitWise emerged.
Yet, for a better and more seamless user experience, some food delivery companies like DoorDash are already working on integrating features like group ordering, allowing their users to get more user-friendly services.
Bill Splitting
Another important functionality that strengthens the preceding is the possibility to split the bill.
Clearly, there is no need for the group ordering feature without the possibility of splitting the bill or gaining other potential benefits for placing large orders.
Fortunately, there is a wide range of various third-party solutions to choose from and easily implement. Alternatively, custom bill-splitting feature development can be a great addition in case you are considering a full-fledged functionality extension.
In such cases, you can hire a dedicated team of developers for a pack of a few features at the same time.
Automated Tips and Charity
To make this feature even more useful, we propose you also add automated tips calculation and the possibility to donate some money to charity while paying for the delivery.
Such options are not only handy for your users but will bring extra value to your application, giving the instruments for both audience and charity funds, helping to make the world a better place.
Social Network Options
Social networks undoubtedly play an important role in the advertisement and marketing strategy of any modern software app, especially when it comes to food delivery applications. We propose you look at social network features as an extra opportunity to upscale your delivery application.
As a matter of fact, using various essentials of these platforms can change the whole industry for good.
For instance, providing your users with the possibility to add friends in the app will give new ways to split the bill for group orders.
It can significantly increase user engagement by allowing share their reviews and feedback on the restaurants and different meals in the app, transforming it into something completely new: not a food delivery app, but a full-fledged platform for communication for foodies.
Loyalty Programs and Other Bonuses
Eventually, it became a common practice among the companies, that mainly provide food delivery services, to create loyalty campaigns and different bonuses for using an app.
Apart from implementing gamification elements, it also helps to keep the audience engaged and loyal, proposing various discounts for regular orders, completing achievements, or even inviting friends via referral links.
Summing up all the above, it is possible to say that all the advanced food delivery features can be developed both stand-alone or as a full-scale functionality extension.
Frankly, the second option seems to be even more profitable, because it a) helps to save money for further extensions and b)is a great combination, that additionally increases the efficiency of each independent element.
Push Notification Center
Another great "extra" for any food ordering app is being able to manage push notifications.
To make it simple, push notifications seem to be not an essential feature for most business owners. Yet, judging from our experience, user-oriented push notifications are as vital as, let's say, the order history feature.
The only difference between them is the fact, that while delivery history is an industry-specific option, push notifications are more utilitarian.
For instance, they can be used both in online food delivery app and in eLearning applications with relatively the same app efficiency.
Also, such features can bring more awareness to users, being able to inform them about the success of the payment procedure, track the delivery person by providing the delivery person's contact information, or tell users the accurate delivery location.
Profile Management Feature
Besides, it can be a great idea to improve the digital ordering service to enable a high level of customization of personal profiles.
Usually, it has some limitations and is almost the same as most online food delivery apps. Mainly, existing customers are provided with rough delivery schedule settings like choosing the preferred time for a planned delivery or the possibility of seeing the approximate delivery arrival, deleting the history of all the previous deliveries, or getting tips on how to win brand loyalty, etc.
It also includes the ability to link their social media accounts, share meals with friends, use the cart, and schedule orders.
Frankly, we highly recommend considering the possibilities of more advanced customization options for the users in your online food delivery apps.
For example, you can agree with some business owners to add unique proposals for your app users like the food ordering app builder, which allows users to customize some meals, add extra ingredients, or even give more management instruments for customer app like adding favorite places, which are not present among the restaurant options.
Do not forget, that if you are willing to become more competitive in the food ordering app market, you have to propose advanced and user-oriented features, that are not only working efficiently but are unique and deliver targeted, yet outstanding app.
Delivery Apps with Incora
Regardless of your preferences: to develop a single feature, or integrate a combination of advanced features for a food delivery application, you will definitely require a team of skilled niche-experienced app developers, who can design and create a high-quality product.
Fortunately for both of us, here at Incora, we have a great team of software engineers, who are familiar with the industry and know all the potential pitfalls, how to deal with them, and what tech stack will be the most suited for any of your ideas.
To prove our point, we propose you examine our case studies in this industry, before starting to ask questions and contacting us for further information.