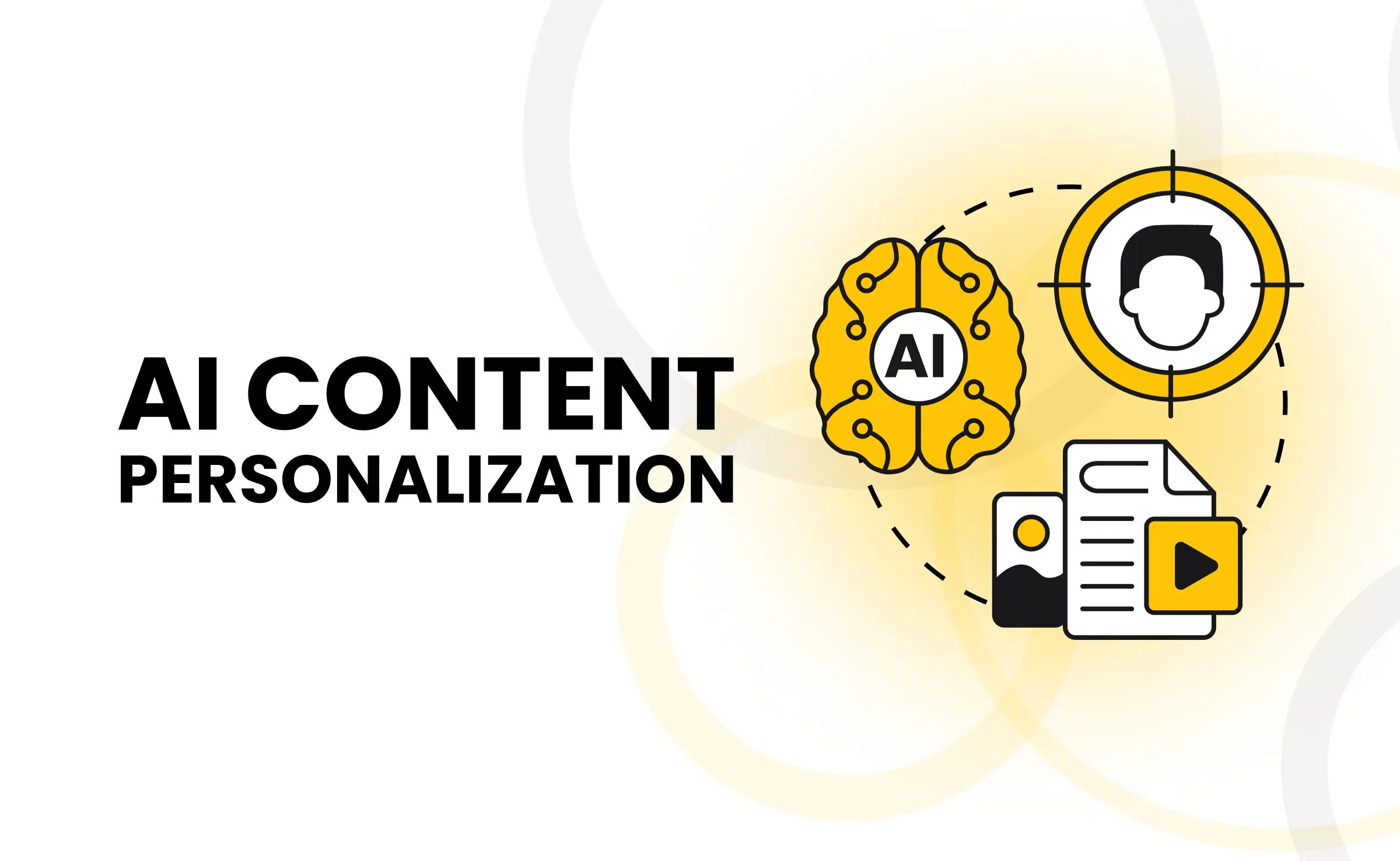 According to Statista, the number of daily Internet users has grown from 1 billion people in 2005 up to 5,3 billion in 2022. Most of the content, available on the web is totally user-generated, meaning that all the users have an opportunity to publish any type of content, making it easily reachable for the rest.
The number of content on social media networks is even bigger. Thus, various online service providers had to somehow deal with personalized content recommendations: when the amount of content is so big, it becomes much harder to find the information, the user is interested in. 
Eventually, various tech giants came up with the idea of implementing recommendation methods, which will allow to make interesting content more reachable for the users. This is how recommendation algorithms were created, and so-called "likes" originally were used.
Personalized Content Recommendations Algorithms
To make it simple, all webpages or applications like Facebook or eBay are already using deep learning in order to improve the customer experience and give them more related types of content, they might be interested in. 

Basically, any software solution, which is related to content recommendation is data-driven. In other words, the success of personalized content recommendation features directly depends on access to the user data: the more data can be gathered and analyzed - the better contextual advertisement or proposal will be.
Nevertheless, it is worth explaining the specific user data, which can be used. 
First of all, personal data privacy, related to the user's real name, address, phone number, and the rest of customer information, is secured by numerous regulations and laws like the GDPR for EU citizens. According to this regulation, developers and software product owners should carefully treat such personal information of the customers, who have citizenship of countries from the European Union. 
Due to the globalist nature of software solutions, they can be used worldwide. Therefore, at least the main players in the market like Google of Meta have to act according to this law, even if they are not targeting at EU market. As an additional security measure, service providers regularly sign DPA agreements with their dedicated teams, hired for developing or improving various apps.
The Role of Internet Cookies
Yet, the inability to use personal information does not mean, that there are no other ways to gain needed data. For instance, web cookies are one of the most known built-in tools, which significantly help to make a smoother user experience and allow to make better-personalized recommendations.

To make a short story short, cookies are small data blocks, which are saving the activity of users during their web surfing. For illustration, when you are browsing the Amazon website, cookies save information about the products, that you have examined. Then, after the short analysis, Amazon can propose you related products, which might interest you. Additionally, if you give access to your cookies to other similar eCommerce platforms and online marketplaces, they will be able to propose your related products and services as well.
Finally, HTTP cookies are an essential instrument, which significantly helps the eCommerce industry. For instance, the "cart" feature, when you add products to the cart, still has an opportunity to browse for other potential goods to buy. They are also important for online advertisement and marketing businesses, enabling the behavior advertising method, which is primarily based on the behavioral data of the end-user: browsing history, what products they are looking for, their purchasing history, etc.
AI For Personalized Content Recommendation
So, if there already are working principles and methods of personalized experiences, are there any benefits of AI-based personalization?
Frankly, the short answer is - yes.
As was mentioned above, personalized algorithms are based on user data and depend on data-driven insights. Therefore, to deliver personalized experiences, you will need to constantly gather data from users and analyze it. AI personalization engines are based on machine learning principles as well.
So, the content personalization engine defines whether your app will recommend content correctly. To do so, you will need to achieve a high level of machine learning so that the built-in engine understands the specifics of the content, is interesting for the user, and is able to find a similar one as fast as possible.
Plainly speaking, Artificial Intelligence is a superior form of machine learning. If we will oversimplify, machine learning is based on the "if …, then …" formula, or algorithm. It has predefined behavior patterns and a training stage when the system is being trained to perform according to these setup rules.
Alternatively, Artificial Intelligence was designed to mimic the human way of thinking and decision-making. Unfortunately, most modern AI still hasn't achieved such complex results, yet undoubtedly has more features and can perform more tasks than simple machine learning algorithms.
Many modern AI chatbots and other examples of this technology have shown great results in reusability, meaning that they can be easily adjusted to numerous possible use cases, regardless of the industry or features, you are willing to embody. Starting from virtual assistants like Siri, which propose a great multitasking experience, ending with very niche-specific solutions like FinTech AI for Fraud Detection.
Additionally, nowadays, the market is much wider and offers a great variety of possible technologies to adopt and adjust for your needs. For example, one of the most well-known examples of open-source AI chatbots, ChatGPT, can be integrated into almost any type of software application and supplies its users with a wide range of different features as well. Apart from natural language processing, it can be also used to process data and respond to diverse requests. 
Potentially, it can be used by content recommendation platforms under the hood, proposing content, that will meet the requirements and expectations of users. Yet, for now, it is not a common solution for AI-based personalization. So, alternatively, it might be a great idea to take a closer look at some of the niche-specific examples of artificial intelligence.
List of Machine Learning Cases for Deeper Personalization
If you are looking for AI integration that will help you to better recommend content, there is at least a short list of such possible AI tools.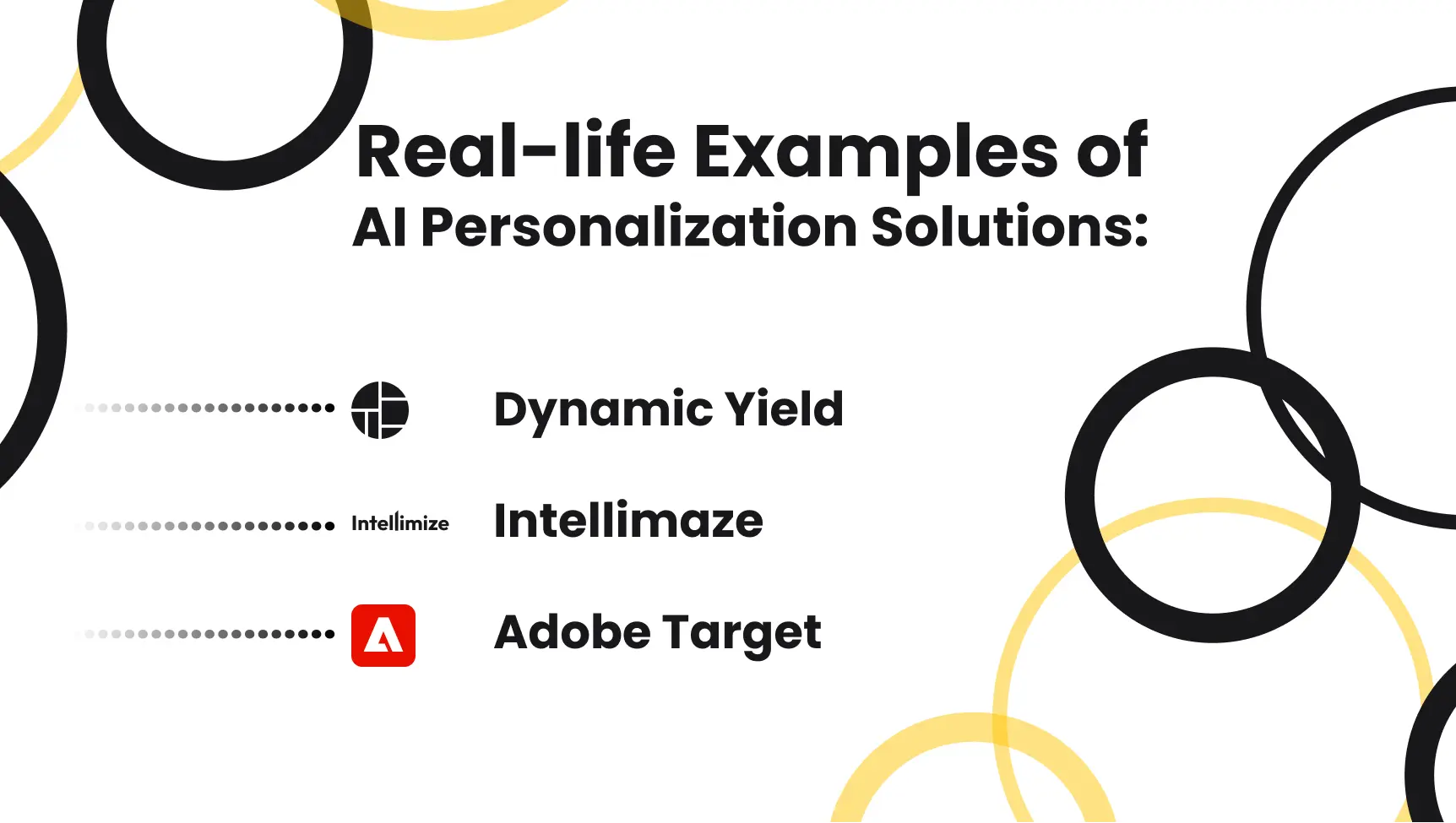 Dynamic Yield
Dynamic Yield is one of the most popular modern AI-powered platforms, which are commonly used to empower the user experience. One of the significant advantages of this software solution is the fact, that apart from the personalized marketing feature, it also suggests a number of optional functional elements, to be used to improve the overall UX and increase customer engagement.
Among the main features, there are
Automated content personalization, 
Ability to create personalized static elements such as call-to-action banners,
Possibility to enable custom predefined rule-based triggers, like certain actions, which result in sending emails, or push notifications,
Predictive targeting,
Rule builder for advanced personalized advertising and targeting, according to the user's location, or other aspects, which might be important.
Intellimaze
Intellimaze AI was designed to meet the expectations of marketing specialists. Its main usage purpose is to improve marketing strategies and support marketing teams by giving them a toolset for a better understanding of their personalization strategies efficiency.
Yet, it also provides a vast variety of instruments for personalized recommendations and to deliver optimal customer experiences. Additionally, it is worth admitting, that it also helps to improve the optimization of applications. It can be used to
Personalize content and test different components of your website,
Achieve optimization goals, empowering and significantly improving user engagement, 
Perform advanced testing of the marketing ideas, allowing to perform testing under various circumstances, start or end the testing, without impacting the results.
Adobe Target
Adobe Target is another example of a platform for AI personalization, which runs Adobe Sensei AI under the hood. The main goal of this software is to supply companies with the ability to improve client engagement and improve the AI personalization experience. To do so, Adobe Target proposes a few key features:
One-click personalization, which, in fact, uses AI capabilities to make more accurate predictions and prognoses users' preferences with as little data, as possible,
Multiple testing methods, which include A/B testing, multivariate tests, and other experimental practices, are designed to increase the efficiency of personalized ad targeting, and experience personalization,
Single-page application personalization and optimization, to create a more seamless experience of using this type of web app,
Additionally, contrary to the rest solutions from the list, Adobe Target also aims at the mobile application market by proposing tools for mobile optimization.
How to Implement AI Content Recommendations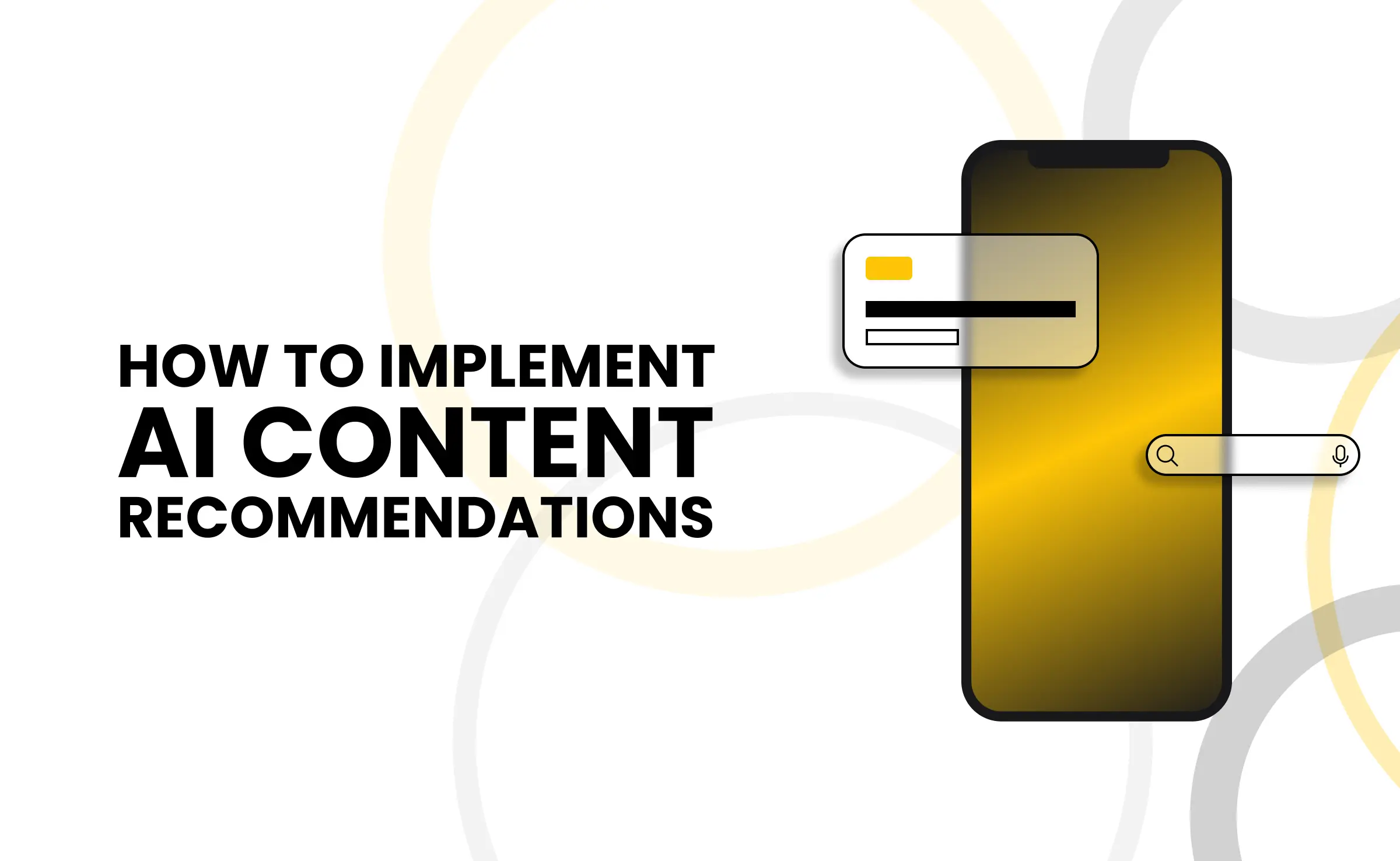 Various tech giants like Amazon or Netflix are developing their own AI for ​​content personalization engine, instead of integrating third-party SaaS. Clearly, these companies have enough resources to maintain such complex development processes.
Thus, there are two main approaches:
If you have enough money and time, you can invest in developing your own AI, which will meet all your possible requirements and goals. Yet, clearly, this is an extremely long-term and expensive project to maintain.
Analyze the market of AI vendors, examine and compare industry-specific examples like the ones, from the list above, or contact other AI developers or outsourced software engineers, asking if there is any chance to make adjustments for the existing product, to make it capable of performing the desired tasks.
Nevertheless, in either case, you will definitely have to hire a dedicated team, which is experienced in AI technologies and can deliver a high-quality product.
Still, before actually contacting outsourced companies, or starting the in-house hiring process, there are a few steps to make, before even considering the potential development.
Define Your Goals

The first and most obvious step - is planning. You will have to spend some time, considering and describing your purposes of adopting or developing an AI content personalization solution.
This step also includes clarifying and choosing the tech stack, as well as the preferred choice: whether you are willing to create your own AI-powered personalization technology or adopt a ready-made product.
Additionally, it is worth paying attention to the exact approach and key features to implement. Clearly, the best way is to use a minimum viable product (MVP), which consists of the most essential functionality, in order to make the most vital features a priority. After securing an MVP, you can start considering adding extra features, which could upscale your product, but are rather optional.
Last but not least, you need to correctly define your target audience, in order to know its needs and what customers expect and ensure them, i.e. choose the most appropriate training approach for an AI. It also includes gathering corresponding user data, which can be later used as basic material for adjusting and training the AI. 
Ensure Processes Related to Customer Data

Due to the fact, that any content personalization engine significantly depends on the data, its gathering and analysis are key factors, which will ensure the success of your idea to recommend a personalized experience.
Also, don't forget about the data security policies. The best way to guarantee a high level of security measures is to implement them from the very beginning, starting with the OWASP list, and ending by creating very specific and unique security practices, designed for your project.
It is recommended to look for advice from the niche-experience developers at this step, in order to define the most essential types of data and to set up a high-quality data-gathering process.
After all the foregoing, you can start by hiring a dedicated team for AI development/integration. The foregoing stage will be accordingly either development or integration. Due to the significant difference between them, let's save this stage for later, and talk about what is going next instead.
Continuous Testing and Modern Customer Satisfaction

After you have taken care of the technical implementation of AI personalization, you should not forget, that in both cases you will have to perform testing. Regardless of your AI origin (is it your own product, or a third-party SaaS) your team will have to perform constant testing to better understand what is working, and what should be improved.
Remember, that developing and integrating AI-powered personalization is by far not the end. Sometimes, it takes even more resources and effort to polish and maintain a working system and integrate new extra features.
Personalized Messaging
An example of such handy, yet unessential features, which help t improve personal touch - is marketing messages, which are generated and sent by personalized AI powered chatbots.
AI Content Recommendation Platforms with Incora

Regardless of what path you have chosen, you will definitely need a trustworthy team of experts, who will be able not only to deliver a high-quality product but will have enough experience and skills to help with the maintenance and adjustment of such complicated systems.
One of the best ways to check the case studies of outsourced vendors, who caught your attention. 
Here at Incora, we have a specific approach to training our developers. For instance, we encourage them not only to become leading experts in technological solutions but to train niche experience, so that they could propose their knowledge as an extra bonus for the project, they will be part of.
So, if you are interested or have any further questions - please, contact us, and our specialists will get in touch with you as soon, as possible!