The COVID-19 pandemic significantly impacted the Food delivery industry. Although the pandemic is officially over, it seems that the popularity of food delivery apps won't decrease.
As a result, innovations and new ideas on how to build a delivery app, which extra options to add, or what specific niche to aim for.
Clearly, the variety of existing food delivery applications makes business owners constantly look for possible improvements and extensions, which will help them to more efficiently compete with their rivals in this market.
Fortunately, there are numerous cases to learn from. Besides, there is a wide range of key features and types of Delivery Apps. However, it still doesn't mean, that these lists are final, and there is nothing new to adopt for this industry.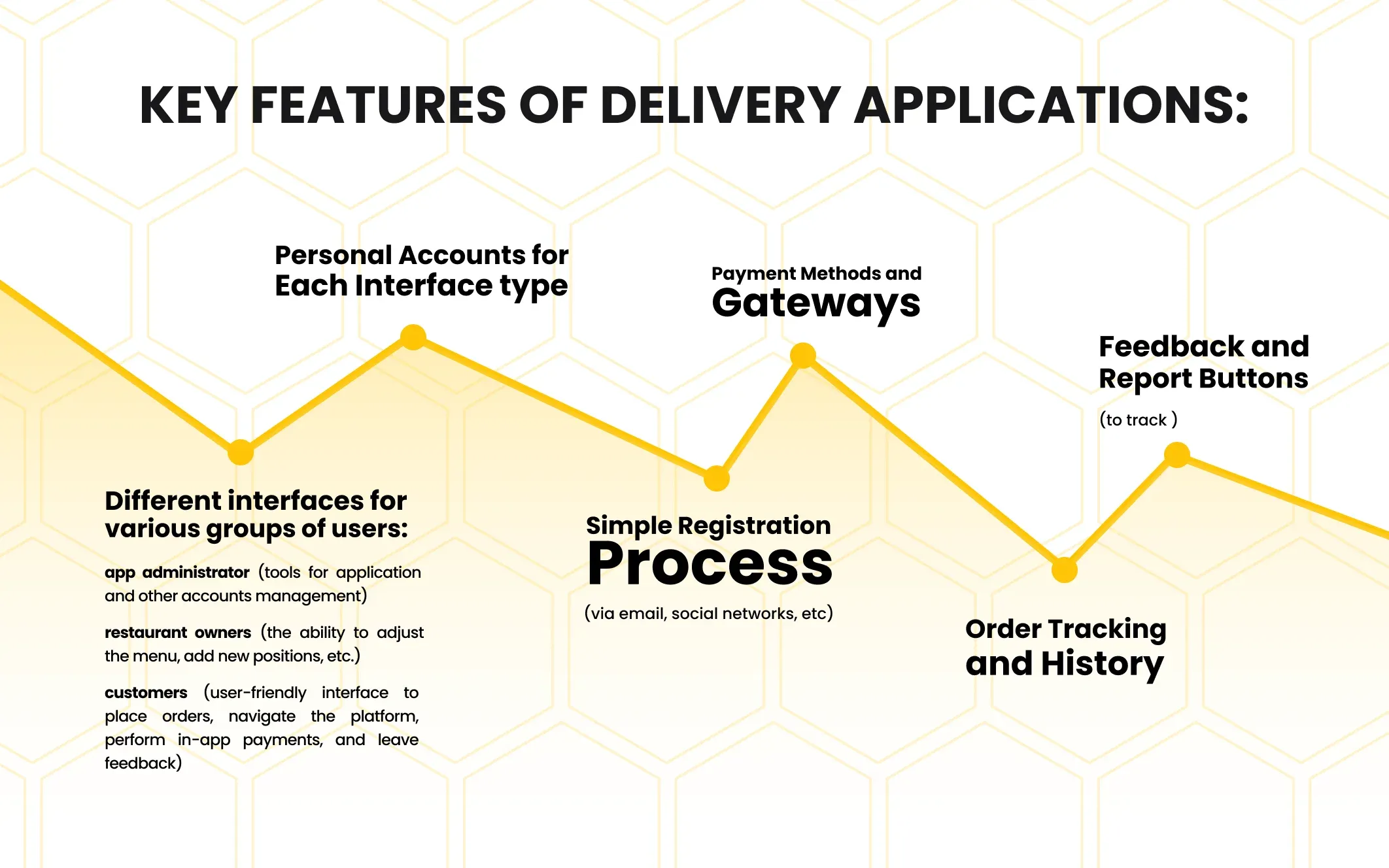 As a matter of fact, niche-experienced developers are considering and already implementing some unique features for this field, which, actually are simply borrowed from other industries like social networks, eCommerce, etc.
Frankly, some of these functional options seem obvious and predictive, yet, are surprisingly rare in food delivery apps at the moment. Most likely, it will change soon. Still, owners of such apps can easily become the pioneers of the new food delivery apps generation, which are more convenient for a lot of different customers, and capable of significantly improving user experience in no time. We are talking about group ordering features in modern food delivery applications.
Why Group Delivery Matters?
Unfortunately, there is a lack of related statistics in most countries. Yet, according to Zomato's mid-covid report, maintained in India, group ordering in the food delivery industry has increased by 20%.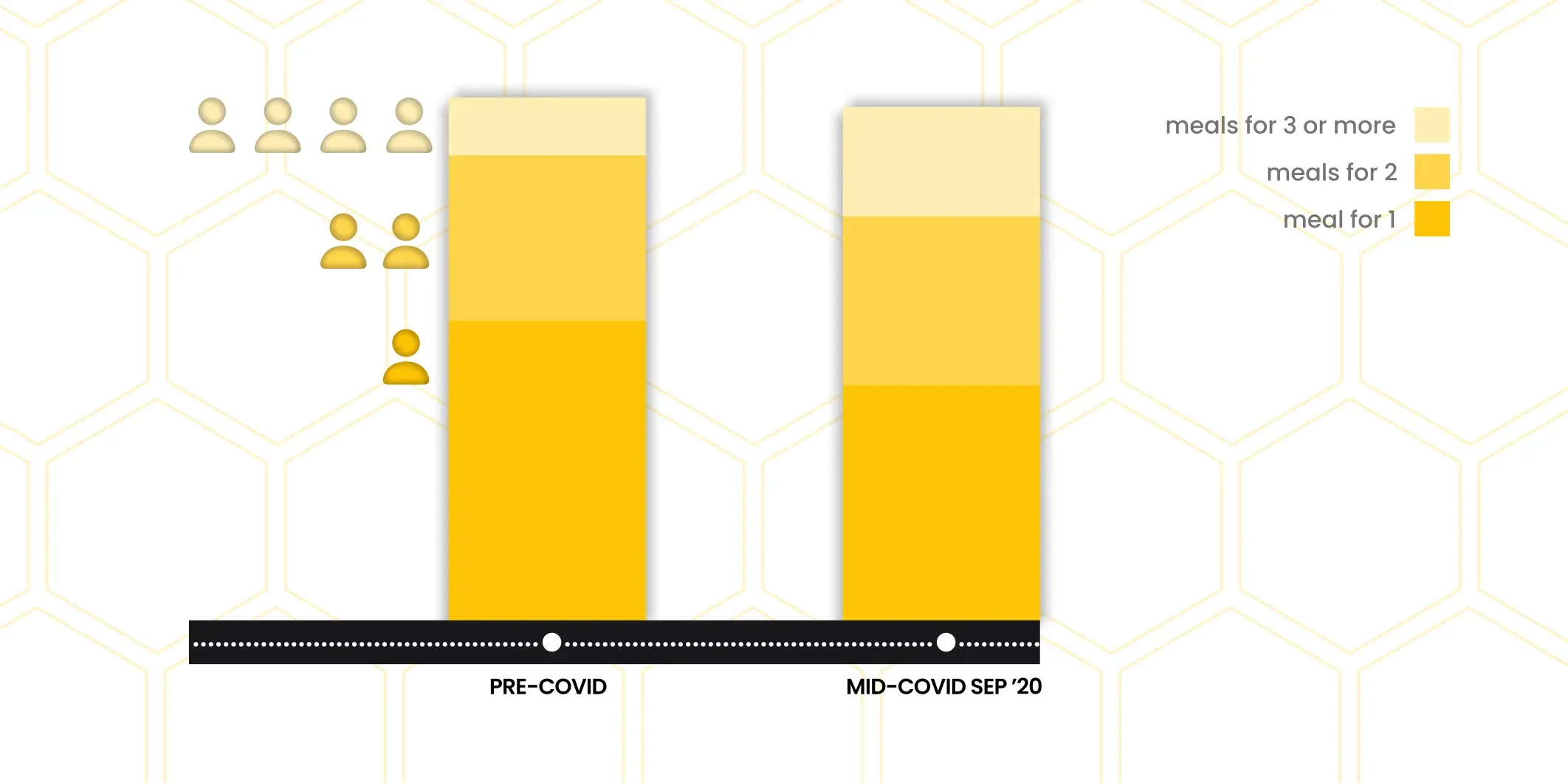 Eventually, common sense and individual experience say, that it is quite common practice to order food delivery for a party, or evening with friends. We bet you have at least once taken part in splitting the bill for the whole office team or used the food delivery services for a group order.
Frankly speaking, the group order button already become a built-in element as an alternative for individual orders in various companies, which includes not only food delivery services but, for instance, taxi apps as well.
For illustration, Bolt group rides, allows multiple people to unlock several e-bikes and scooters from a single account. Mainly, most apps still require their users to place individual orders even for such small (up to 4 persons) group orders.
Unfortunately, the same is true for restaurant delivery as well. For instance, regardless of how large orders you perform, in most cases, users have to pay a one delivery fee for the whole party, and then calculate each individually packed dish, trying to find out, how much each member owes to the person, who placed the order.
To make this process easier, some third-party apps like SplitWise emerged, which basically allows to split the bill for the delivered meal and automates the calculation process.
However, it is hard to deny the fact, that such optional features as built-in customize the lunch order option make the application more user-friendly and give an ability for teams to better organize their budget.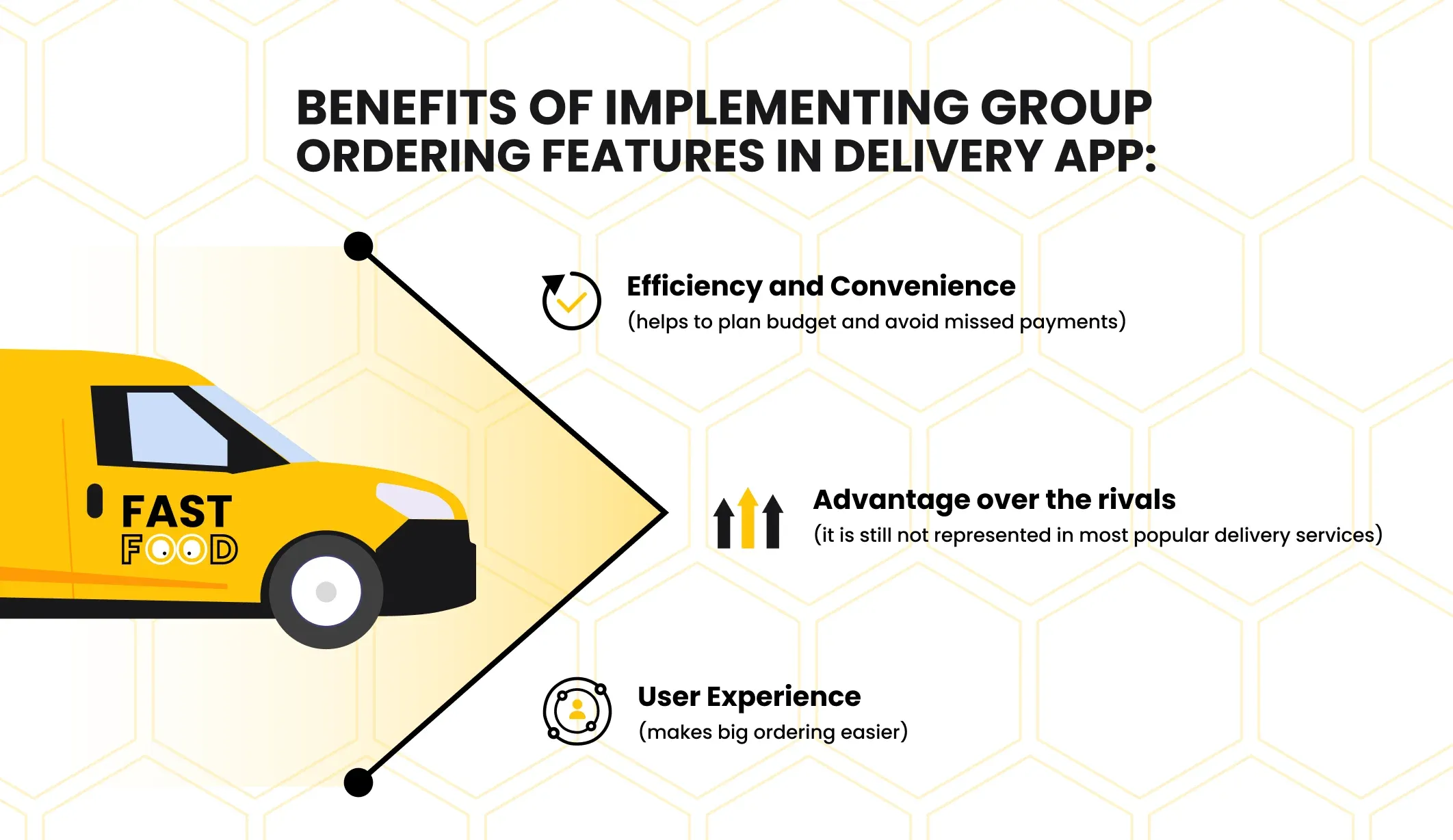 Besides, judging from our experience in developing food delivery apps, we can admit, that more and more clients are interested in such built-in features in their products. As a matter of fact, some of our recent projects are directly related to such in-app functionality, so we have enough expertise in creating such group ordering features.

How to Build Food Delivery App with a Group Ordering Feature?
After figuring out the potential advantages and benefits of having group orders in your food delivery app, it is worth talking about the essential functional features, which will make this option seamless and more convenient, making the split expenses possible. This is the moment when social media features become very handy.
Probably each of such large orders is accompanied by multiple conversations and individual orders, which must be placed at the same time. In most cases, these conversations are performed in person, when the team has gathered together. In other cases, you will spend a lot of time, texting each other on third-party messengers like Whatsapp.
Additionally, if we are considering the possibility to spilt the bill for the order, then how will it be performed on the functional level?
The most obvious answer - is to develop related features and make them available in-app.
To make it simple, you will need to develop a built-in messenger or integrate an existing one with the use of API, allowing users to create a corporate account or invite individual users via group order link, using the personal client account with the linked payment methods in order to process the payment after the order is placed.
Let's talk about each of these features in more detail to better understand the main requirements and functionality worth considering.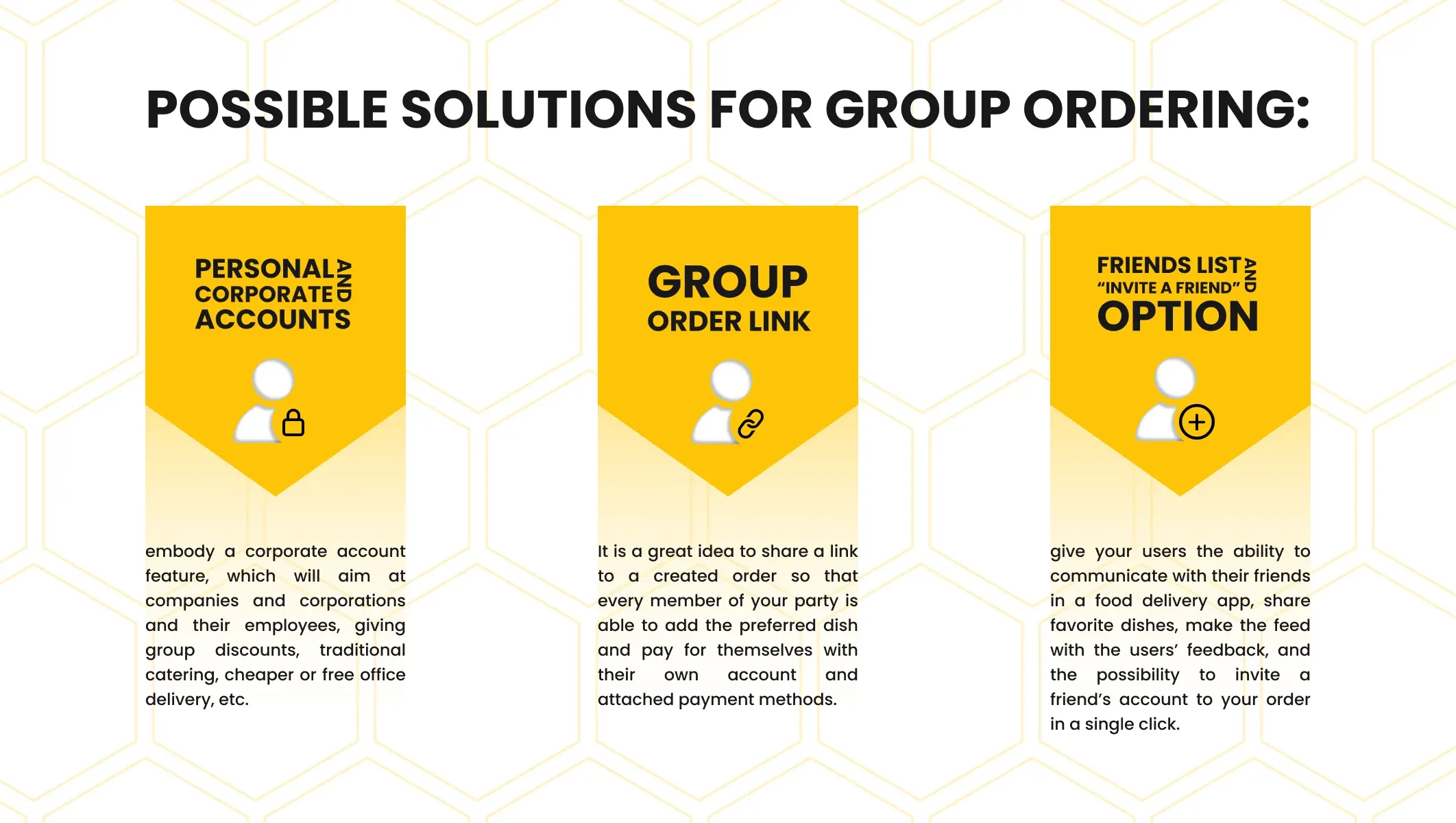 Personal and Corporate Account
Clearly, each delivery service requires its users to create an account and link their payment methods, as well as clarify some info like delivery address, their name, etc. It is always useful, yet the main problem is the fact, that they are used for individual orders.
So, one of the first possible solutions is to make it possible for users like employees to make a temporary corporate account for placing a group order for the office team easier.
Still, the main issue is the fact, that even in such cases, the payment method will be individual by its nature, making it impossible to submit individual money transfers for specific meals.
So, there is an alternative and more convenient way for group ordering.
Group Order Link
In order to avoid confusion, it might be a better idea to enable a group order link option. So, in the case of any traditional catering, it will be possible to simply place a group order button as one of the UI design patterns, which will automatically create a group order, with the possibility to invite others via a link, just like in Google Drive.
Additionally, it will be possible to track each individually packed meal and charge the related order fees from each of the personal orders. Making the company checkout process easier and fair.
Friends List and Invite a Friend Feature
In case, you are interested in customer engagement and developing built-in messaging options, you might consider the possibility of creating a friend list in your food delivery app.
As was mentioned before, each such service requires its users to register their own accounts. Thus, the half of work is already done.
To upscale this key component, it is worth giving extra usage purposes for personal accounts - to enable communication with the rest users.
Actually, it can include not only messaging with friends directly in-app, or inviting them to the placed group order, but also improving the overall user experience of the app. For instance, you might spend some resources and enable a feed option, making it possible to see the feedback of your friends on their restaurant choices and share in-app feedback and reviews on different businesses, etc.
In such a scenario, your food delivery application could be truly considered a social network for food lovers, which will definitely make it more compatible with the overcrowded market of food delivery apps.
How to Choose the Development Approach?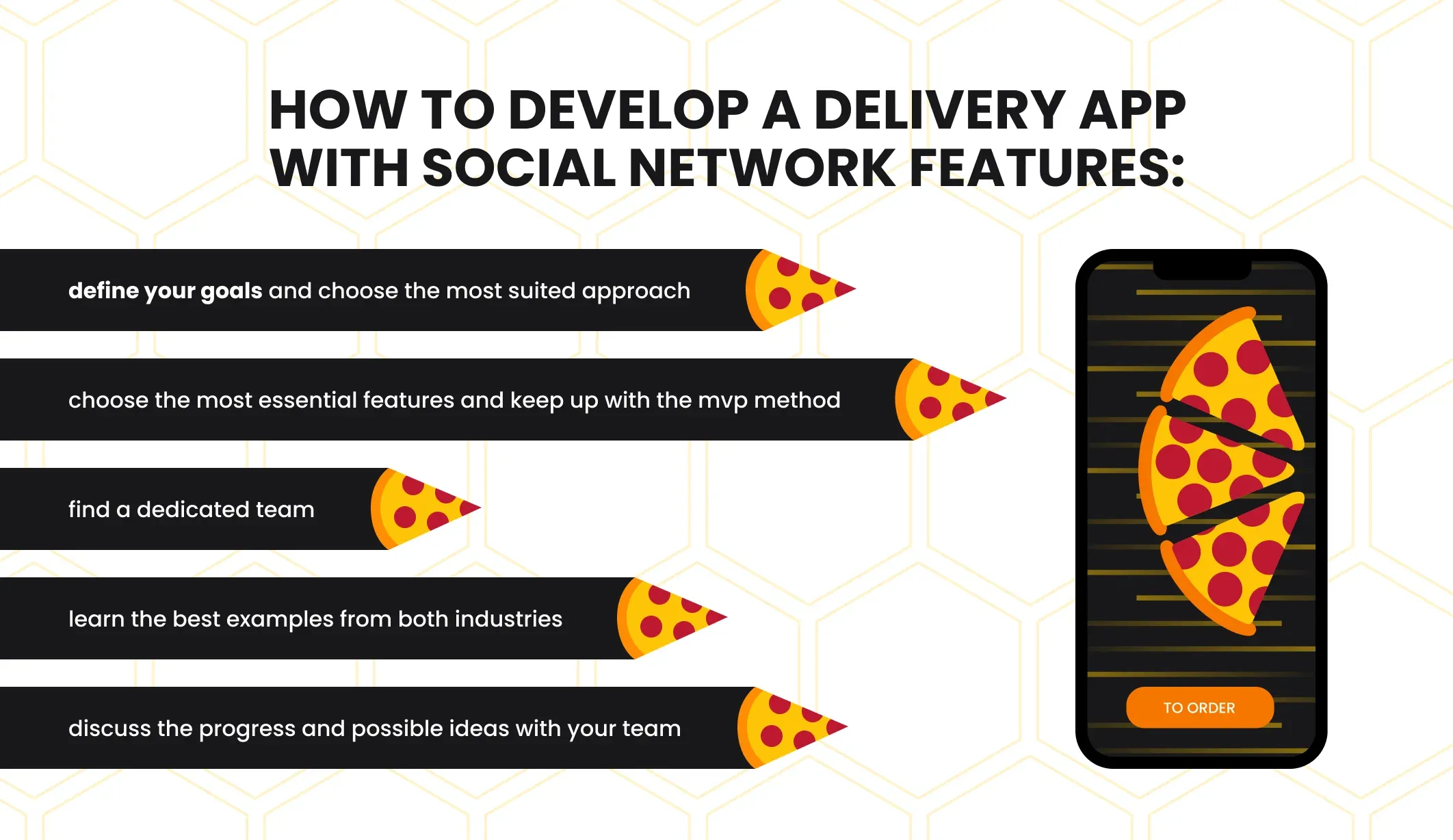 Despite the fact, that all of these solutions can be easily embodied in your future food delivery application, it might be a better idea to make priorities and choose 1-2 ways of how to enable group ordering in the app.
Eventually, it is better to stick to the MVP approach, i.e. developing only a limited version of an app, which includes the most essential functionality.
This both allows to save time and resources, speeding up the process of implementing an app, and helps to maintain it in a much easier way. In other words, "the more - the better" is not always a working scheme.
Probably the most efficient combination will be a friends list and group order link. On one hand, a built-in friends list can be easily used for further potential improvements and functionality expansion.
Alternatively, the group order button with the extra possibility to send an invite link, can allow attracting new users. For instance, with a few lines of code, it might be possible to allow placing orders even for unregistered users via an Internet browser, paying their part with the use of ApplePay or Google Wallet, as well as other possible payment gateways.
On the contrary, developing a corporate account makes it possible to find a specific niche of food delivery apps - order services for companies and their employees, which can also significantly help you on your way to success.
Obviously, each company performs corporate parties with traditional catering. So, designing in this way will give you a noticeable advantage over your rivals - apart from proposing paid order delivery and catering services for large groups, you can offer them a corporate account option, with office delivery and employee discounts, etc.
Group Ordering Cases: ShareBite
Probably one of the best examples of such types of applications is ShareBite. As a matter of fact, its owners decided to combine all the foregoing features in one app. As a result, within the application, users can order food for large groups, and companies are able to organize corporate food delivery for employees and set up food delivery straight to the office.
However, apart from the group ordering feature, ShareBite also provides a great possibility to spend some money from each order on charity, which brings some consciousness among the people, by proposing great services and giving them a chance to be engaged in charity in a very simple and convenient way.
Building a Food Delivery Service With Incora
While the approach to developing such types of applications is debatable and can vary, depending on the goals are aiming to achieve, the fact, that you will require a dedicated team of software engineers is undeniable.
In other words, it is essential to hire a dedicated team, which will not only meet all your requirements but will be able to produce high-quality products as well.
This is why, we recommend you to look for niche-experienced developers, just like the ones, from our Incora team. To prove our words, we encourage you to check our case studies before actually contacting us.