Just because you've created an app doesn't guarantee you've made a profitable business. Your software is a little part of a much bigger picture. A successful software provides enormous value to its users. It might help them save time and energy through a variety of offered online services like, for example, customer services. When shipping apps provide such value to their users, in this case, different Saas pricing models can be added to generate money and make apps beneficial to their owners too.
The app developers who succeed are those who consider their average income and where the source of income will originate from before they begin developing anything. And, like with most things, the more prepared you are, the more likely you are to succeed. Explore what people you're trying to reach. Find out who your competitors are. Make a one-of-a-kind offer that people will want to use. When everything falls into place, your software has the potential to make a lot of money! And a well-thought-out monetization strategy will get your business idea moving on the right path.
At the point of selecting payment options for shipping apps, consider security concerns to reassure their clients' safety when paying through the system. Integrating Payment gateway solutions that have proven their durabilities, such as PayPal, Stripe, or AppleWallet is the easiest choice with definite high efficiency.
So, here we come up with a few ways how to monetize an app in the delivery industry. Below there are described Saas pricing models both for food and package delivery apps. You have just to pick one or two that fit your ideas the most.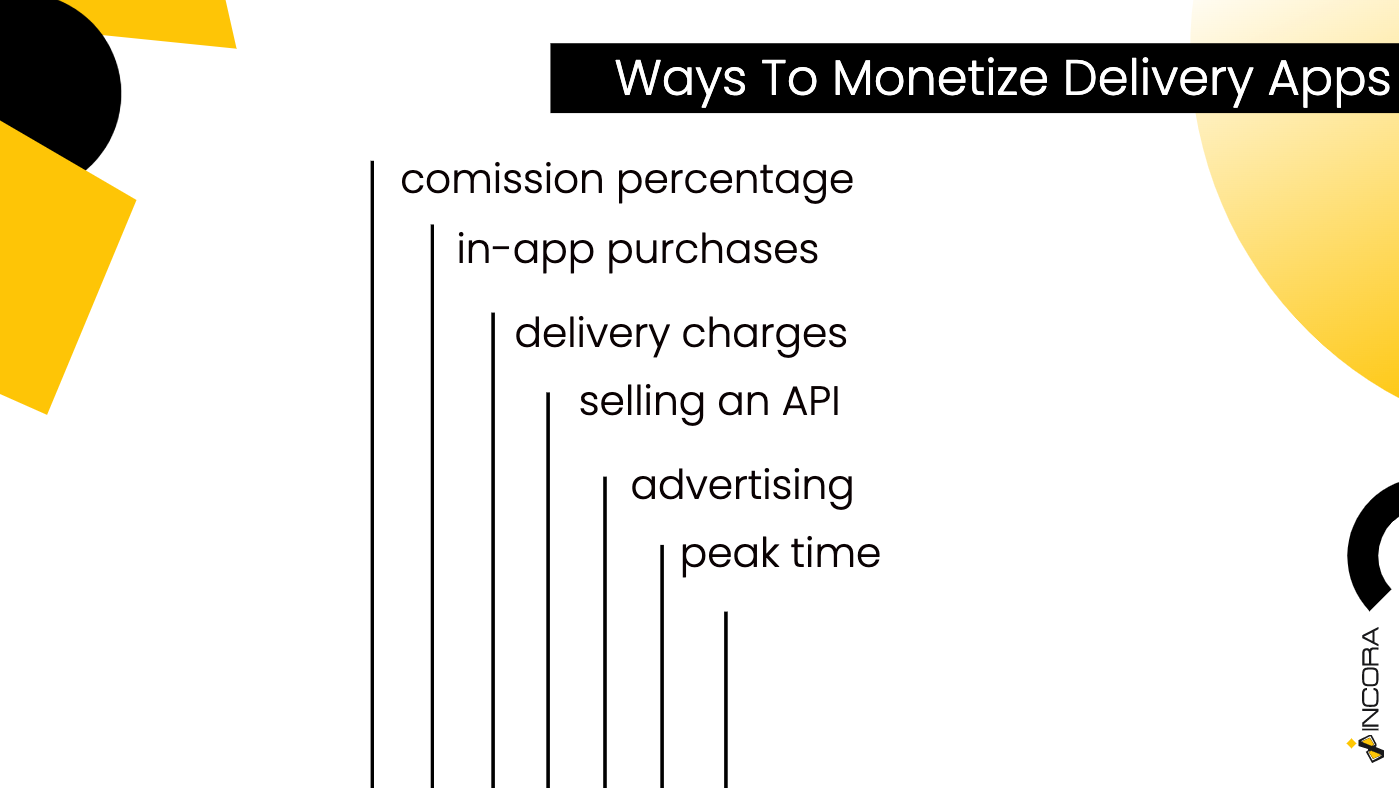 Delivery Charges
Customers and restaurants communicate through the online food delivery service. If the restaurant lacks delivery drivers, your app can supply it with courier services, to bring food to customers for a delivery fee, easing the pressure on the eatery. Depending on the distance, delivery charges can be a percentage of meals or a fixed rate. A payment gateway is required in your app because charging a commission for money transfers is a standard source of income for an app like Uber Freight.
If we are talking about package delivery apps, the same pricing options are available here. But here the delivery charges are required for the freight shipping, depending on the weight, destination, type of cargo, and other possible details.
To stay competitive, you must research the delivery charges of your competitors. For example, Uber Freight charges a commission based on the distance traveled. It also takes a percentage based on demand, just as it decides dynamic pricing for the car service. Although this fee Uber Freight makes less than the typical 15% that is taken as a standard between brokers.
While charging for delivery is a smart way to ensure a steady source of income, it might be difficult to stay afloat solely on this strategy. As a result, you should consider extra money streams such as surcharges during peak times.
Peak Time
Delivery surcharges during peak time could be the other excellent monetization strategy. You might charge a higher service fee for deliveries made at odd or busy hours. Surely, such a method is more related to the food delivery service, since package delivery apps are not connected to the time as much, and there are no options to set peak time. But with food ordering, you can make extra money this way.
As one option, you can limit delivering food to customers in various remote locations during peak hours and charge additional money to make them available. It should be emphasized, however, that not all customers are willing to pay extra money for the same service. So, they can either wait for an order after busy hours or switch to an app that does not charge as much during peak time.
A second option doesn't limit any functionalities of an app but establishes higher surcharges, known also as convenience charge when the demand increase. In this case, you can explain raised commission percentage as a result of larger traffic, more orders, and other circumstances impeding the delivery.
Even if you go with this method, explore other apps' hourly rates at possible busy hours, and then set a lower convenience charge.
Commission Percentage
The commission percentage is another popular business model to commercialize food delivery applications. Restaurant owners can work with them at a predetermined charge rate based on orders' details. Fees are a good way to get paid if the online food delivery apps help the restaurants to sell more as takeaways. The magnitude of the fee, however, may vary depending on the level of the restaurant, average income, amount of positive reviews, and other criteria.
Shipping apps, on the other hand, define commission percentage to the freight forwarders since they are the ones, who provide customer service and accept orders afterward. However, the fee amount varies based on the scale of the freight forwarder, its average sales, annual profit, number of deliveries, couriers, etc. Of course, you can set a lower price for loyal businesses that you are dealing with, hypothetically that are using your app for more than a year, or regularly used the courier services option in your app.
Making money through commission percentage is a good way to have a profit. Since surcharges occur as a B2B business model, this can lead to long-term relationships with intermediaries and endpoint businesses.
Advertising
Another possible way to generate money with the food delivery and shipping apps is through advertising. For a fee, the apps can advertise businesses to the people, who use their apps.
The food delivery apps can advertise restaurants by displaying them at the top of search results for a set amount of time. As an advantage, the restaurant will appear above other ones in search and it will attract considerably more people than its competitors. But, ensure to check the reputation of the restaurant you are going to collaborate with.
The other option is to add banner ads with discounts, sales, positive reviews, and special offerings from the restaurants. You can place them on the most visited page of your app, for example, the entry/sign up page, or near the search string.
Banner ads are also a good solution for shipping apps. You can notify your users about new freight forwarders on the market, or about a decrease in the shipping prices of some other freight forwarding companies. Either way, advertising will benefit your profit, increase freight forwarders' reach, and give the clients better rates. So it is a win-win collaboration.
Lots of rivalries on the market nowadays provoke many people to promote their businesses and stand out from the crowd. Advertising is a great way to make money because you exhibit your app as an intermediary platform, where businesses and customers communicate. However, once again, only work with reputable restaurants and freight forwarders that have received positive reviews from clients.
In-App Purchases
In-app purchases are a certain way to make a profit from your software. They should be at the top of your list for ways to monetize your app if it matches your company strategy.
Only if the offer isn't worth the investment it will be ineffective. In-app purchases won't work if you charge too much for them or if the value isn't great enough to justify spending money. It might not be the ideal solution if you don't have the time, traffic, or resources to figure out the right cost for each sale.
Freemium model
When you have an app with a collection of extremely valued features, some of which you can give away, the freemium method is ideal. You need to monitor the traffic to execute which functionalities might be as a base, and which ones are meant to be additional.
For the parcel delivery apps, the freemium model can offer special features like additional information about sales, accelerated shipping, the possibility to specify the package, etc.
Food delivery apps can use the freemium model to make advanced features like ordering from different places at once or creating a list of favorites that would be available within touch.
Selling An API
Package delivery apps might cover different functionalities and different parts of the shipping process. If you have created some kind of platform, that could be implemented to other apps as an additional service, that will help with shipping – you might want to consider selling an API of it.
As an example, there are two services that we developed for the freight forwarding industry. Enviaya offers plug-ins that help users to pick up the most convenient shipment options between different companies and services. The other one is the website created to make the shipping process transparent, so it enables the creation of prior notices for the import to the USA. Both these package delivery apps are possible to integrate with other platforms as APIs.
Wrapping Up
Choosing between multiple Saas pricing models you should pay attention to the features your online application will have and proceed from there. After picking up the right approach for your business, ensure that the users have a convenient way to pay for whatever model you chose. To do so, build a strong and user-friendly payment gateway.
And if you are still questioning how to monetize an app in the delivery industry, we are happy to help consider your online application idea, as well as create a customized solution. Fill in the contact form, and we'll be in touch as soon as possible.