More and more artificial intelligence solutions have emerged in various industries in recent years, and AI for restaurant chatbots or food delivery is not an exception.
Due to the recent trends related to ChatGPT and other AI technologies, which are now distributed as open-source services and the ability to easily integrate them into almost any type of software product as API, it become incredibly easy to upscale applications with the use of AI, avoiding a long and resource-intensive development process.
On the one hand, it is quite obvious for most regular users why business owners implement AI and machine learning technologies in such types of software apps as Management systems, social networks, customer support services, etc.
However, at the same time, it might be a tough task to define why food service or restaurants are aiming at AI feature integration. Is it just to keep up with trends, or AI and ML can shape the future of the food industry and play a sufficient role in its future?
Actually, the answer is simple, yet before starting the discussion on the potential role of AI in food ordering and delivery, let's make a step back, and try to understand the context of benefits, which artificial intelligence can bring.
Main Features of Artificial Intelligence
One of the most essential benefits of such types of technologies is their ability to help in process automation. 
As a matter of fact, you can train ChatGPT or similar services to perform very specific tasks according to the algorithm you need.
As a result, software product owners get the ability to better manage and prioritize their resources, redirecting them to more complex or crucial tasks, while still maintaining routine tasks with the use of AI.
Moreover, it becomes possible to set up very complex processes like personalized content recommendations with the use of AI. Technically speaking, it seems almost impossible to implement such functionality by relying only on employees.
Alternatively, thanks to algorithms and machine learning, personalized recommendations have already become a must-have and popular feature in countless services from eCommerce, social media, or even FinTech industries.
Benefits of AI in The Food Industry
So, how and why should you consider using machine learning in the restaurant industry?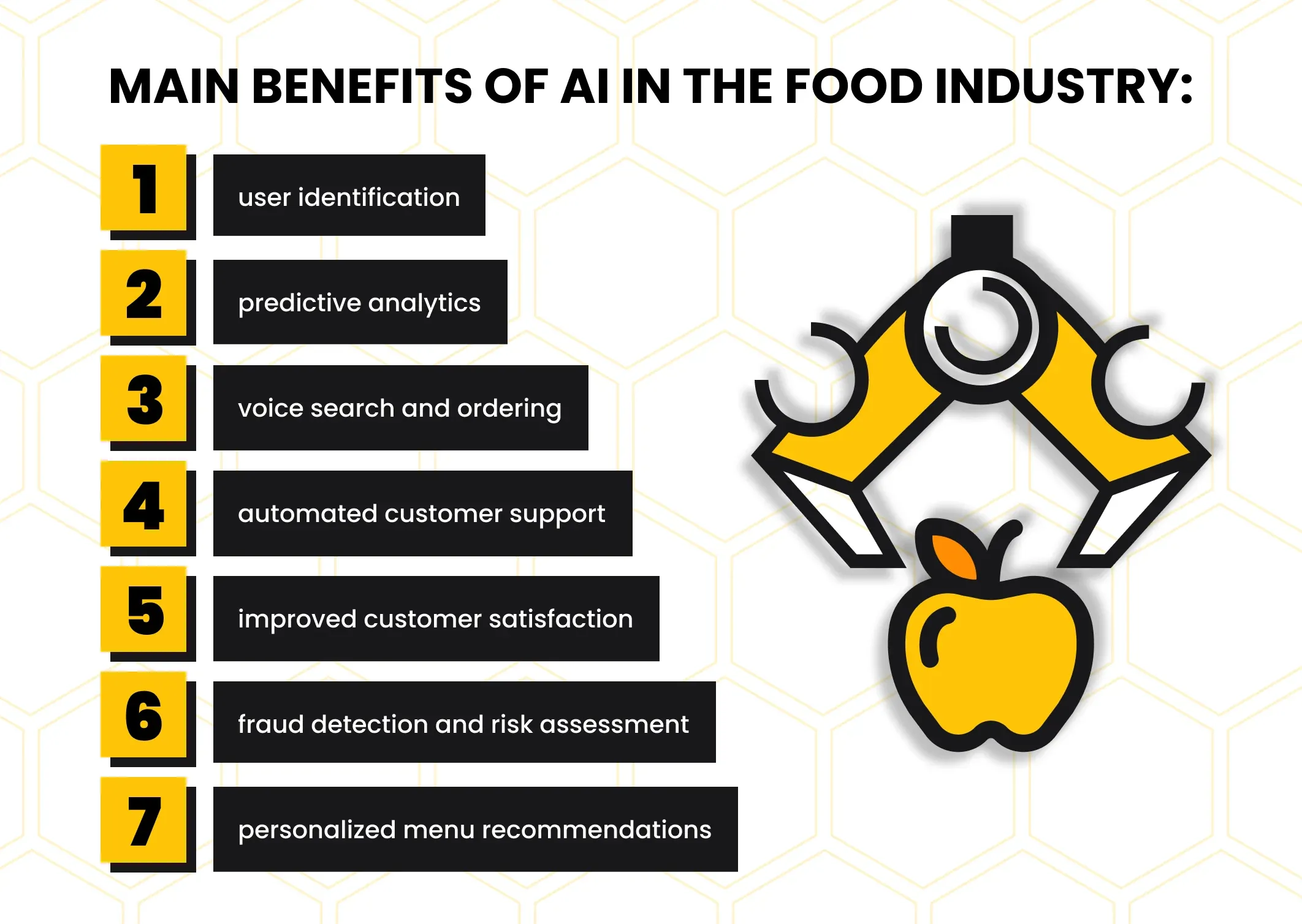 Actually, there are a few main possible AI usage purposes:
Customer support chatbot. Clearly, it is one of the most obvious and probably easiest ways to use AI for Delivery. Modern chatbots like the previously mentioned ChatGPT are advanced enough to perform most basic communications with clients. All you have to do - is simply integrate them into your app and perform some coding to give them access to databases, as well as the ability to accept and process users' orders.

User Identity and Fraud Detection are also possible use cases for AI-powered chatbots in the delivery industry. Actually, most modern AI systems can be improved and with the proper dedicated team, you can turn them into a superior tool for fraud detection and risk assessment not only in terms of a delivery app but as a full-fledged FinTech component.
Frankly speaking, it is extremely hard to define the total list of potential benefits of adopting ML or AI technologies into the food delivery app.
Nevertheless, there are a few major aspects, which can definitely impact the overall user experience and the overall convenience of using such types of apps. To add some more, some of these advantages already have successful case studies, or, at least, are under development and implementation right now.
For instance, food companies like UberEats, or GrubHub are already working on and testing possible AI integrations. For example, DoorDash recently announced a voice ordering feature, which has AI under the hood. Voice search would be also a great addition to the restaurant industry as well.
Plainly speaking, it is not as difficult to create a virtual assistant like Siri, as it may seem. Yet, it is hard to argue the fact, that it can significantly improve your app and bring some more value to it, giving your users more interaction options and proposing some new and useful features. 
To cut a long story short, there are at least a few major advantages of having an AI technology integration in your food delivery application, including the form of restaurant chatbots.
Restaurant Chatbots Explained
To make it simple, they are similar to messaging platforms, meaning that there is a chat window, using which customers can communicate with a restaurant bot.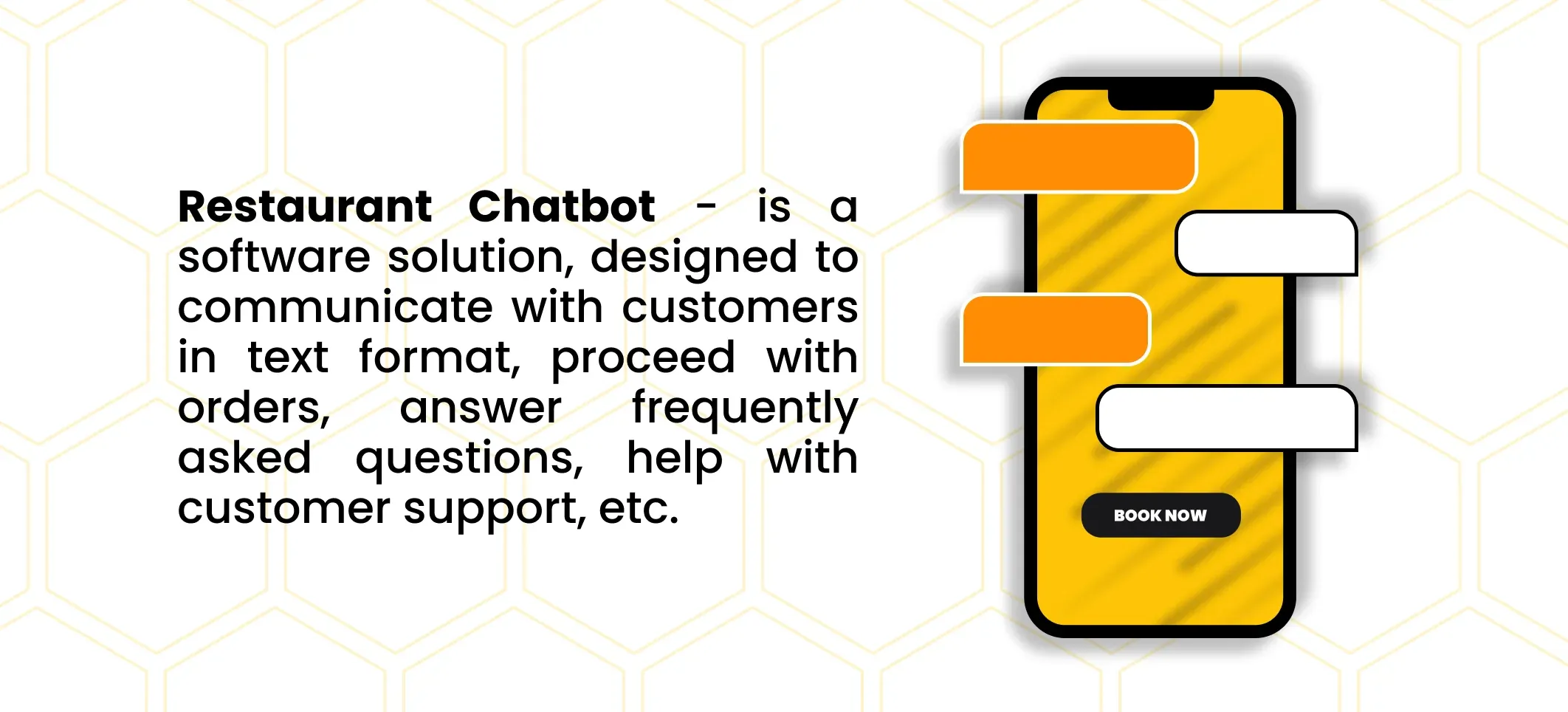 It can provide them with a wide range of possible services, starting with food ordering and tracking its status, ending with FAQ or customer support options, the possibility to make reservations, or providing food quality control procedures and accepting feedback on previous deliveries.
One of the major advantages of such bots is the wide range of options for integrations. For instance, you can even develop one and make it reachable via the Facebook messenger app.
Clearly, it is not always a full-fledged AI technology. Mainly, such chatbots are much simpler software solutions. Yet, their simplicity can help to reduce costs and test such optional features before developing or integrating complex AI systems.
User Experience Boost
The first and most obvious bonus of having such innovative technologies in the delivery app - is the ability to significantly improve customer satisfaction and avoid human error.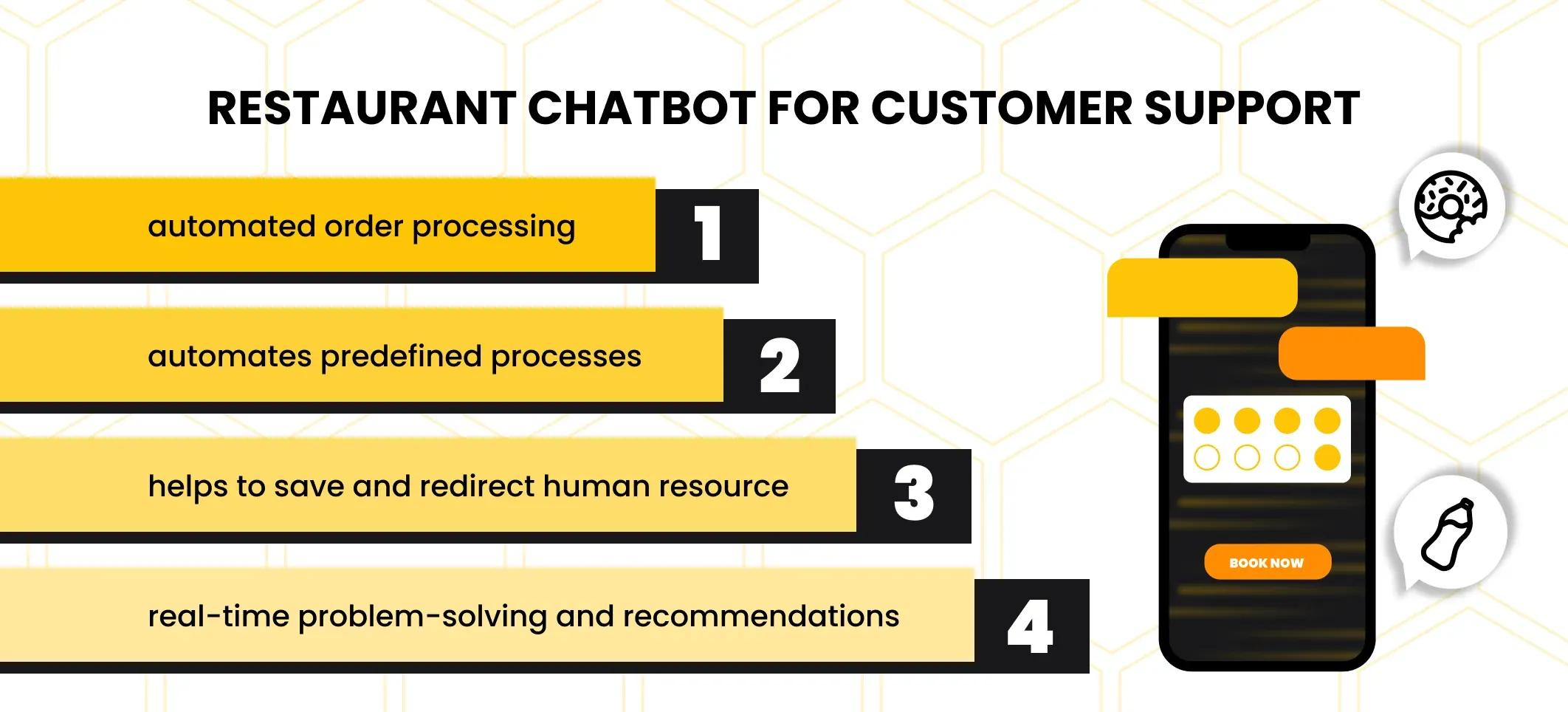 For instance, if you will add it as a restaurant chatbot for an easier and faster ordering process, or as an option for FAQ and problem-solving, and other tasks for customer support. Clearly, it is not the best idea to fully replace a customer support team, yet would be a great and pleasant additional option.
Additionally, it can be used for personalized recommendations, if you will give access to the restaurant chatbot to gather historical data on previous food orders.
The main working principle in this case will be similar to the one, used for personalized content recommendation in social network apps: by gathering the browsing history of the user and their preferences, applications can propose to them similar products or meals, that clients prefer.
Eventually, you can use AI to automate feedback gathering and analyzing. In this case, AI algorithms in delivery services will not only improve the user experience but will give extra benefits to their owners. As an example, they can be used for future user segmentation and profiling.

So, both the app and restaurant owners will get a chance to better understand their target audience, their preferences, peak activity time, etc., allowing them to implement changes for better UX results.
Fraud Detection and Risk Assessment
Some experience from real-life examples of using AI in FinTech gave us great examples of how powerful such software is when it comes to big real time data and analysis.
This new technology can be used as additional security measures, aimed to prevent potential frauds or misbehavior of different customers or even restaurant business owners. Yet, such functionality is more complex and is not directly related to the food industry. Instead, it is the ultimate instrument mainly for the financial industry, i.e. implementing these capabilities might be unnecessary for small-scale food delivery businesses, being more efficient for big companies from this field instead.
Better Navigation and Recommendations
To add more, it is possible to use AI in Delivery apps for better navigation and recommendations, based on the location of the app user.
However, it can be used not only to improve the customer experience but to simplify the lives of couriers. Giving them an AI, that has access to real-life data about the specific area like the nearest restaurant opening times, traffic jams, etc., will make it easier for a few different types of users to use the same app for various purposes, will allow more accurate predictions, help to identify patterns, improve takeaway services, and so on. 
Predictive Analytics in the Restaurant Industry
As a matter of fact, the most essential AI's impact on the food industry is not limited to restaurant chatbots only. It can be a powerful instrument to improve service quality control and give new options for customers to order food.
Starting with the ability to focus on increasing efficiency of many restaurants by providing them with more detailed reports on the menu items, their popularity, and what clients prefer more, allowing food manufacturers to better manage inventory, advertise and promote more popular meals or new foods, avoid food waste and sufficiently cut costs, and save time for some operations.
Alternatively, restaurant bots can be used for facial recognition, which can be especially useful for restaurant chains, that have their own loyalty programs.
Thus, customers will get an extra option to use their FaceID instead of constant authorization via login and password, using their phone number, etc.
Restaurant Bot to Split the Bill
Another key feature worth developing and implementing in the food industry is the ability to automatically split the bill for group orders.
On the one hand, it does not demand AI technology under the hood. Bill splitting feature can be added in a few different ways, yet it also does not mean, that AI can't bring something new to this option.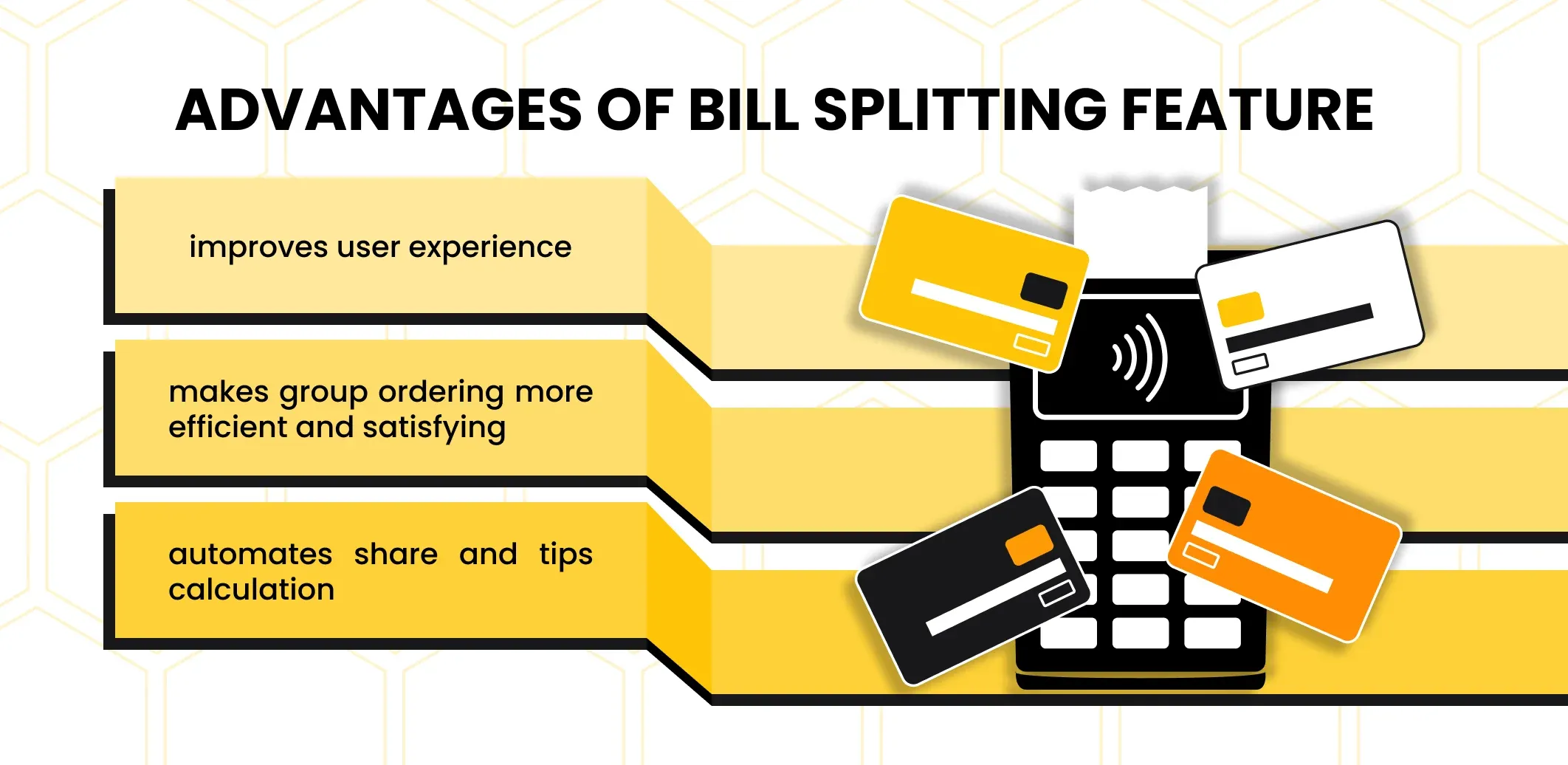 To make it simple, it is not as crucial to implement artificial intelligence just to enable bill splitting. However, if you will incorporate it for other tasks, it is possible to assume, that adding an extra option for better customer experience.
Eventually, talking about the AI technology capabilities in the food industry, we can say that due to its utilitarian nature, you can start the transformation from a single feature into an all-in-one messenger bot with a separate chat window for making reservations, order status tracking, contact details clarification, mentioning food preparation details(vegan, vegetarian, lactose-free, mention allergies, etc).
Frankly speaking, the foregoing list can go on forever. When it comes to such utilitarian instruments as artificial intelligence, it is hard to define all the potential advantages or drawbacks of using them. Everything will always depend on the overall context.
Therefore, the best way to illustrate the advantages of having artificial intelligence in food delivery applications - is to consider a particular case, in order to define what features it might benefit, and which are irrelevant or unneeded.
AI for Restaurants Use Case Example
To make it simple, let's consider how exactly we could benefit from AI integration into an already existing food delivery app.
Let's suppose, that this application proposes to its customers two very specific key features: group ordering, bill splitting, and an optional possibility to donate some money to charity foundations.
To make it simple, this software product was designed specifically to make it easier for people to place large food orders for groups.
To do so, this app aims at companies and business owners, proposing the ability to place daily orders for their employees with the delivery straight to the office. Yet, at the same time, it can be used by regular users, unrelated to any potential companies, that have any agreements with this app.
Additionally, each time, a group orders their meals, a small fee is sent to organizations, specializing in fighting food insecurity in the neighborhoods or worldwide.
What New Can AI Bring to the Restaurant Business?
Frankly, the first that comes to mind - AI-driven meal recommendations. Clearly, each of us has at least once faced a "what should I order" dilemma. Is it going to be your favorite pizza from the local restaurant, a California roll from that place you have heard about a lot or something totally new for you?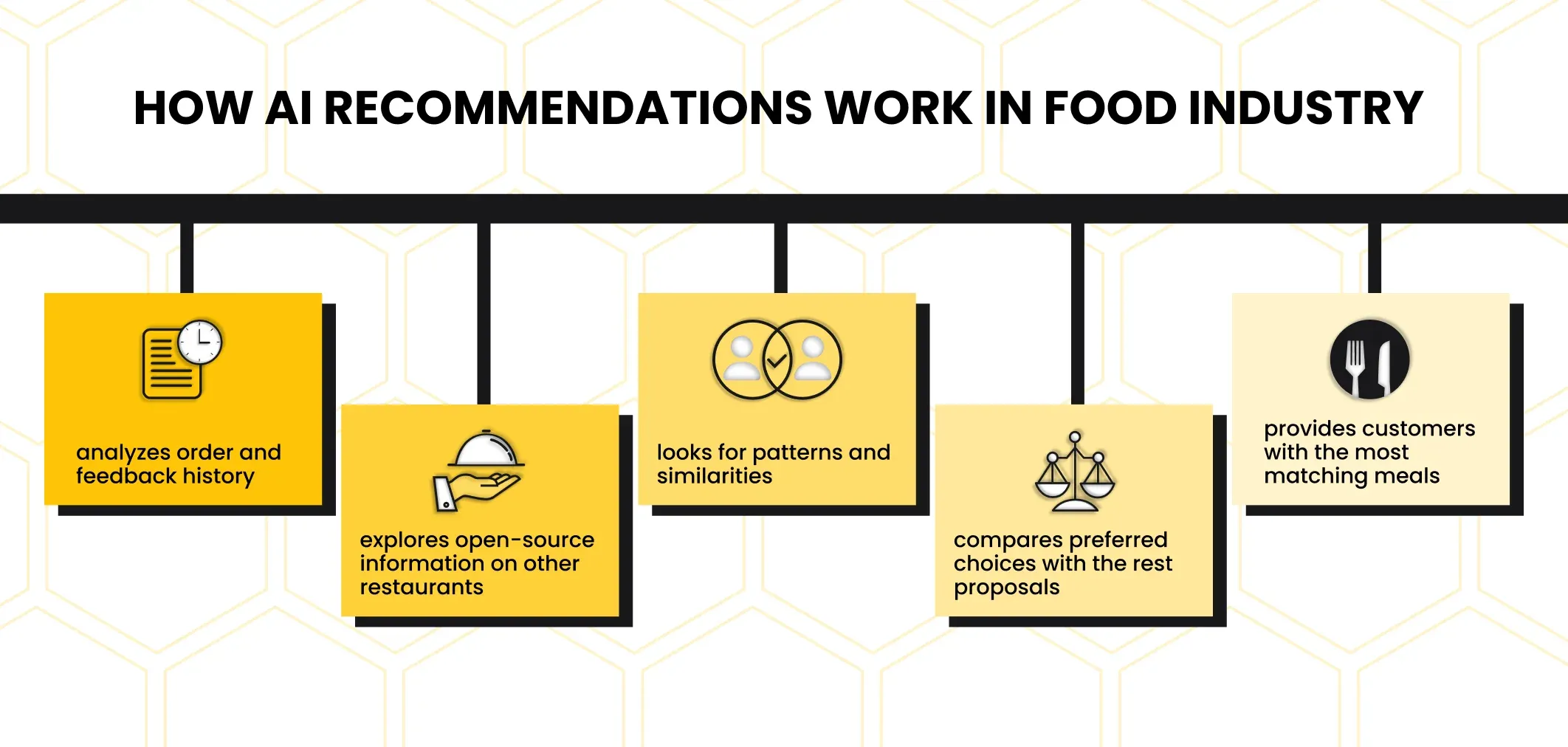 A built-in AI advisor can easily simplify the process of placing the order (or make it ten times harder, if implemented incorrectly) by giving you the most relevant choices, based on your order history.
It would be even better, if your customers had an opportunity to make some adjustments, like preferred choices, the most popular picks, or top-rated restaurants, etc. The closest real-life example of such functionality is BestSimilar, a website, that proposes a number of movies, that are somehow similar or related to the one, you will name.
Finally, app owners can use the capabilities of AI to look for new charity foundations and worldwide organizations for future cooperation. Clearly, it does not mean, that this company can skip the background check of a certain organization or negotiation stage. Yet, it can bring value by proposing less popular or extremely local initiatives, that meet all the requirements, yet are not famous enough to be spotted by the internal team, responsible for further expansion in the charity field.
Also, we have to mention the most basic use purposes of such AI, like using it as a restaurant bot for user experience evaluation and improvement, fast food order processing, and overall proposing better service using AI.
To be fair, we would like to avoid some of the previously mentioned usage purposes, due to the fact, that it might be extremely difficult and expensive to incorporate such comprehensively developed AI and ML technologies. We believe, that instead, it is better to follow the MVP principles, i.e. - develop the most crucial AI functionality, polish it to perfection, and only then consider further expansion.
Food Delivery Apps with Incora
To cut a long story short, regardless of your idea for future apps or extra features like ML in Food delivery, you will definitely need a dedicated team of experienced developers, who will be able to develop the best possible software product.
To make it even more efficient and successful, we recommend you to look for niche-experienced developers, who have previously worked on similar projects and in the industries, you are interested in.
Therefore, such developers will be able not only to create a high-quality application, but can advise you at each step of the development cycle, help you to choose the best possible tech stack, and will definitely bring knowledge sharing to your in-house team if you have one.
For instance, one of Incora's strategies is to motivate our developers to work in a specific industry, gathering experience and learning new skills. To prove our point, we encourage you to check our case studies.