It is obvious that Fintech is successfully competing with the traditional financial sphere. On the one hand, it is hard to say, that fintech is an absolute alternative to them, in fact, this sphere must be considered as a part of the general financial industry. On the contrary, some of the solutions, provided by fintech are able to absolutely change it, as well as replace some of the traditional and vital aspects and features, not to mention the financial institutions themselves.
"So what is so special about fintech and what are the modern trends in the sphere?" - you may ask. Let's find it out.
What is FinTech?
As its name says, it is financial technologies or technologies in finance. Yet, such an explanation is too general to define its major features and specifics. For instance, ATMs or credit cards, as well as their readers, are technologies as well. Yet, in our case, they are not the subject of discussion. In modern realities, fintech is first of all about the innovative technologies and solutions, that can shape the future of the financial industry, that are able to change it for good. Clearly, most of these finance solutions are related to the IT sphere and programming.
Frankly speaking, the modern fintech industry is mostly about software rather than hardware. Thanks to the Internet expansion and its constant improvement, the most recent innovations are various online-based services, that are less device-dependent than ever before. For instance, probably the most crucial finance solution of modernity is fintech mobile apps. They are user-friendly and provide a variety of various financial features at the same time. Modern fintech mobile apps can be described as a bank in a smartphone.
Clearly, not all of them are super apps, that are able to combine all the services you can imagine. This is why they are divided into various spheres and types. For example, it can be investment apps, crypto applications, digital banking apps with digital wallet features, etc. The variety is enormous and it may take weeks to explain all the specifics in the detail. Therefore, to save you time, we propose to consider only the best fintech apps as of 2022 as an illustration of possible features and use cases, as well as the overall potential of the fintech sphere.
Actually, modern fintech mobile apps are usually divided into 5 main types:
Digital banking, or applications with digital wallet features
Investment apps
Crypto applications
Personal finance Apps
RegTech
However, while the first 4 types are the most common, and targeted at regular users, the RegTech applications are a more specific type. It is possible to say that they are rather software solutions than applications and designed for financial institutions, providing analytical services and are able to work with Big Data in order to prevent financial frauds. Therefore, we will skip this specific type of fintech mobile app.
Top Fintech Apps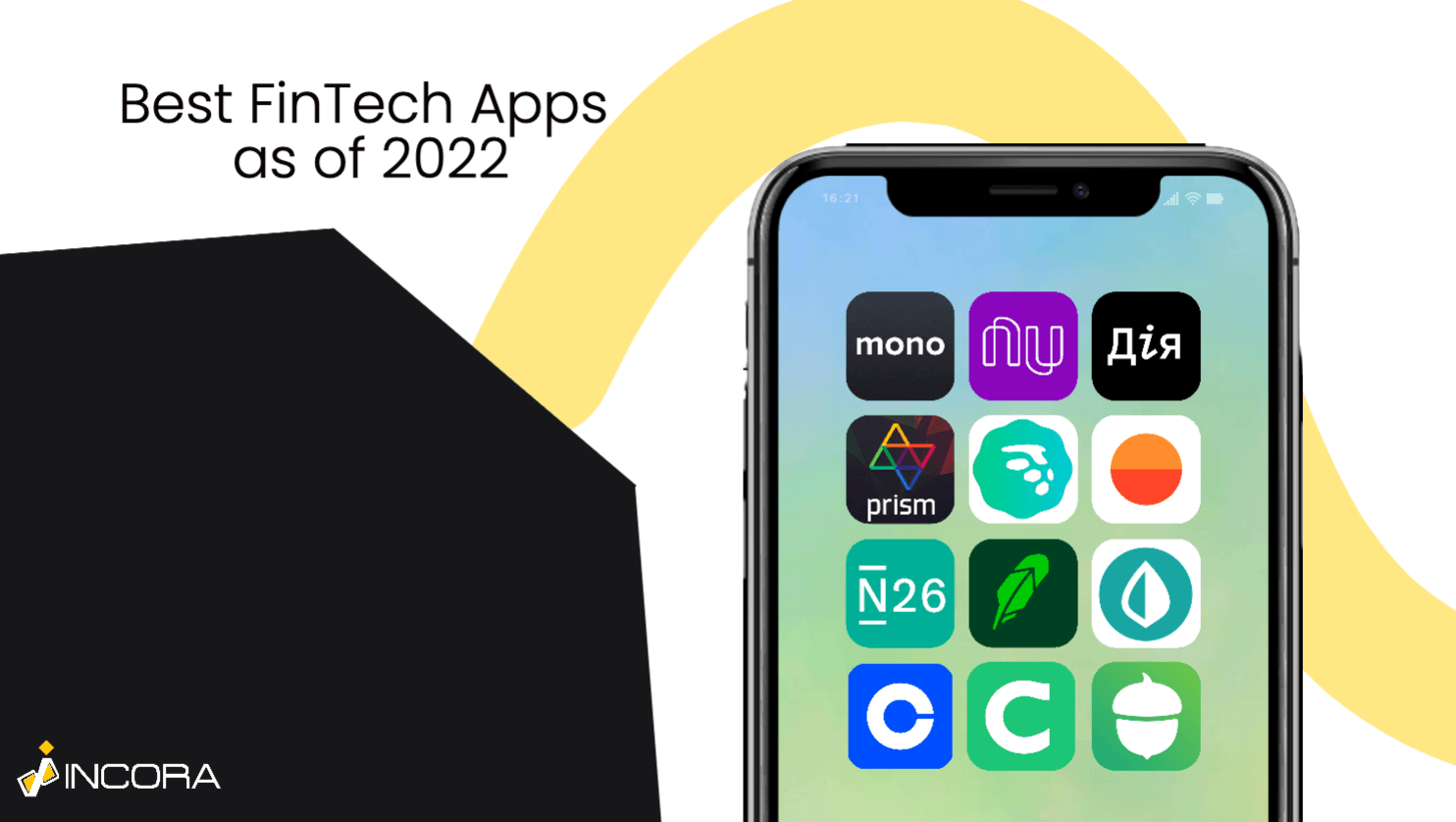 Digital Banking
The first and most common type of fintech mobile app is digital banking. As was mentioned before, in simple words it is a bank in the smartphone. In fact, there is a variety of such applications. Most banks have already explored the online banking field and have already created their own digital banking apps. Yet, this type has its own subtypes. For instance, there are mobile banking, online banking, neobanking, etc.
All of these applications vary by the usage purposes and features, they provide. Most of them provide a payment service, yet some have additional functionality such as tax calculating and paying, personal banking cabinets, managing business assets, and others.
Talking about the top fintech apps cases, it is impossible not to mention:
Monobank, the first Ukrainian neobanking. It is one of the top fintech apps in this field, which managed to combine main digital banking features with a user-friendly interface, fast payments, easy credits, and various pleasant bonuses like cashback, stickers, giveaways, in-app achievements, and other gamification elements.
However, its main distinction is the fact, that Monobank has no physical branches and is based fully online. Fun fact: during the russian-Ukrainian war in order to determine russian spies people regularly asked each other where is the nearest Monobank branch, so only Ukrainians knew the correct answer. To sum up, it is possible to claim that Monobank is one of the best modern examples of the best fintech apps and how to improve them with the use of various gamification and customer care services.
Money Lion is probably the most recognizable example of mobile banking worldwide. As well as Monobank, or any other thriving digital banking app, its developers emphasized the user-friendly interface and overall comfort of using its services. As a result, despite the fact, that it targets a young audience, it won't be a problem to operate an app for grown-ups or even the older public. Additionally, it also uses various useful and pleasant bonuses like cashback or fee-free credit periods.
Chime is an unusual example of digital banking. In addition to the previously mentioned features like fee-free credits and fine UX/UI, it provides alternative interesting features. For instance, it provides no foreign transaction fees, as well as such services as savings accounts, so its users can top up a special deposit account during the stipulated period and gain some money after it ends. Additionally, Chime supports the "early payment" feature, which allows receiving paychecks earlier than in traditional banks.
Nubank is probably the most successful combination and illustration of previous cases. In fact, it provides similar features like a free account, easy-to-use design, investments, rewards for the users, etc. Its main advantage over the previously mentioned competitors is the number of clients it serves(about 40 million) and the possibility to operate so many users.
Investment and Crypto Applications
It is hard not to notice, that cryptocurrency and other investments already become a trend, that keeps gaining popularity among regular citizens. Actually, the simplification of such processes as well as general access to such functionality in combination with the possibility to gain some income by investing in securities or various assets like cryptocurrency boosts the motivation and results in the growth of the audience.
Consequently, the number of investors and products, related to these processes increases as well. At the moment, due to the "cryptocurrency boom", the investment sphere is one of the most competitive in the fintech industry. In order to keep pace with time and rivals, various marketplaces and stock exchanges are developing their own mobile applications as well.
Robinhood is one such example. Originally, a broker company is constantly expanding its services and their functionality. Their main distinction from the competitors is that they skipped the web platforming and started directly with a mobile app. At first, they provided stock market options, yet after the cryptocurrency has grown its popularity, they added a crypto assets marketplace within an app. At the moment, they have increased the number of services, and apart from trading and investment proposition to their customers a digital wallet feature, known as "Robinhood Cash Card". In other words, they have transformed their product from the stock market into a multipositional fintech mobile app.
On the contrary, CoinBase limited itself to the cryptocurrency marketplace only. It allowed them to concentrate more on the best possible services for the crypto investors. As a result, it is probably one of the most convenient and noticeable crypto applications worldwide. Apart from the common marketplace features like charts and statistics on various coins, or buy/sell options, they propose a rare option, named "vault". Vault's main specific, despite saving users' assets, is the possibility to schedule withdrawals, so their customers are able to postpone these operations if they want to.
Acorns is a unique finance solution, that helps its users to accumulate savings in a specific way. Their main proposal is to create an investment account and link a bank card to it. As a result, you will pay some extra change(rounding up to the next whole dollar) from each purchase to the account. It may seem similar to cashback, yet in this case, you will pay some extra money for future savings. Also, your savings are invested by the company in various assets and the end-user of this service will receive part of the profit at the end. Additionally, they provide a robot assistant, that is able to answer some questions and regularly propose educational materials in the investment industry.
Finch is an alternative to the previously mentioned financial services. The main difference is that Finch proposes digital wallet features. Therefore, users' money is constantly invested, yet customers always have an access to all of their savings. Therefore, it is possible to say that it is a 100% passive way of investing, that has only 2 requirements: to have money on the account and pay a monthly subscription(starting with 5$/month).
Personal Finance Apps
Eventually, the final main type of top fintech app types is spending trackers or personal finance apps. Their goal is simple - to help users better navigate and monitor their money or other assets, as well as to determine main spending spheres.
One of the best examples of this type of fintech mobile app is Mint. It supports multi-account tracking. In simple words, users are able to add more than 1 banking account and track their statuses. As a matter of fact, it seems like Mint is a one-in-all solution for such usage purposes. In addition to the tracking feature, Mint supports setting financial goals and categorizing spending by categories.
On the one hand, the N26 app should be added to the digital banking list, because it is neobank. However, we decided to place it in this category thanks to one of its high-quality features - budgeting. In fact, it is a great example of how should spending and budgeting statistics should be embodied in the banking sphere. Apart from statistics, N26 allows setting spending limits and shared accounts with preset limits.
Goodbudget chose another way and does not require a linked bank account or debit card. Instead, this app works manually. In simple words, users add their budgets themselves. As a result, it is worth admitting, that Goodbudged is rather a planning tool than a tracking one. Also, thanks to its manual nature, it is possible to take into account other material aspects like cash, and more precisely plan future purchases.
Worth Mentioning
Frankly speaking, the foregoing list of applications, as well as their types is not final. For instance, among the best fintech apps, there are some cases, which are very difficult to assign to defined categories.
For example, Diia is another application of Ukrainian origin. It is impossible to assign it to the financial industry at all. In fact, it is rather a governmental super app, that combines various features and functionality. However, among the provided options, there is a tax calculator and payment feature. Therefore, users are able to add the required information about their employment, different documentation, and their income. With the use of this information, the app is able to calculate the tax and allows users to pay them in one click(in case, they have linked their credit card).
Alternatively, there is Prism, a mobile app, where you can store all your bills and subscriptions. Additionally, there is an in-app calendar, which shows the dates, and when to perform all the payments.
Summary
Here is a list of the best fintech apps as of 2022 by type. Clearly, it is possible that we have skipped or didn't mention some hidden gems of the fintech industry. However, they are "hidden" for a reason. Yet, as we mentioned before, the main purpose of the foregoing applications catalog is to show the main trends, must-have features, and financial services on the market for a better understanding of the recent situation in the market.