Software development projects, as well as other products and services from the IT industry, are constantly improving. Moreover, software projects' flexibility is one of their most notable features. As a matter of fact, it is one of the few spheres, which allow multiple approaches and working specifics. For instance, one of the most famous agile approaches is the outstaffing model.
Such unique principles can directly impact numerous working aspects, improving and upscaling your software product. But before going into details, let's figure out what is outstaffing and what are the specifics of this working method.
What Outstaffing Model Stands For?
Actually, it is very similar to the outsourcing model. The main difference lies in the scale of team extension. For example, Outsourcing is simply the process of hiring a whole dedicated team for your project at once. As a result, product owners can hire the whole software development team, and delegate most of the tasks, practically "automating" some processes like software development estimation or the product creation itself.
Undoubtedly, this is a great and very useful approach, which proposes countless solutions for any possible task. For instance, it is probably the best possible idea, if the client has no relation to the IT industry. So, instead of hiring an in-house team for a single purpose, dealing with the documentation, various agreements, and software development estimations, product owners can simply "send projects to the remote team".
Yet, outsourcing is not targeted only at clients from outside the Innovational Technologies field. In fact, it is a very popular service among software development companies as well. The explanation is very simple - sometimes, especially when the product becomes more scalable, companies need to develop new functionality or take care of previously developed features. So, it is easier to hire a whole new team for specific goals instead of looking for new in-house members. Such services are used even by the tech giants like Google and Facebook.
But what should companies do, if they don't need a whole new software development team, but rather one or two specific remote developers? For such cases, outstaffing appeared. In other words, the outstaffing model is similar to outsourcing but proposes a single or a few specialists. So, outstaffing is a more precise and defined approach. Still, it doesn't mean that some of these two solutions are better or worse. They are rather different from each other depending on the project requirements and needs. For example, niche-experienced developers can significantly upscale your software product, if they are chosen wisely.
What are the Benefits of Outstaffing?
Frankly speaking, there are multiple reasons for adopting the outstaffing method. Team extension is a very powerful and much easier solution, which can help to dot the i's and cross the t's.
Apart from giving an opportunity to find a specialist in a very fast way, team extension proposes also other useful options. For illustration, using the services of a third-party expert in any other field, different types of consultations, etc - all of it can be considered as a short-term team extension. In other words, you can hire a niche-experienced developer, who is familiar with the concrete industry, or is very experienced in using a particular technology. Frankly, not always you will need a full-fledged specialized expert to work a full day on your project. Yet, in some moments, such an addition to your team would be a very improvement. Thus, with the use of team extension, you will be able to easily find experts from any industry very fast.
As well as outsourcing, the outstaffing model is based globally. It means, that both approaches allow you to find out-of-box solutions as well as easily find required developers in no time. Clearly, global-oriented nature gives much more options, compared to local practice.
Finally, team extension and outsourcing proposals help to significantly decrease the final price of the product development. One of the major aspects, which impact the cost saving of development, is the "price tags" of developers. Truly, the difference between the salary in various countries is visible to the naked eye. For example, hiring from Eastern Europe will be much cheaper than choosing the same positions within the US, no matter whether we are talking about a skilled software development team or even a single expert.
Summing up all the above, the outstaffing method is a great solution, which helps to simplify the hiring process, allowing to find experienced specialists, speeds up the overall hiring process, and makes the final cost of the product cheaper, compared to the West European countries, or the United States. Moreover, developers from countries like Ukraine or Poland do not lack experience, and sometimes even prevail over their colleagues in the field of IT.
When To Choose Outstaffing Services?
Despite the clear benefits of using team extension services, it is also worth understanding when to choose outstaffing and outsourcing. As was mentioned before, there are two main and most obvious cases, when it is preferable to choose any of these methods:
When the client wants to develop a software product, having no background experience in the IT industry.
When the project becomes more complex or scalable and requires extra hands to deal with some functionality or features.
Clearly, the first point is more suited for outsourcing, due to the fact, that a software development team can better deal with developing from scratch or implementing numerous functional components at once.
At the same time, the second option can be achieved with the use of both team extensions or hiring a dedicated team, depending on the context and the scope of work to do.
Nonetheless, these are not the only possible circumstances to adopt outstaffing or outsourcing. To make it simple, the reasons for considering one of such solutions may be different and sometimes unpredictable. Thus, it is worth clarifying when to use team extension over dedicated teams.
Outstaffing vs Outsourcing: When to Choose Each
Despite the contrast in the scope of work, the difference between outsourcing and outstaffing, as well as choosing the approaches may lie in the final goal and the hiring circumstances. So, for example, when you have no development time limitations or don't require a strong management team, outstaffing may seem an optimal choice.
Apart from being cheaper, it also gives you a chance to hire more experienced employees, who can take care of most working aspects, judging from their own experience and skills. Additionally, outstaffing is a great way to increase the expertise of your in-house employees. By hiring such skilled developers, you can additionally ask them to mentor other team members.
Honestly, they will most probably end up in this role no matter if you asked them or not. The reason for such a "position transformation" is the fact, that communication within the team of developers is a constant process, and as it happens in any other group of people, the less experienced members regularly learn new things thanks to the professionals, and are usually guided by them.
Finally, outstaffing is less risky, because if the hired specialist is not qualified enough - you will be able to easily replace it. At the same time, if your outsourced partner can't reach your expectations, you will have to stop the whole development process until you will find another team for replacement. However, it is possible to avoid such an unpleasant scenario by making a few steps.
How Do You Pick An Outstaffing Firm?
To cut long story short, in most cases, companies, which propose outsourcing services, also work with the outstaffing method, i.e. recommendations on how to choose an outsourced team will be similar to how to find a team extension firm. For a more illustrative example, and to make it easier to understand, let's make it in as a checklist:
Is this outsourcing company well-known?
Usually, the more company is famous - the more experienced it is. One of the main aspects, which directly impact the awareness of the company, apart from its activities on social media like Medium, LinkedIn, or the alternatives, is the feedback of the client companies. Also, in addition to the feedback, or based on it, companies are regularly noted in various lists of B2B platforms like GoodFirms.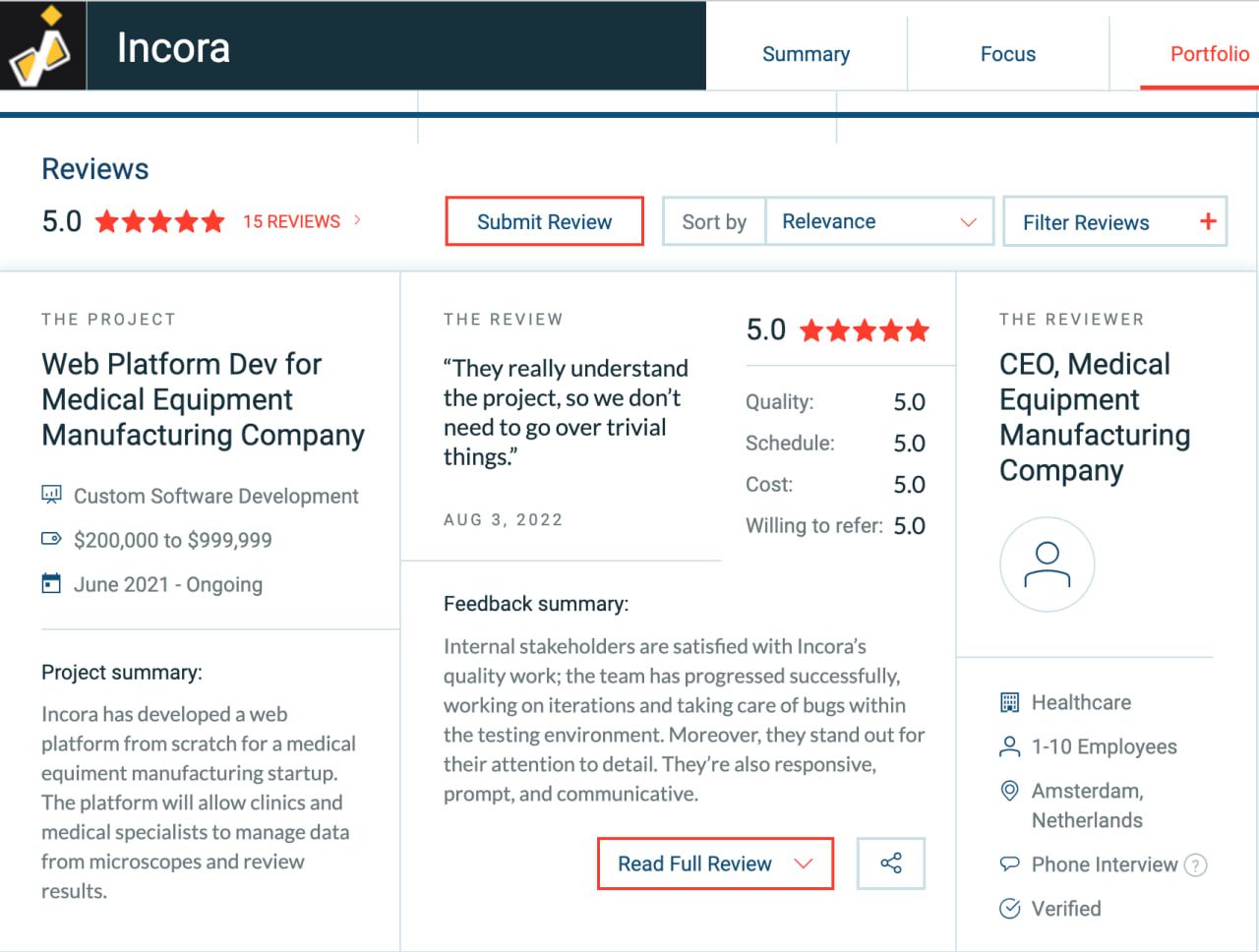 For example, Incora was recognized with the Clutch 2022 Leaders Award. So, for the possible business owner, our company will be a more preferred choice over the one, which was not mentioned on such platforms and has barely any mentioned on the web. Ultimately, the more frequently the company appears among various charts and TOP lists - the more client attention it is worth.
What is the experience of the firm?
The answer to this question can be easily found on the company's website. Generally, software development companies leave some guides on their websites. The most common combination includes the services it provides, its case studies, and the most common technologies it works with.
What is the technical expertise of the company?
Don't forget to check the tech stack, the company works with. In other cases, it is better to ask the company representatives directly about possible technological proposals. Clearly, if the company has no developers, familiar with your tech stack - it is not your choice.
Are there any specifics of cooperating with it?
Last but not least, try to figure out whether there are any specifics of working with this company. Despite the fact, that most outstaffing and outsourcing processes and agreements are based on the same elemental principles, some companies can have additional requirements or demands. So, try to find it out before starting the cooperation itself.
Still, it is not the final list, but rather the basic one. Additionally, IT companies mention the industries, they have worked with, which can help you to make a more balanced choice, including your tech task and prioritized industry.
Truth be told, these are the two most important aspects to take into account and which are open-source, i.e. can and must be easy to reach for anyone on the Internet. The last but not least factor to include - is the overall communication with the outstaffing company: how fast they react to your applied contact form, what are your personal impressions of communication, the agreements, and terms of cooperation, etc. To rephrase it, the rest aspects are very personal and subjective, yet do not underestimate their significance.