It is hard to tell for sure, yet it seems true that most software development contractors, whether full-fledged companies, specializing in software solutions, or small software startups, have at least once used outsourced software development services. Nevertheless, while the foregoing statement is hypothetical and subjective, there are no doubts, that software outsourcing is in great demand, and this market keeps growing. However, offshore development teams, as well as team extension services, provided by the third-party outsourcing vendor are far not the only such solutions, available on the market.
Previously, we already described the main variations of dedicated teams, how they differ, and how to hire offshore developers in 2023. Now, it is just about time to talk more about a more individualistic approach, i.e. hiring a single developer for your software project. Just as in the case with the development teams, hiring an individual developer has also at least a few different approaches. Yet, they are often limited to freelance vs full-time developer comparison. So, let's find out why choose between freelancer vs company, and what are the advantages or drawbacks of each software development solution.
Freelancer vs Company: Why Even Bother?
The first question, that comes to mind is why people even bother dividing them into different categories. The answer is actually very simple: third-party involvement.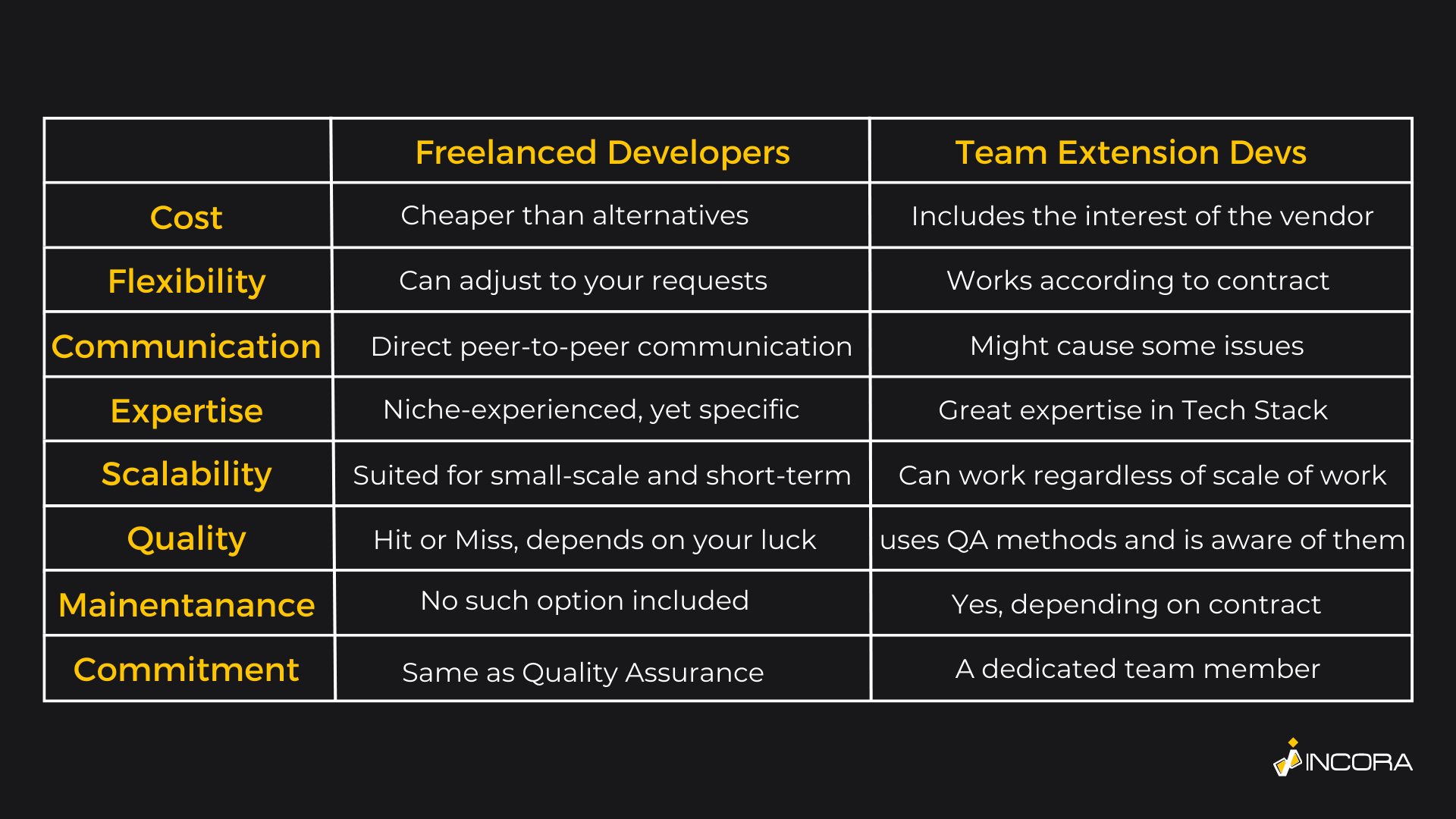 So, the procedure of hiring each of such developers differs a lot, as well as the further procedures and agreements. For instance, a freelance software developer for hire is easily-reachable on various specialized online platforms and various social media networks like LinkedIn. At the same time, if you decided to choose a team extension service, you will have to find a software development vendor, who has a list of available developers and will help you to find the one, you request.
When you have chosen freelance over full-time software engineer, then you will have to find and contact such a developer on your own. This approach brings a lot of potential risks and requires more resources. At the same time, hiring a software engineer offshore is a more simple and more automated process, which requires only finding a software vendor, choosing candidates from the list, and interviewing them.
Frankly speaking, there is a third solution, which is also the most obvious, yet very undesirable in some cases - hiring a full-time worker on your own. The reason why it is undesirable is also clear - regularly, team extension, as well as freelance services are used for short-time contracts, when a company requires extra hands to take care of some minor aspects of the software project. So, if you will hire a software engineer, as a full-fledged employee, most probably, you would like to keep them for longer to avoid disfavored possible expenses.
Therefore, we won't consider such a solution, because the principle of hiring a full-time developer, as well as methods, approaches, and even reasons are very different from short-term project cooperation. But is it possible to tell exactly what is better in terms of choosing between freelancer vs company, and when is it better to choose each? Before answering this question, we need to understand all the pros and cons of each approach.
Freelance Software Development Nuances
Advantages of Freelance Software Engineers
Despite all the potential drawbacks, it is hard to argue, that finding a freelancer is easier and faster. Thanks to the existing platforms, which were designed specifically to make such connections between software companies and individual developers, as well as the popularity of such working routines, both sides can easily find what they are looking for.
Freelancers are basically individuals, who are working as independent contractors, which are proposing specific services and own skills and earning money for a specific task or job, they are doing within the contract. To make it simple, these are specialists, who are fully independent and are not obliged to anyone except for themselves and the company, which they have an agreement with.
Thus, the first and most obvious conclusion, that can be made - it is cheaper to work with a freelancer. For instance, choosing to find a software vendor with a team extension feature means, that you will also have to pay extra money to this vendor for their assistance, including various bureaucratic procedures. At the same time, cooperation with freelancers includes only their salary and peer-to-peer agreement.
Moreover, due to the specifics of the freelance market and in order to be competitive, such software engineers are usually niche-experienced, meaning that they often work on various software projects, which have something in common. Usually, it is an industry, to which these software projects are related. As a result, in addition to developing skills, freelance developers can also bring extra expertise in the field, upscaling your future product. Also, these developers are more flexible and might agree to work on the project in time, which is more suitable for you or your house team of developers. Additionally, it can be easier to communicate with freelance developers, because most likely you will use direct communication.
Freelance Software Development Drawbacks
Quality assurance is a regular drawback of such a development process. When comparing freelance vs full-time employees, it is hard to deny the fact, that freelancers, not all of them but still, usually lack quality assurance methods. As a result, in case you are hiring a freelancer, the final quality of performed task depends on how lucky you are when finding the software engineer. Individual developers have less strict demands, therefore their attitude to quality assurance depends on them.
To add some more, the maintenance of the performed tasks is also commonly not included in the agreement. To rephrase it, the main job of the freelancer is to develop a specific agreed task. After doing so, the agreement is considered fulfilled, and the chances that such a developer will keep maintaining them are critically low.
Eventually, it is worth remembering, that freelancers may have reliability issues, as well as bring some potential security threats. To rephrase it, freelancers commonly work on multiple projects at the same time, meaning that sometimes, they might not meet the deadlines or give priority to other projects they are engaged in, not to mention the fact, that there can even become unavailable during the development, which will impact the overall efficiency of the development. Talking about the safety and security policies, they are working for a short period of time, and on a limited number of tasks. Therefore, if they will make some mistakes, related to security, they will most probably not take responsibility for them, when the mistakes will get exposed. Finally, they can get access to private or vulnerable information during development and it is hard to predict whether will they use it in the future.
Pros and Cons of Software Vendor
Benefits of Outsourced Developer
Frankly speaking, cooperation with a software vendor seems to be almost the complete opposite of the freelancing model. At least, if when we consider the pros and cons of both methods. For instance, contrary to choosing a freelance software developer for hire, cooperation with a software vendor's team extension services allows one to avoid all the foregoing drawbacks.
First of all, maintenance is a must-have option for most such agreements. Therefore, even after developers have completed their tasks, they will keep supporting the project in order to fix the potential bugs or occurred issues. Therefore, it also affects the final quality assurance.
Besides, most such companies have their own guidelines and requirements for their engineers, including QA and security, which helps to save the reputation of software development contractors. Thus, developers will not only try their best to provide the finest code sample quality, as possible. Additionally, to avoid risks and according to various governmental regulations like GDPR, such outsourcing companies sign additional agreements like DPA, and provide the most responsible treatment for vulnerable data.
Another advantage of hiring a dedicated developer with the help of a software development company is that in such cases, the hired specialists are committed, meaning that they are working primarily on your project. In other words, performing your tasks and meeting the deadline are going to be a priority for such devs.
Software Vendor Cooperation Disadvantages
However, there are also disadvantages to such cooperation.
As was mentioned before, it will be more expensive to find developers with the help of a third-party, than contacting them directly. Also, these developers are less flexible, when it comes to changing work time, or other conditions, i.e. they will work accordingly to the terms of your agreement.
And what is the most important and crucial - when you are working with dedicated developers from software vendors, you will need to ensure communication with remote developers. Actually, communication and management procedures are the most vulnerable aspects of such a type of collaboration.
This is why, it will take your time and resources not only to implement a working communication strategy but also to figure out how to measure your software development vendor's efficiency and productivity.
What to Choose for a Startup: Freelance vs Full-Time
Eventually, the client is the one to decide what approach to choose for your startup project. Each method has its own strengths, as well as weaknesses.
Talking about case studies, then freelance software development is a great solution for developing a non-scalable feature, a simple task, or slightly extending the functionality. By choosing the freelance method you will definitely get a chance to save some money and time, by delegating simple tasks to individual freelancers. However, don't overestimate the possibilities of such agreements. Do not forget, that freelance software development is rather a short-term collaboration.
This is why in case, you are looking for a dedicated team member, who will be able not only to develop a specific feature but also to maintain it and potentially work with some extra tasks - then you might pay more attention to a software development contractor. They are also considered as short-term cooperations, yet propose a possibility to continue cooperation. Additionally, in case you will need another extra team member, you will always be able to contact the outsourcing company for help.