Nowadays, it is impossible to ignore such trends as cryptocurrency, blockchain, or NFT. These popular trends are literally everywhere. Nevertheless, regular users may not fully understand their role and impact on modern society, as well as technologies. Thus, let's examine NFT. We will try to figure it out. As a bonus, we will consider the top NFT wallets for today.
What is NFT Wallet?
To make it simple, NFT wallets are an essential part of operating these digital assets. They allow users to store and share their NFT tokens. But before digging into the specifics of this phenomenon, let's briefly talk about NFT technology itself.
NFT in a Nutshell
NFT stands for Non-fungible token. It is a digital asset, based on Blockchain and can be partly considered a type of cryptocurrency. The main difference between traditional crypto assets and NFTs lies in the unique nature of the latter. To make it simple, standard crypto assets are virtual money. They can be used as a payment method, traded, or transferred into real money. All of them are identical in their value and nature, just like dollars. Of course, each Bitcoin has its own unique number and can possibly be traced. Yet, this does not change their usage purposes.
On the contrary, each Non-fungible token is unique and has no actual preset value. Therefore, these digital assets are used in different ways. Mostly, people use them by attaching, or "minting" to other virtual objects like pictures, or sounds. As a result, these objects become unique and are considered NFT. In simple words, NFT is a way to distinguish digital assets from others. The minted object becomes special and represents a single thing, to which it is attached. Also, NFTs can be used to represent an actual physical item, by creating its virtual copy.
NFT Wallet Types
As we already know, an NFT wallet is used to store its owner's NFT assets. Yet there is a wide range of such wallets. However, we can narrow down this variety to a few major kinds. These are custodial and non-custodial ledgers, as well as hot or cold wallets.
The main difference between custodial and non-custodial wallets lies in their implementation and ownership nature. Usually, non-custodial ones are used by more experienced users with additional programming background knowledge. They not only require some skills for creation but also allow better customizing options. However, most top NFT wallets are the custodial type. This type is more user-friendly and is very easy to create. On the flip side, users have no full control over their wallets, because all the needed information is held by the developer in secret.
The difference between cold and hot wallets is based on the way, how the assets are stored. Hot wallets are based online, whether it is a database, specified platform, or software. On the one hand, this makes them cheaper and less limited. On the other hand, they are more vulnerable to hacker attacks and can be easily stolen. Cold ledgers, known also as hardware wallets are based on special devices, which makes them more secure, yet creates additional limits, defined by the device they are stored on.
What to Take Into Account?
To be more impersonal and make a correct choice, there are a few aspects worth your attention while you are choosing your future NFT wallet.
Security Issues
First things first, when we are dealing with any industries that are somehow related to the financial sphere, we need to ensure high-security measures. Clearly, virtual assets may be even more vulnerable than actual physical values. It is much easier to steal and hide such assets, and the only thing that is able to prevent such unpleasant situations - is improved security.
Fortunately, the cryptocurrency industry provided not only new and unique payment methods, accompanied by an intensively increasing market of valuable assets but also proposed new ways to secure them. For instance, blockchain technology itself. This is not only a way of storing and transferring various tokens. It is possible to assume that blockchain technology is a security measure of a new era.
As the name says, cryptocurrency is encrypted by default. This, in fact, is a total game changer, because two of the main features are simultaneously security protocols. The "encryption by default" option is the first security step, which is designed specifically for a few purposes. On the first level, it helps to secure data about the currency and its transaction history. As a result, it also hides actual owners, saving them from possible danger.
Secondly, blockchain technology divides the transaction into multiple blocks of data, constantly shared in a chain. This process helps to prevent harmful integrations or other threats. When the chain is "activated", each new data block must be approved by the whole chain. Thus, if it does not belong to the transaction, it won't become a part of it.
Frankly speaking, despite the numerous prevention and security measures, various crypto wallets, including NFT ones, are constantly being stolen. The main reason is the "centralized" nature of the custodial wallets. Usually, this type of wallet is proposed as a service by a specific platform. Clearly, successful platforms are operating numerous different wallets, thus becoming dainty morsels for hackers. As a result, these platforms have to implement new and alternative security measures that are not included in the blockchain by default.
Variety of Proposals
The second important aspect to consider is the variety of available options. In other words, you need to figure out how many marketplaces can be connected to the wallet and which Blockchains the particular wallet supports.
For instance, the majority of wallets, as well as main NFT marketplaces, are Etherhreum-oriented, because it is the first and considerably best blockchain for NFT. Hence, if you chose such wallet, you won't be able to purchase an NFT, that was created with the use of Ethereum alternatives.
Moreover, not each NFT wallet is able to cooperate with all NFT marketplaces. Mostly, they are designed to cooperate with a single, or a few such platforms. Consequently, you won't exchange NFTs on platforms, which are not supported.
Apparently, the more platforms are accessible through the wallet - the better. The same is true for the supported Blockchain technologies.
Ease to Use
Eventually, the UX/UI is also a very important factor to pay attention to. User experience and Interfaces define how friendly the service will be for the end user.
While the standards for the user interfaces are already described, at least in the FinTech field, various cryptocurrency-related features may and probably will vary. Clearly, NFT wallets, like any other products from the cryptocurrency industry, have their own specifics, unique only for this sphere. Thus, developers may learn UI manuals for wallets, yet will have to use their creativity as well. The main purpose of the NFT wallet phenomenon is to make them as easy to use and understand as possible. This helps to lower the entry threshold and, as a result, increases the targeted audience.
Top NFT Wallets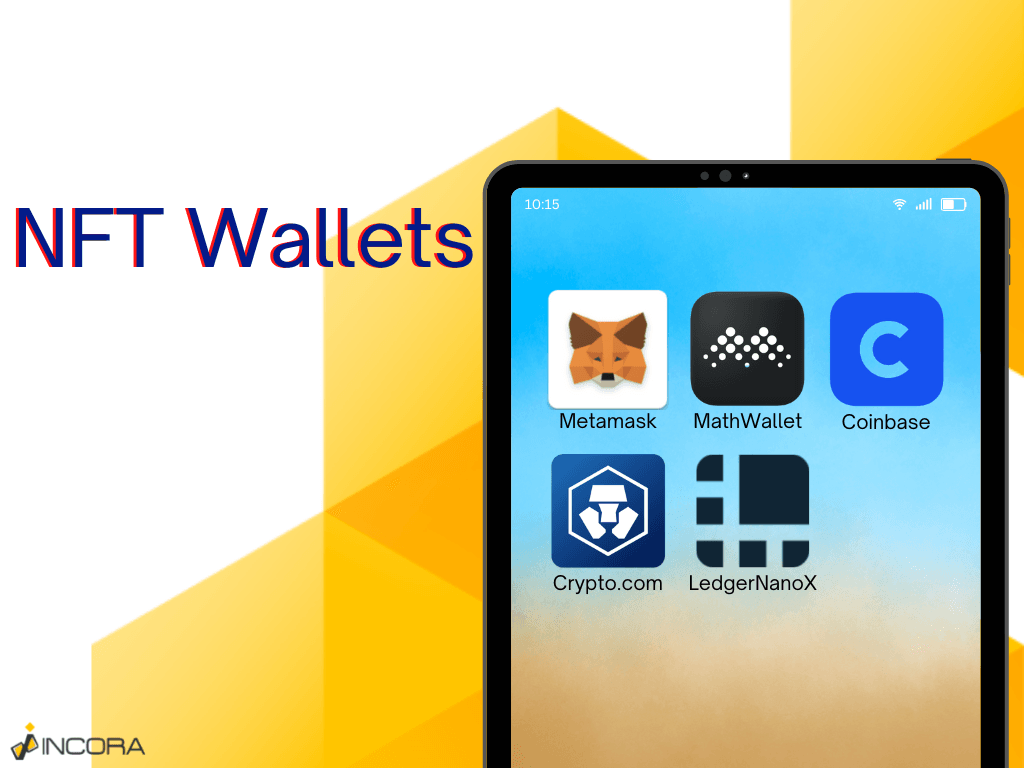 Metamask
It is probably the most famous and popular custodial NFT wallet today. Metamask managed to provide a user-friendly interface, combined with a good security level and cheap cost(Fee equals less than 1% of the transaction). However, the most important advantage of Metamask, compared with rivals, is its multiplatform nature and high compatibility.
As a matter of fact, Metamask is a very flexible wallet, that is supported by numerous NFT marketplaces and applications. It is regularly proposed as one of the best solutions for the NFT industry.
Among the drawbacks of Metamask, we can highlight its Ethereum dependency. Thus, despite the wide variety of accessible platforms, Metamask wallet owners can purchase only ETH NFTs. Also, numerous options and overall usage comfort resulted in partly slow processing speed. For instance, transactions may require more time than usual.
Nevertheless, Metamask is regularly presented as one of the most excellent solutions for newcomers to the NFT industry. It easily deals with all 3 main aspects, being the easiest to work with.
Math Wallet
Math Wallet is one of the main vitals of the previously mentioned Metamask. Its developers chose their own path and developed a custodial wallet, that supports more than 70 different blockchains. In other words, while most wallets are designed for multiplatform connections, Math Wallet is one of the wallet options only on a few main MFT marketplaces.
Nevertheless, while most wallets can maintain up to 3 different blockchains, Math Wallet is literally a multitool for such a field, being able to support more than 3000 different tokens. Also, as a great security solution, Math Wallet allows its users to attach their hardware ledgers, giving additional advanced security features. As a great bonus, Math Wallet, as well as Metamask, propose to their customers access through the web browser extension.
On the flip side, it must be said that Math Wallet users may struggle with limited available marketplaces. Moreover, this wallet is more expensive than most competitors, due to the fact that a fee is charged for multiple actions, including buying or selling digital assets and even transferring them among the users' private wallets.
Coinbase
"Metamask vs Coinbase wallet" is a ubiquitous comparison. Someone may say, that they are the most obvious competitors. Yet, there are some distinctions, which allow us to separate these two into different industries.
Coinbase, just like most of the products from the list, is a custodial wallet. There are a few main features, that help to distinguish Coinbase wallet among others. First of all, it is based on top of the cryptocurrency and NFT marketplace. Thus, it is marketplace-dependent. Furthermore, Coinbase wallet proposes both cryptocurrency and NFT storage services. Nevertheless, while the cryptocurrency wallets are multi-chain, supporting various crypto tokens, the NFT wallet is Ethereum-oriented.
Truth be told, Coinbase is also one of the biggest crypto-related marketplaces and is mainly free of charge. Thence, despite the fact, transactions are performed within a single marketplace, their number is rich, so it doesn't seem to be a problem. The marketplace is also built as a social network. For instance, customers can subscribe to their beloved artists and get notifications about their new NFTs, or serf the feed, looking for similar art pieces.
This social network alike feature has caused some security issues though. For example, users are shown by their nicknames. To make it simple, it is much easier to find a specific person by their activity or transactions. Moreover, it is still a custodial wallet, attached to one of the most famous marketplaces in the industry. As a result, users may struggle with hacker attacks and will have to look for additional security efforts to simply save their digital assets from stealing.
Crypto.com
Contrary to the others, crypto.com is a non-custodial wallet. Actually, it seems very similar to the previous wallet. Both of them are platform-based, each provides various pleasant additional features, and support both cryptocurrency and NFT.
The main advantage of the Crypto.com wallet is its security. It is non-custodial and has numerous advanced levels of security like two-factor authentication. The main drawback - is its limited NFT proposals, even compared with the Coinbase marketplace. Crypto is not as spread and popular, and their main focus is still cryptocurrency assets.
Ledger Nano X
Ledger Nano X is actually a unique solution. Ledger is a really old-fashioned traditional wallet for modern currencies. Believe us, it is what you think it is. Its main distinction is the fact, that it is a hardware wallet. Thus, users save their assets on a specific device and store them offline. Obviously, it is one of the safest ways to secure your goods. The only moment users need an internet connection is when they perform various actions with their digital assets. For instance, selling or buying ones.
The distribution is performed thanks to third-party platforms. Ledger Nano X is designed to store NFT only, all other related operations are possible with the use of various connected platforms.
Apart from the "cold" nature of the wallet, its developers also added extra layers of security like a seed phrase of 14-24 authentification words. However, Ledger Nano X is, in fact, suited for laptops. Also, there are no other specific features, except for storing digital assets. Additionally, it is not free. Apart from transaction fees, users have to perform one-time purchase at the very beginning.
Summary
There is unmistakably no one for all solution, that will become a utilitarian wallet for everyone. Especially, when we are talking about such an innovational market, which constantly changes. Nevertheless, some basics have already formed. For example, cold/hot and (non)custodial types of wallets. Also, it is easy to notice some trends in the field of cryptocurrency and NFT wallets. Mostly, wallet providers are marketplaces, which are proposing a ledger as a service. In fact, these two concepts can not exist without each other. Therefore, the only way to keep up with the pace of development and innovation implementations - is to pay attention to case studies.