Customer satisfaction is everything for each business since it directly influences the profit of organizations. As a matter of fact, the feedback affects each industry differently, depending on various criteria. For the transportation services, the reasons for users to keep utilizing the application might involve both standard requirements, like the user-friendly interface or full-fledged functionality, and something more specific, such as the clear dashboard with statistical data about deliveries, the possibility to track parcels in real-time, or accurate estimated time of arrival. In the current world, people get used to monitoring by themselves all the services they order. Perhaps, it is because, with 'online' reality, nothing is hidden anymore. And all the businesses which provide any kind of service, either for other businesses or customers, should deliver maximum information about the product and order status. This can be easily achieved with different types of tools and technologies. Considering the fact, that in this article we focus on the estimated time of arrival within transportation services and how to enhance ETA, we are going to define the major aspects for you. So, as a result, your logistics company will be able to satisfy users and attract more profit to your logistics software.
You may also be interested in our guide on how to launch delivery and shipping apps.
Indeed, in the modern world, correspondence with innovational technologies is also one of the main criteria for users. And logistics market is booming with such novelties. As a matter of fact, calculating accurately ETA is one of them. Furthermore, according to the Bizrate survey, when consumers receive items on time, 43% of them have favorable reviews regarding delivery services. Meanwhile, 65% consider projected delivery time to be a critical factor in selecting a logistics company. Hence, when users ask for it and relate such functionality with upstanding organizations, you need to give them that. So, we are going to elaborate on such questions: what ETA consists of, how to calculate it, how to enhance it, and which factors need to be optimized for better ETA functionality. Well, let's start from the beginning.
How to Calculate Estimated Time of Arrival?
The computation is complicated because various elements must be taken into consideration to anticipate arrival time – whether for a cargo truck, wagon, car, or any other way to move. Methods for modeling routes to determine an estimated time of arrival have been utilized in the transportation industry for decades. To facilitate this process, there are multiple tools that are already developed to calculate everything for your company. Such solutions are often based in the cloud to keep track of data that goes through such estimated time of arrival calculator. Here is an example of a rough online calculator, that clearly displays the estimation in real-time while you change the values - OmniCalculator. Based on such technology, it is possible to generate your own estimated time of arrival calculator within your company's logistics software. Let's sort out which criteria you'll need for the proper computed delivery duration.
Criteria that Influence ETA
Delivery duration is affected by a variety of variables in logistics. They include the following:
distance from the supplier to the client
the average speed of the vehicle
total number and time of pit-stops along the way (including gas stations, rest for shipper, border control and etc.)
weather conditions (!depending on the vehicle!)
traffic (!depending on the vehicle!)
For emergency situations, you should definitely add a feature that will enable rescheduling or rerouting the transportation services.
Estimated Time of Arrival Calculator
So, taking into account all the needed values, what is the formula? Actually, it is pretty simple: time equals total distance divided by average speed. But computing like that you'll get a rough estimation. To make it more precise, you need to consider all the conditions and circumstances that might influence the delivery duration. As we have already mentioned, they include breaks, weather, and traffic. But this list might differ depending on the type of vehicle, and type of parcel or cargo. Thereby, thanks to modern technologies it is better to set up real-time tracking systems and produce data-based projections. This way it will be easier to adjust the estimated time of arrival for the users.
There are several options to achieve precise real-time estimations. First, you can find well-known solutions on the market and integrate their APIs into your logistics software. For the proper functioning of APIs, it is still necessary to leave that to the developers. However, that option is much faster than the second one.
The other variant is to develop software using Artificial Intelligence. With the help of Machine Learning, an application will be able to gather data about traffic, delays, weather forecasts, and conduct its own research to update the system automatically. Surely, this solution requires configured continuous data-sharing, because the volume of the training data affects machine learning performance. Given basic practical calculations, the more an algorithm is fine-tuned on large amounts of high-quality business data, the lower the window for error. Despite machine learning techniques being open source, it does not imply that anybody may use them to create their own AI for ETA calculating purposes. The algorithm can only do so much, and without considerable investment in predictive modeling, it won't be able to accomplish anything at all. The fundamental business of data scientists is modeling, which includes data analysis and understanding of actual application areas for market conventional techniques.
How to Enhance ETA in Logistics?
The major way is to design preferable routes for clients, carriers, suppliers, and vendors in order to achieve reliable ETAs: routes that are cost-effective, adaptable, and rapid. This is when route optimization technology comes in handy. Route optimization technology can do a lot more than just create a route from source to destination. Businesses can improve shipments, manage each part of the loading process, track shippers, adjust routes, update delivery duration, and all of that using GPS tracking, Artificial Intelligence, along with data analytics. Out of all, GPS monitoring is a frequently used tool for route planning, and for utilizing maps to determine ETAs. GPS monitoring is a frequently used tool for route planning. However, GPS is only one technique for utilizing maps to determine ETAs. Given that, you can match routes with ETAs while evaluating several more aspects along the way by using increasingly emerging equipment that employs data from car devices, transport networks, and traffic tracking systems, as well as public data.
Factors to Optimize in Logistics Software for Accurate ETA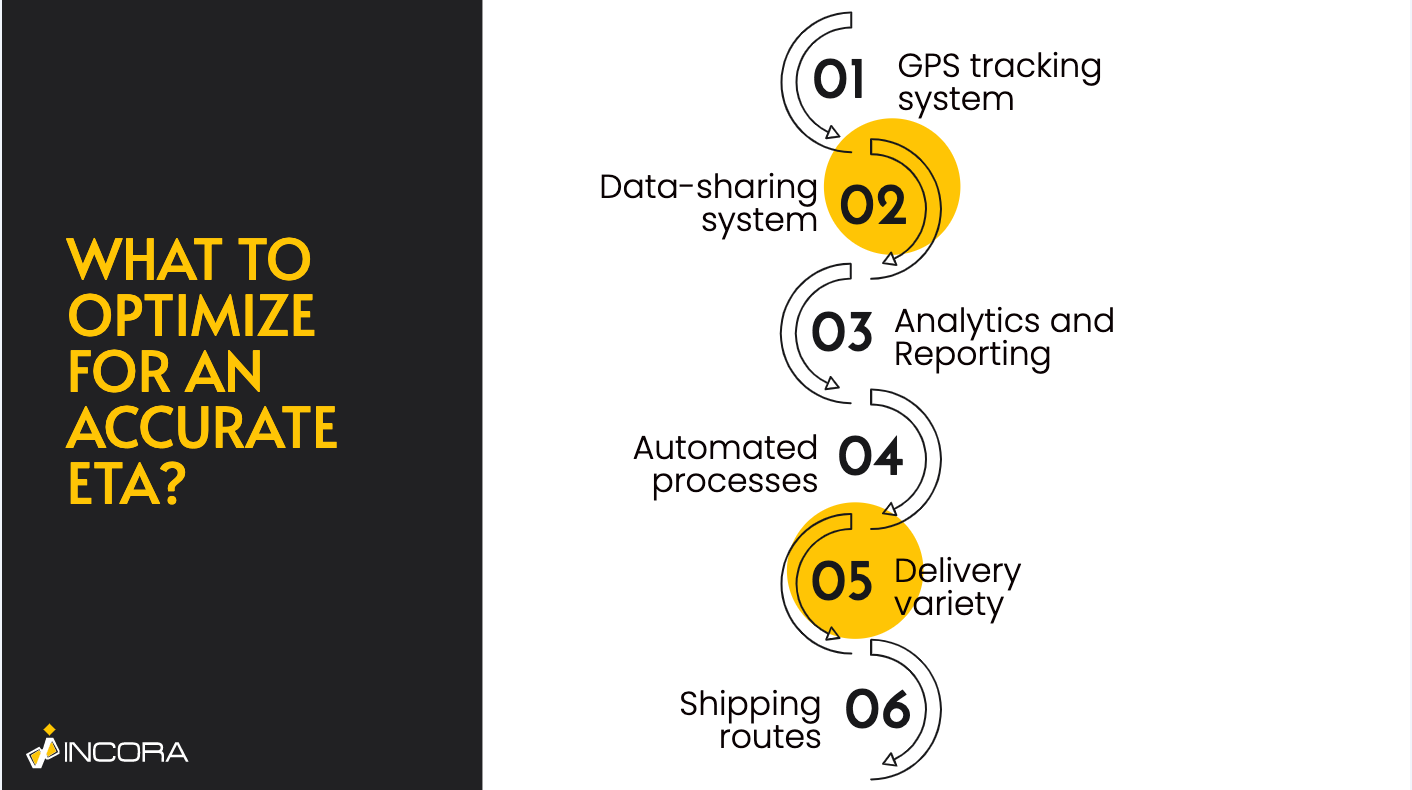 GPS tracking system. As we defined, GPS technology is crucial for precise monitoring of the shipper and vehicle route. Developing this system so that it will track data in real-time will deliver this information on time in order to notify the end client about the changes.
Data-sharing system. Obviously, as much data the software could gather about the external objects influencing the delivery duration, the better estimated time of arrival will be. You can set up the system that way, it could conduct full research automatically and then using machine learning about the estimations, deliver high-quality results to the users. Besides, this factor includes the collection of data from the shippers themselves, and from the hardware that is installed along the way, or in the vehicle.
Analytics and Reporting. Route optimization system should help in tracking and handling all of your activities in real-time on a single dashboard. Obtaining the quality of the routes and overall data that is transferred is crucial. With the analysis of conducted deliveries with their, ETAs will directly improve the future management of the delivery duration.
Automated processes. By reducing manual labor and paperwork, you can boost productivity and save money. Generally speaking, automation could eliminate errors made by a person, and increase the efficiency, as well as the speed of the determination of estimated time of arrival.
Delivery variety. Last-mile delivery may be accomplished using a variety of modes of transportation, including trucks, motorcycles, scooters, drones, and robots. This can help to be flexible and make adjustments in case of delays or force majeure on the particular routes.
Shipping routes. Creating an effective route that meets customers' expectations for speedier delivery while also maximizing vendor efficiency improves quality. Your software needs to have multiple routes for the same purpose as the previous factor has: in case of emergency. Various previously drafted routes can help in delivering high-quality transportation services 24/7.
In Total
The contemporary world of transportation and logistics application development is a real-time environment. Clients constantly demand to overlook the shipment process personally, and in order to get customer satisfaction, these requirements should be met by every logistics company. Hence, transportation services should provide ongoing parcel/cargo tracking and a precise estimated time of arrival. These could be achieved with multiple innovative technologies, like Artificial Intelligence, GPS monitoring, mapping, and so on. By and large, any modern logistics software can not exist and deliver goods without a route optimization system. And if this is something you are planning to develop, we would be grateful to use our expertise for building your product. Let's have a chat and discuss opportunities!