The freight forwarding industry is well-known for being fiercely competitive, with several companies battling for market dominance. This business area is developing at a quick pace, driven by new technologies. Since the digital innovations have raised the bar, the customers choose transportation and logistics companies deciding on the convenience and offered features. Considering that the majority of the business's revenue consists of regular clients, it is crucial to building trusting relationships, with complete transparency. As a result, transportation companies should concentrate on enhancing customer relationship management in order to stay ahead of the competition and convert potential customers into loyal ones.
The CRM software for logistics companies makes it easier to engage leads, create long-term relationships with them, and close profitable sales by utilizing tools that maximize contact with clients. It assists in keeping clients informed and loyal to the service while creating improved space for managed work with target statistics and sales analysis. Thus, both clients and logistics companies could benefit from CRM software. Let's dive in, and explore in detail how CRM software can change the way you run your business as well as what elements are must-have for it.
Read also: 5 Ideas to Build a Marketable Supply Chain Software
Benefits of CRM Software for Logistics Companies
CRM software provides top-notch capabilities to salespeople throughout the sales cycle, including targeting, communication management, pipeline optimization, ongoing reports, and sales analysis, metrics monitoring, upselling tools, and many other functionalities, making relationships with customers more sustainable.
1. Enhanced workflow effectiveness
Receiving requests, assigning them to managers, and maintaining orders until the deal is finalized are all automated using freight forwarding solutions. A CRM software centralizes messages received **through multiple sources **(phones, websites, social media, and emails). As a result, staff can respond quickly to new lead requests and jump right into a negotiation. A well-designed CRM for logistics companies helps the organization in defining overarching workflows for each department in advance. It also automates typical administrative chores, allowing employees to save time filling out forms, compiling reports, generating quotations, and performing calculations.
2. Sales tracking
A logistic company may easily bring together all of its business operations and track them all in one system. Furthermore, by exploiting market knowledge, logistics companies may easily retain competitive prices and delivery alternatives in the face of competition.
CRM software can also assist logistics companies in gaining a better understanding of their customers' demands and behaviors. This is possible by measuring sales and analyzing metric reports. To build management visibility into the operational process, it's crucial to wrap up all the received sales data including drawbacks of the system, for future improvement.
3. Data updating
Optimized client data and order details make one of the advantages of CRM software. CRM systems provide precise information on each customer via their profiles, in addition to a large customer base. You can get ongoing updated information about the transactions' stages, cargo status, order estimation, commercial bids, commercial offers, and more.
Ongoing updating of such crucial information for a decent relationship with clients influences smooth customized communication. Besides, it improves the transparency as well as the accuracy of the parcel delivery.
4. Freight shipping monitoring
Both for logistics companies and clients, one of the most important parts of the delivery is parcel tracking. Real-time monitoring enables the safety of the freight shipping process and increases customer satisfaction. To leverage freight forwarding fully, integrating parcel tracking into CRM, with the possibility for both sides to access status and location details – is a must.
5. Personalized customer approach
Industry-specific CRM helps businesses in identifying key clients and the best ways to reach them, hence improving personalized customer service. Knowing customer preferences, collected through various channels, could improve the client approach. This way managers can offer exactly what customer needs, and close the deal faster.
The other thing is that freight shipping is a complicated procedure that requires a large number of individuals. One of the most critical components of this is keeping customers informed about any issues that the supply chain participants are experiencing. This also helps to build trusting relationships with clients.
Key Features of Freight Forwarding CRM
Communication, negotiations, budget approval, order preparation, packing, warehousing, parcel tracking, and other complicated business procedures are all part of the logistics and transportation industry. For freight forwarders, custom CRM development is the ideal option.
A custom CRM system can be simply adjusted to meet the demands of any freight company. However, for the optimization of all freight forwarding processes, it is better to connect a CRM to the Transportation Management System of the company. This will influence the effectiveness of the workflow because this tandem will cover up the full cycle of work. Despite this, the integration of such supply chain management software for administrating customer relations, per se requires several essential functions that most businesses would like to have.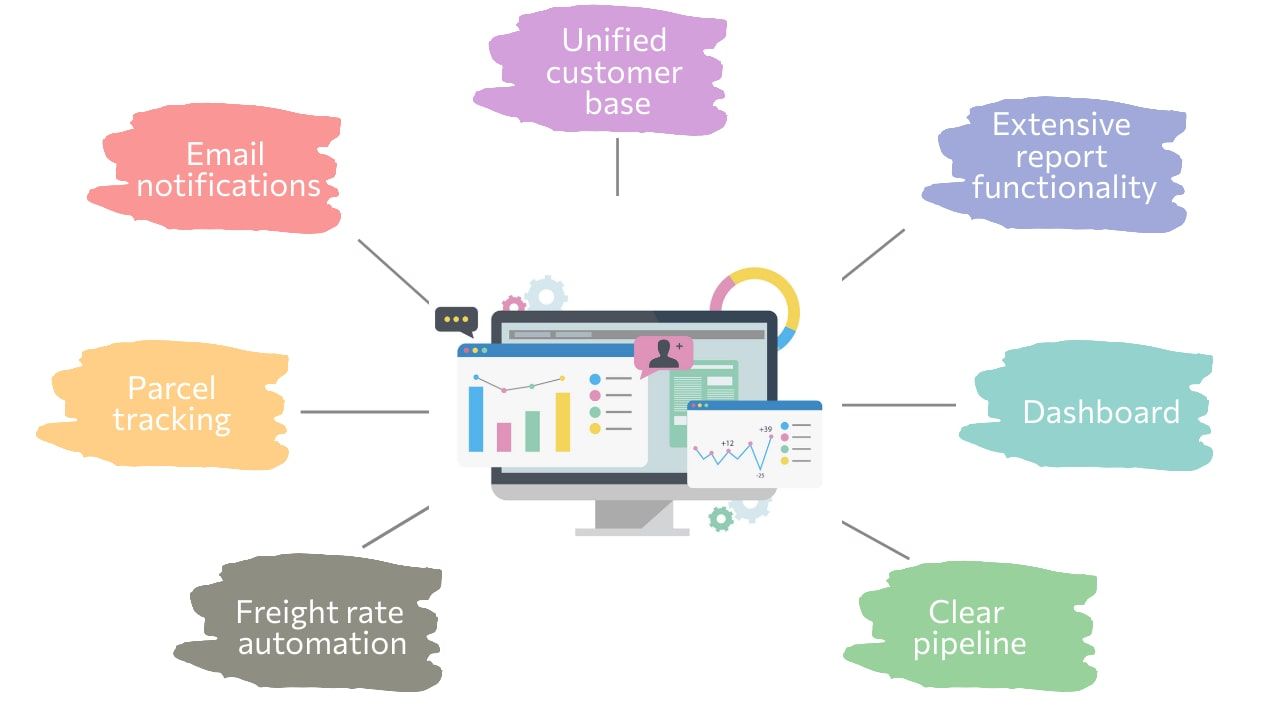 Keeping all the data about clients and their orders is a crucial part of building a decent logistics company. Such an obvious contribution may influence the communication as much as the freight forwarding. This is why you need to create a platform, with a strong structure for a customer classification system. You can generate tags, that will divide customers into groups by various criteria, which may be important for your cooperation with them.
With configurable templates and automated functionalities, you can improve your email communication experience by sending estimates, analysis, invoices, and freight forwarding status via emails to your customers straight from the platform. By utilizing CRM technology's single interface, you can boost productivity and reduce time spent on external email tools. Push notifications enhance customer experience, which means they increase the number of clients.
Extensive report functionality
The company's executives can obtain thorough data on the work of departments that engage with clients and use these reports to evaluate the effectiveness of each manager. A report feature allows seeing statistics regarding objectives, listen to recordings of incoming and outgoing calls, and obtain data from client profiles. It enables examining all existing contacts with their clients using these analytics to improve service quality and even drive efforts in consumer supply chains and other industry-specific features using this data.
Having the relevant information means that you are up to date on all aspects of your organization. By integrating supply chain management software, you can manage and examine all information, as well as organize due dates, task lists, and monitor shippers. The dashboard can gather everything you need to see about your employees' current actions and previous performances. Make sure to build it user-friendly, so the managers won't meet any obstacles using it.
As in any other CRM, the supply chain management software should have a** clear and accurate pipeline for tracking how the lead converts to the client**. The pipeline is one of the bases, that should provide data to the report dashboards for analysis. Even though the basic sales pipeline is going to fit freight shipping either, but you can add some specific stages connected to your company's workflow. This might be anything from the parcel tracking stage, to picking it up from shippers.
Shippers' present systems will be put to the test as freight cost grows unabated. Automation, on the other hand, can drastically minimize the stress associated with freight management, resulting in a long-term reduction in freight expenses. Create a panel where all the freight rates will be automated, and you'll get deal tracking and a rapid search that will help you save time. It also means that your business won't use any Excel rate sheets, but a unified rate database.
Parcel tracking connected to each client id
A set of tools for employing route planning strategies could be integrated with other different features we have already mentioned: pipeline, dashboard, and report analysis. This is a feature that cannot be neglected in any supply chain management software. The custom CRM should divide customers by their client ids, and generate parcel tracking available for freight forwarders, clients, and logistics companies.
This tool may be integrated from external sources into the system, and provide multiple features: requests for expedited freight shipping, optimization of shipment routes based on several customer requirements, real-time route and arrival time, and management of all transit points.
Bottom line
Well-designed CRM solutions cover up the whole process of interaction with customers and give the logistics companies a complete picture of prospects, leads, and clients. By integrating one of those into your routine workflow, your organization will be able to determine the conversion rate, establish an average time for lead conversion, monitor sales, track freight forwarders, and interact with customers. This boosts the company's efficiency and improves the efforts targeting through automatization and optimization.
Whether you are striving to develop custom management solutions for shippers and client interactions, or you want to improve the productivity of your service – do not hesitate to contact us for help. Our team will provide you with a remarkable experience of building stronger, personalized relationships with your customers. All it takes is just to fill in the contact form.